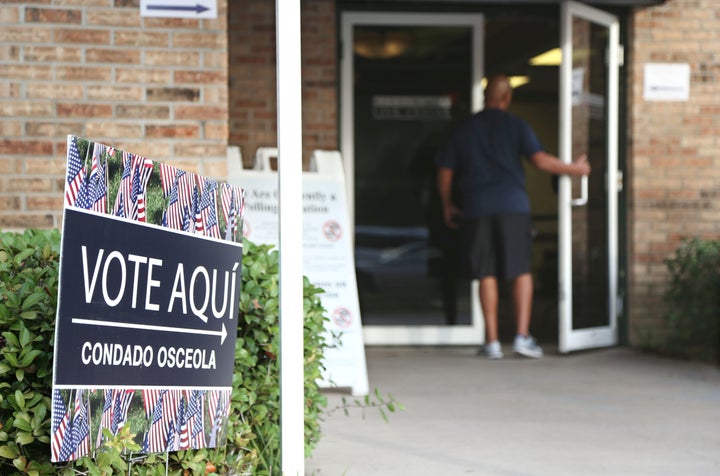 KISSIMMEE, Fla. ― If the Republican Party's challenge in winning the White House could be boiled down to a single image, it might be the 2-foot-by-3-foot sign in front of a polling place in this Central Florida city.
"VOTACION ADELANTADA," it reads, and underneath: "24 de Octubre de 2016 – 6 de Noviembre de 2016."
It's not the Spanish wording per se ― there is an English version, too. What should be alarming for Republicans is the sign's location: Not Miami, or even Tampa, but Osceola County, which until not long ago was home primarily to cattle ranchers ― and voted like it.
Today, the county is majority Latino, thanks in part to large numbers of Puerto Rican migrants moving to Central Florida. Unlike Hispanic immigrants, Puerto Ricans are already U.S. citizens, and can register to vote the day they step off the plane.
And this election, perhaps because of Republican nominee Donald Trump, they seem to be doing precisely that. Of the early votes cast by Friday, close to one-third of the Hispanic voters had never voted in an election before. And polling makes clear that they are overwhelmingly voting for Democratic nominee Hillary Clinton.
"That, my friends, is the definition of a surge," said Steve Schale, the Democratic strategist who helped win the state twice for President Barack Obama and has been closely analyzing the early voting numbers in Florida for two weeks.
The looming danger for Republicans in this is clear. Republicans once were able to count on California, Texas and Florida in presidential contests. Then it was only Texas and Florida. A Clinton win in the Sunshine State on Tuesday could confirm the start of an era where Democrats head into presidential contests able to count on three of the mega-states ― California, New York and Florida ― with Republicans having only Texas.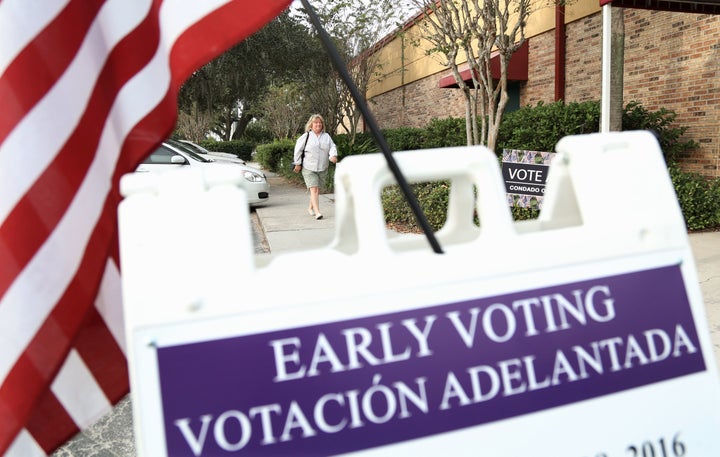 There are 46 other states and the District of Columbia, of course, but the four big ones account for a total of 151 electoral votes ― more than a quarter of the total available.
"It reduces the math to a tiny group, but it's a useful group," said Ruy Teixeira, a demographer with the liberal Center for American Progress think tank. "If Florida is gone, that only leaves Texas."
And that means that an electoral map that already was starting to lean in favor of Democrats would tilt that way even more drastically. "It's not like a coin flip anymore. It's like a weighted coin," Teixeira said.
Clinton's campaign, of course, is doing everything it can to make that a reality. For months, Democratic staff and volunteers have been registering tens of thousands of new Latino voters all over the state, but with a particular focus in the Central Florida counties, where migration from Puerto Rico has been most intense.
And on Sunday, the final day of early voting, the campaign is putting an exclamation point on that effort with a visit to Kissimmee by a Clinton surrogate who is nearly as popular with Latinos as he is with African Americans: Obama himself.
"Using the word 'self-deportation' – what a horrific comment to make"
None of this should come as a surprise to Republican leaders. In fact, the nation's demographic change was a central theme of the party's post-mortem of 2012 nominee Mitt Romney's loss to Obama.
The "Growth and Opportunity Project" singled out the anti-immigrant tone that some Republican candidates used in the primaries, hurting the party's efforts to reach out to Latinos in the general election. "If Hispanics think we do not want them here, they will close their ears to our policies," the report stated.
In the summer of 2013, party chairman Reince Priebus excoriated Romney's suggestion during one primary debate that undocumented immigrants would leave the country on their own because of the harsh policies his administration would impose. "Using the word 'self-deportation' ― what a horrific comment to make," Priebus said at a Republican National Committee meeting in Boston.
Priebus worked to implement recommendations that the party start community-based recruitment efforts in Hispanic communities years before an election, not weeks. The party's effort in Colorado was considered a model for what was possible nationwide, and was credited with helping then-Rep. Corey Gardner unseat incumbent Democratic Sen. Mark Udall in 2014.
All that, of course, was before Trump. He announced his campaign with a speech that featured his generalization that those coming across the border illegally were rapists and criminals (although he did allow that some might be good people). His central policy proposal was building a massive wall along the Mexican border, and he called for a "deportation force" to round up and get rid of 11 million undocumented immigrants and their families.
Stuart Stevens, a GOP strategist who worked for Romney in 2012 and with President George W. Bush before that, said the party under Trump has moved in exactly the wrong direction.
"It's like the National Institutes of Health put out a study that says chemotherapy works. And we say, no let's go with leeches," he said. "Guys, I don't think that leeches are working."
"It's like the National Institutes of Health put out a study that says chemotherapy works. And we say, no let's go with leeches. Guys, I don't think that leeches are working."
It didn't have to be this way, Stevens said, pointing to divergent paths taken by the largest states, California and Texas. Both had surging Mexican American populations in the 1990s.
In California, Republican Gov. Pete Wilson, contemplating a presidential run in 1996, threw his weight behind a ballot referendum cracking down on illegal immigrants. Fifteen hundred miles to the east, Texas Gov. George W. Bush, also a Republican, avoided the confrontational rhetoric, and instead worked to bring Mexican Americans into the fold.
"It's a perfect case study," Stevens said. "You have two big states. One the patient died, the other the patient lived."
Yet even in Texas, Trump's rhetoric may be undoing that work. Latinos have been voting in huge numbers, finally delivering the sort of turnout that Democrats have longed for to start making the state more competitive for them. Polls there show Trump with a comfortable lead, but considerably smaller than enjoyed by previous Republican nominees.
And in Florida, where demographic changes had already turned a safe Republican state into a battleground, Trump's nomination may allow Democrats to consolidate Latino loyalty for years to come.
"If what happens in 2016 with Latinos and other non-white voters is the same thing that happened with African Americans in 1964, Republicans aren't going to win a presidential election for generations," Stevens said.
In Kissimmee this week, voters arriving at the Robert Guevera Community Center in a residential neighborhood of modest concrete-block homes seemed to confirm Stevens' fears.
The building is named after Osceola County's first county commissioner to have been born in Puerto Rico. Just about every one of the dozens who dropped by during the lunch hour to cast their ballots was Latino ― and had come to vote for Clinton.
"I wouldn't vote for that man," said Anjanette Zapata, 43, a surgical tech still in her scrubs. "No way."
If there is a silver lining in this for Republicans, it could be this: Whether Trump wins or loses, the roadmap for making things right with Latinos is right there on the shelf. The autopsy from 2013.
"Hey, just that roll that out again," Teixeira said.
Popular in the Community