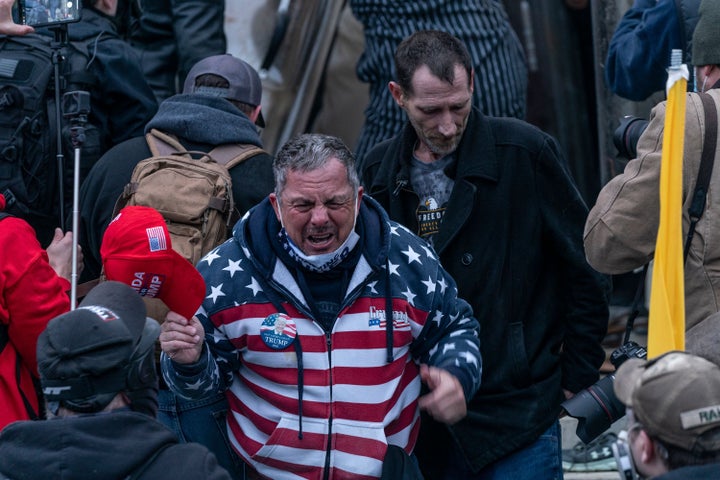 Federal authorities have charged a Florida man who was caught on video attacking police officers with a fire extinguisher while wearing an American flag jacket bearing the name of former President Donald Trump.
Robert Scott Palmer, a 53-year-old business owner from Clearwater, Florida, was arrested on Wednesday, according to court records. Palmer has been charged with assaulting/resisting/impeding officers, engaging in civil disorder, and entering restricted building or grounds, according to court records.
HuffPost, building on the work of the citizen sleuths who have worked to hunt down the identities of members of the pro-Trump crowd that stormed the Capitol on Jan. 6, first publicly revealed Palmer's identity on March 5. The FBI had received hundreds of thousands of tips about the Capitol attack, and multiple tips about Palmer's identity had been in the agency's possession for more than a month when HuffPost's story published.
Palmer had an appearance before a federal magistrate judge in Florida on Wednesday and was released on a $25,000 signature bond that was co-signed by a third party, according to a spokesperson for the U.S. Attorney's Office for the Middle District of Florida. He's not allowed to possess firearms, has his travel restricted, and must submit to drug testing and mental health treatment, the official said. Details of the charges against him, including the FBI affidavit, are not yet public.
Palmer's attorney, Bjorn Brunvand, told HuffPost after the hearing on Wednesday that Palmer retained him as his lawyer shortly after HuffPost's March 5 story ran, and that he reached out to federal authorities on Palmer's behalf.
"I contacted the FBI and the U.S. Attorney's Office and let them know that he wasn't going anywhere, and if they were looking to arrest him he would self-surrender," Brunvand said. The feds called on Monday, and Palmer turned himself in on Wednesday, he said. (The docket number on Palmer's case suggests the charges were filed either last Thursday or Friday, roughly one week after the HuffPost story.)
"I'm hoping that we can resolve it short of trial," Brunvand said. "I'm hoping there's a resolution that does not include incarceration."
Palmer, his attorney said, is "trying to do the right thing now, and focus on work and his family rather than politics."
Brunvand said that he and his client "are on opposite ends of the spectrum" politically, and called his client "a true believer" in Trump. He described Palmer as a "real decent guy" with a "little bit of a checkered past," but said he's "regretful and remorseful" despite some of the comments he made after the Jan. 6 attack.
"He regrets his involvement," Brunvand said. "He can't change what happened, but he can show everyone that there's not going to be any more problems from his end."
When HuffPost first reached Palmer by phone on March 4, he confirmed that he was at the Capitol on Jan. 6 wearing an American flag jacket bearing Trump's name, and that he'd given an interview and talked about being struck by a police projectile in the stomach. But he clammed up when HuffPost asked about his assault on a police line.
"I'm not, I'm not, I'm not, I'm not, I'm not saying anything ― anything more. OK?" he said when HuffPost mentioned the video of him throwing a fire extinguisher at the police line. "I'm not, I'm not saying anything more," he said when HuffPost pressed him again. He hung up when HuffPost asked if the FBI had been in touch yet, and Palmer's Facebook page came down not long after HuffPost's story ran.
Brunvand said Palmer was not aware that he was on the FBI's "Wanted" list for the Capitol attack until he got HuffPost's call.
"He was not aware, I don't believe, when you guys had contact with him," the attorney said. "He certainly became aware of it, maybe during the conversation with you guys."
An online sleuth whom HuffPost identified as "Amy" spent time investigating the man she dubbed #FloridaFlagJacket when she was in isolation in January after coming down with COVID-19. She sent in her tips after another online sleuth found a livestream video from Jan. 6 in which Palmer revealed his name. Weeks later, the FBI added an image of Palmer to its page of Capitol suspects. #FloridaFlagJacket was FBI #246 - AFO, meaning he was wanted for assault on a federal officer.
Amy, who has since recovered from the coronavirus, had a plan in mind for what she'll do when she hears the FBI finally came for Palmer.
"I will probably open a bottle of champagne," Amy said. "Which I can enjoy now, since I can taste."
When HuffPost reached her Wednesday morning to break news of Palmer's arrest, she was ready to celebrate.
"I'm hoping you're calling me to tell me I can have champagne," she said.
Amy said the attention her story has received ― including a long segment on "The Rachel Maddow Show" ― has been "embarrassing, but also funny because nobody knows it's me."
As she's continued searching for suspects ― her current interest is in a violent insurrectionist named #Scallops, who is number 130 on the FBI list ― she's been stunned by the magnitude of the probe.
"When we first started in January, there were 20 faces we were actively tracking, you could remember them all," she said. "The way that crowdsourcing has worked ― everyone has taken a different role without any organization ― that's cool."
She said she's hopeful her story inspired others to get involved in the work, and said that while it was frustrating that she didn't hear back from the FBI for so long, she understands the position the bureau is in with such a stunningly large investigation.
"It's clear the FBI is overwhelmed," she said. "I'm very empathetic about that. I try not to be overly critical of the FBI. At the same time, with no feedback loop, it's really hard."
Support HuffPost
The Stakes Have Never Been Higher
Popular in the Community