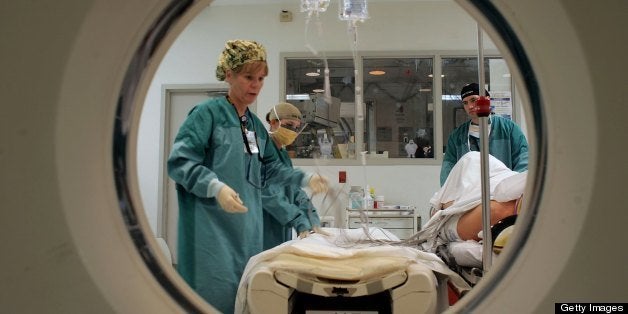 It's an expensive irony: Health care workers who can't afford health insurance, but in Florida that is the plight of some full-time employees of local nursing homes and other smaller or independent health-industry players.
As the number of employers in the state who offer health insurance continues to decline--10 percent fewer today, compared to about a decade ago--and the cost of coverage employees must contribute continues to rise, some health care workers say they have been forced to forego health insurance.
Marie Milicent has worked nearly two decades at Hillcrest Health and Rehabilitation Center in Hollywood. She had coverage for her two children, ages 10 and 12, until recently, when changes in the plan priced it out of her reach.
"Most of us dropped our health insurance at Hillcrest," Milicent said. "The deductible is $2,000. It's crazy."
Health insurance is particularly important for industry employees, according to Milicent, a certified nursing assistant.
"When you're working with sick people, anything could happen to you," she said. "Now that I don't have health insurance, I don't feel secure."
As the state legislature continues to debate the future of Medicaid in the state, local healthcare workers like Milicent and the union they belong to are lobbying hard for Medicaid expansion.
"Our members of SEIU Florida, 55,000 curent and retired members...are very much committed to passing and securing the expansion of Medicaid in the state of Florida," Monica Russo, president of the SEIU Florida State Council. With more than 1.1 million members in the field, the national Service Employees International Union represents nurses, lab technicians, nursing home workers, and home care workers.
"The people who are saying no to [Medicaid expansion] have very good health care packages, and we're paying for it," said Susan Gershman of West Palm Beach, who said her son works two jobs but cannot afford insurance coverage. She joined other healthcare workers in a protest last week calling on lawmakers to expand Medicaid.
The SEIU said Florida taxpayers have paid billions toward the pool of federal funds available to expand Medicaid. The expansion, according to the union, would extend much-needed health coverage to Florida's needy and underinsured, create 120,000 jobs, strengthen the state's hospitals and add tens of billions of dollars to state coffers over the next several years.
"The bottom line is when a person is making $30,000, $35,000, $40,000 a year, there is not a lot of discretionary income that is left," said University of Miami Professor Steven G. Ullmann, professor and director, Center for Health Sector Management and Policy in the School of Business Administration at University Miami.
"And with the premiums of health care going up, and even if people are buying health care insurance right now with high-decutible plans or consumer plans, they might be able to pay the premium but not afford the care because they have a high deductible."
Still a divisive issue, the House and Senate have taken vastly different approaches to expanding health care for low-income Floridians. Wednesday Senate Appropriations Chairman Joe Negron, R-Stuart, floated a possible compromise that comes down to letting the people choose between a Senate plan that would offer private health-insurance coverage to adults through the Florida Healthy Kids Corp. and a plan spearheaded by Rep. Richard Corcoran, R-Land O' Lakes, that would offer $2,000 subsidies to people whose incomes are at or below 100 percent of the poverty level.
The proposed compromise may not bridge the differences between the two approaches, however. Negron's bill would seek to tap into the federal money to offer private health coverage to low-income people, but House Republican leaders have taken a hard line against relying on funds from Washington.
The Medicaid expansion through the Affordable Care Act isn't a political proposition or a fiscal football for Jerry Depeine. For him, it's personal.
A single father with two young sons, the West Palm Beach dietician has worked 11 years at Palm Garden nuring home. Lately, Depeine's been traveling to Tallahassee to share his story.
"I'm hoping to get Medicaid expansion because it could do a great deal for me." ___
(c)2013 the Sun Sentinel (Fort Lauderdale, Fla.)
Distributed by MCT Information Services
REAL LIFE. REAL NEWS. REAL VOICES.
Help us tell more of the stories that matter from voices that too often remain unheard.
BEFORE YOU GO
PHOTO GALLERY
Florida's Child Poverty Problem