 That may be playing out right now in Republican Gov. Rick Scott's Florida.
Florida hospital executives warned they will be hit hard if the state does not expand Medicaid coverage under the federal health overhaul because hospitals will lose federal funding they've been relying on to care for uninsured patients. Florida hospitals spent more than $2.8 billion caring for uninsured patients in 2011, hospital officials said Monday.
There are two main things going on here that worry hospitals and may persuade Florida Republicans to change their tune on the Medicaid expansion.
First, hospitals and other health care providers generally prefer their patients to have some sort of health care coverage lest they be stuck with big unpaid bills. Nationwide, hospitals provided $41.1 billion in so-called uncompensated care in 2011 to patients who couldn't or didn't pay what they owed for treatments, according to an American Hospital Association report issued last month. Putting more people into Medicaid would make that number shrink.
Second, the health care reform law scales back existing federal funding streams that currently serve to partially compensate hospitals that provide medical care to large numbers of people without the means to pay. Whether a state opts to expand Medicaid or not, those dollars are going away.
"If Florida doesn't expand Medicaid, we're going to have the money taken out of one pocket, we just won't get it put back in the other," Tommy Inzina, chief administrative officer at BayCare Health System, said at a House meeting in Tallahassee on Monday.
Of course, state policymakers have another incentive to buy into the Medicaid expansion: a huge influx of federal money. Under the health care reform law, the federal government will pay the full cost of enrolling newly eligible people who earn up to 133 percent of the federal poverty level, which is $15,282 for a single person this year, for the first three years. That share will gradually decline until it reaches 90 percent in 2022 onward.
And the federal government took a step Wednesday that could further push Florida toward a Medicaid expansion. Federal Medicaid officials have tentatively agreed to Florida's plan to enroll more of its Medicaid beneficiaries into private health plans, which has been a big priority for Scott's administration.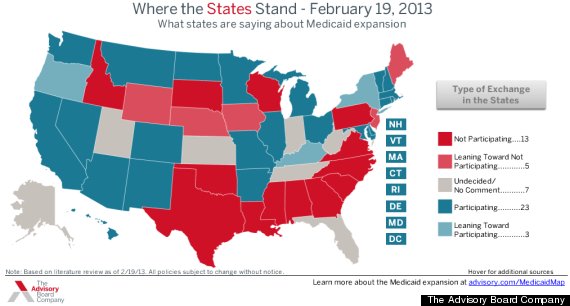 Source: The Advisory Board Company
Popular in the Community