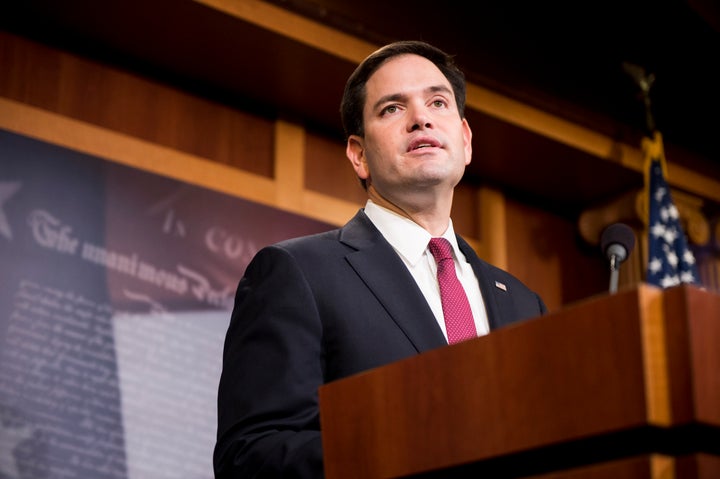 The editorial board of a south Florida newspaper, The Sun-Sentinel, has given Republican presidential candidate Marco Rubio an ultimatum: "Either do your job, Sen. Rubio, or resign it."
In a pointed op-ed published Tuesday, the editorial board pointed out that Rubio, the state's junior senator, not only hates his job but hasn't even been doing the thing he was sent to Washington to do -- vote.
"Sorry, senator, but Floridians sent you to Washington to do a job. We've got serious problems with clogged highways, eroding beaches, flat Social Security checks and people who want to shut down the government," the op-ed says. "If you hate your job, senator, follow the honorable lead of House Speaker John Boehner and resign it."
While Rubio hovers around third place for the Republican nomination, he ranks number one in a different area -- missing the most votes. Since Rubio started his term in January 2011, he has missed 176 of 1,434 roll call votes, according to govtrack.us.
The editorial board of the Sun-Sentinel said that Rubio should resign so Floridians can elect someone who will "earn an honest dollar for an honest day's work."
"You are paid $174,000 per year to represent us, to fight for us, to solve our problems. Plus you take a $10,000 federal subsidy -- declined by some in the Senate -- to participate in one of the Obamacare health plans, though you are a big critic of Obamacare," the board said. "You are ripping us off, senator."
Read the full op-ed here.
Calling all HuffPost superfans!
Sign up for membership to become a founding member and help shape HuffPost's next chapter