Staff at a Florida nursing home where 11 patients fell ill last week and eventually died after its air conditioning was knocked out for days made entries into patients' medical records that inaccurately portrayed their situation, according to state officials.
Florida's Agency for Health Care Administration issued an emergency suspension order Wednesday on the license of the Rehabilitation Center at Hollywood Hills, which had been ordered to stop admitting new patients nearly a week ago following the heat-related deaths in the aftermath of Hurricane Irma.
Rescue crews discovered the facility was extremely hot last week while responding to several calls from staff requesting help for patients in distress. Over 100 patients were then evacuated across the street to Memorial Regional Hospital, a major medical center located just a few hundred feet from the rehab center.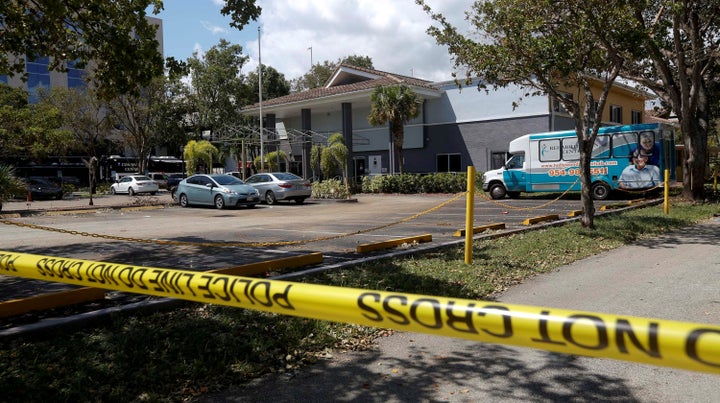 Several of these patients were admitted to the hospital with body temperatures exceeding 108 degrees Fahrenheit ― "far too late to be saved," according to a statement released by the AHCA.
After conducting its initial investigation, the AHCA found staff members had not only "overwhelmingly delayed calling 911" and evacuating the facility, but also made late entries in patients' medical records, which portrayed "an inaccurate depiction of the situation at the facility."
In one instance, a nurse recorded a patient's temperature at 101.6, but the patient was actually at the hospital at the time ― with a recorded temperature of 108.3. The AHCA also found a "very egregious" case in which a late entry noted a patient was resting in bed with "respirations even and unlabored," though the patient was in fact dead at the time of the entry.
AHCA Secretary Justin Senior called the events "horrifying" and "unfathomable."
"As more information has come to light on this egregious situation, this facility absolutely cannot continue to have access to patients," Senior said in a statement. "No amount of emergency preparedness could have prevented the gross medical and criminal recklessness that occurred at this facility."
Kirsten K. Ullman, co-counsel for the Rehabilitation Center at Hollywood Hills, denied the AHCA's allegations in a statement sent to HuffPost on Thursday. She called the deaths "heartbreaking," but claimed the actions and care implemented by staff during the crisis were "reasonable."
"Care givers continuously monitored their residents, offered them hydration, and implemented efforts to keep the facility temperatures as comfortable as possible," Ullman said. "AHCA has released a statement making allegations which simply do not describe the conditions observed by these multiple care givers."
Despite having been without air conditioning for days, Ullman said, there was no indication that calling 911 or evacuating the facility was necessary until early on the morning of Sept. 13, when a resident "had a significant change in condition."
Ullman also accused the AHCA of incorrectly suggesting the late entries in patients' medical records were "somehow being indicative of something." She said late entries are common and easily identifiable.
"Documentation, many times, is done at the end of a shift," Ullman said. "The facility was evacuated 45 minutes before the end of shift, accordingly, certain entries had yet to be made and were designated for the reader as 'late entries.' Late entries document care given during the shift, but which was not documented due to circumstances ― in this case ― beyond control."
"AHCA also cites to temperatures of residents, which temperatures did not exist while the residents were at Hollywood Hills," she continued. "During the evacuation, residents were placed outside. It is not known specifically for how long, nor is it known when the AHCA cited temperatures were taken, where they were taken, by whom they were taken, or to which residents they are attributed to. However, before the evacuation, only two of the residents who passed away had elevated temperatures, neither of which were in the critical range."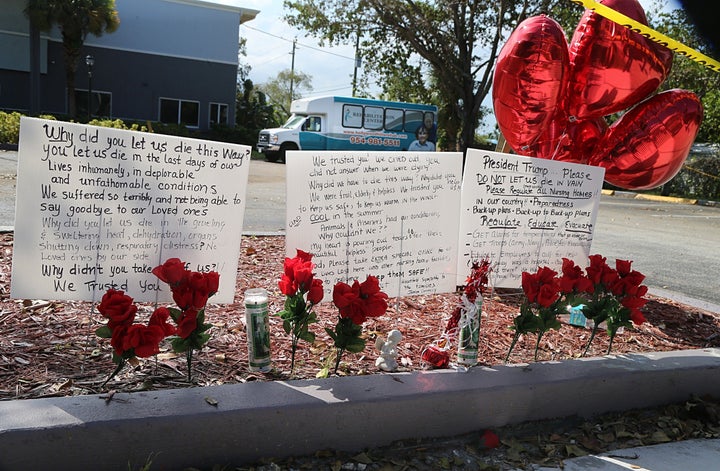 At least four lawsuits have been filed by former residents or victims' survivors, all of which accuse the nursing home's administrators and staff of failing to evacuate the facility after it lost air conditioning.
Two of the lawsuits also blame Florida Power & Light, the state's largest electric utility, for not prioritizing power restoration at the nursing home during Hurricane Irma's aftermath.
Last week, Jorge Carballo, the nursing home's administrator, claimed his staff reached out to FP&L several times after losing power during the storm and requested the utility company repair a damaged transformer that had been used to power the facility's air conditioning unit.
A spokesman for FP&L wouldn't comment last week on the nursing home's alleged requests for help, which are now part of a criminal investigation, but told HuffPost that his company had urged customers without power to call 911 "if it's a life-threatening situation."
This isn't the first time the Rehabilitation Center at Hollywood Hills has come under fire. The facility has been cited twice in the past three years for violations related to federal requirements concerning backup power generators.
The nursing home's owner, Dr. Jack Michel, also has a troubled history. In 2006, he was ordered to pay part of a $15.4 million fraud settlement with the U.S. Department of Justice after being accused of conspiring to admit patients to another facility for unnecessary medical treatments.
Michel did not immediately return a request for comment.
This article has been updated with the latest number of deaths reported.
Popular in the Community