One of Florida's official state animals -- the endangered Florida panther -- was hit by a car last month and left to die on the side on State Road 82 in Collier County, according to Florida Fish and Wildlife.
After FWC rescued the 12-week-old male kitten on the highway on April 23, the feline has been receiving rehabilitation at the Animals Specialty Hospital of Florida in Naples.
But veterinarians say the kitten, whose brother was struck and killed by a car April 7, will be unable to return to the wild -- the accident caused head trauma that will forever impact the panther's life.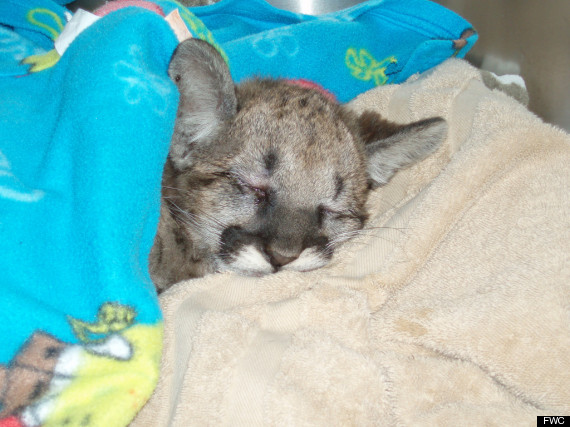 Now 14 weeks old, the kitten can now stand for short periods of time and get around with the help of a "quad cart," a sling on wheels that was built for a disabled dog.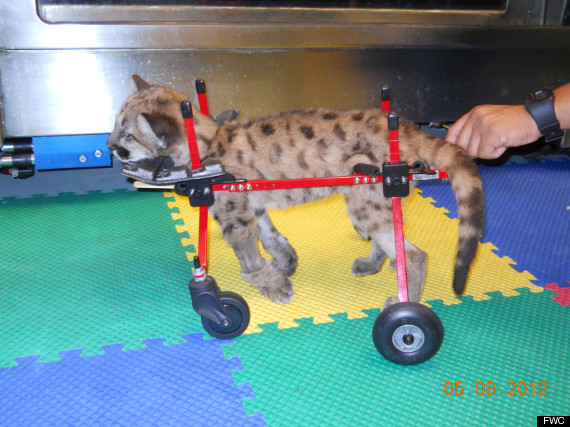 After making strides physically -- vets found no significant factures internally -- the panther kitty is being transferred to Tampa's Lowry Park Zoo for more rehab.
FWC reports that the state's panther population has grown five-fold since the 1980s, when the population hovered at around 20 panthers in the entire state. Now with 100 to 160 panthers roaming Florida's hammocks and forests, drivers have an increased chance of encountering the stately creatures on the road.
The FWC says that motorists are the leading human-related cause of panther deaths in the state -- a third of last year's panther morality was traced to car collisions.
Support HuffPost
The Stakes Have Never Been Higher
Related
Popular in the Community