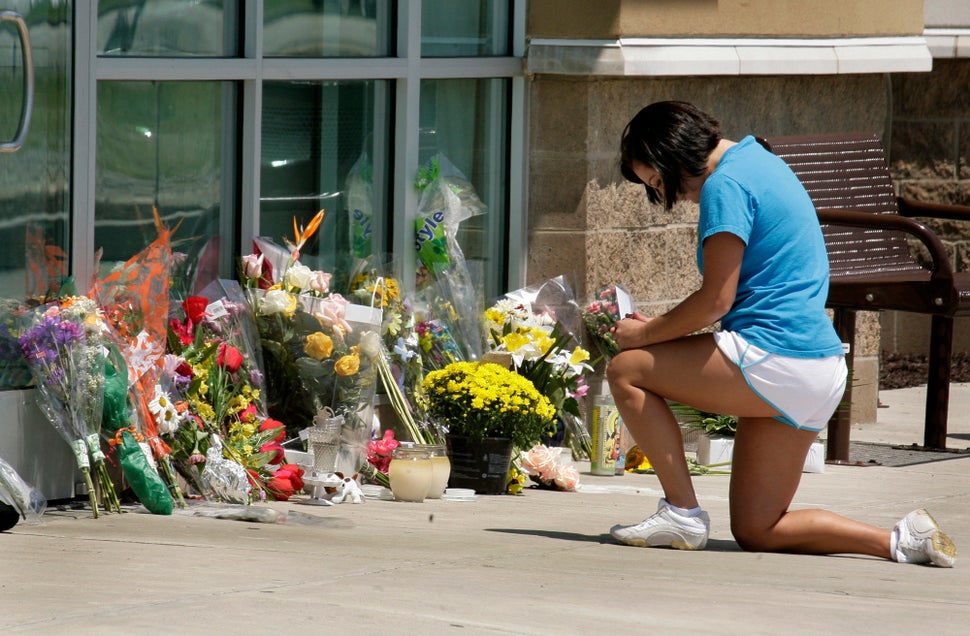 Mary Primis, 35, was getting ready for a bodybuilding competition on Saturday morning when she glanced over at the television and caught the news.
The night before, a gunman opened fire inside a hot yoga class in Tallahassee, Florida, killing two women and injuring five others. According to reports, the man began shooting as people were settling into child's pose, a calming, grounding stretch often used to begin class. Of the seven people shot, six were women.
The scene was all too familiar to Primis.
Nine years earlier, she was instructing an aerobics class in Pennsylvania when a man entered the room and began shooting the women inside. Twelve women were struck by bullets, including her, and three of them died.
The perpetrator, George Sodini, shot himself. So did Scott Beierle, the man police say attacked the Tallahassee yoga studio on Friday. But the similarities between the two men run far deeper. 
Both were white men in their 40s. Both targeted exercise classes traditionally favored by female clients. Both felt rejected by women and blamed them for their failures in life. Both posted their distorted, misogynistic ramblings online.
And both left behind a group of survivors forced to live with those depraved actions.
"I know what I saw. I know how I felt," Primis told HuffPost on Monday. "I know what they must be going through now, and I share in their grief."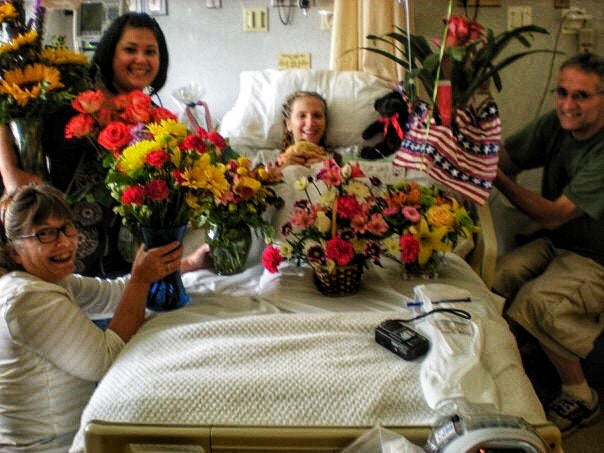 An Upbeat Aerobics Class, Then Lights Out
In 2009, Primis was 26 and teaching exercise classes at an LA Fitness health club in Collier Township, a suburb of Pittsburgh. She was newly pregnant.
On a late summer evening, she was leading a Latin cardio dance class. The room was full, she recalled, and all the participants were women. About 15 minutes into the class, she saw a man enter the studio.
It was 48-year-old George Sodini.
Primis was not initially alarmed, she said, because it was a busy club and people came and went. Then Sodini turned out the lights. In the dark, she was startled by loud pops. Unfamiliar with the sound of gunshots, she thought the lights were exploding. All around her, women were dropping to the floor, so she dropped too.
"It wasn't until I felt the first bullet that I realized what was happening," she said. "Then I felt the second one."
Primis was shot in an arm and in her back, with a bullet breaking her ribs, shattering a shoulder blade and popping a lung. She lay on the floor and played dead, holding her breath and staying as still as possible. She couldn't see Sodini and had no idea where he was in the room.
Finally, the gunshots and screaming stopped, and the darkened studio was silent, save the thumping of dance music, which reverberated off the mirrored walls.
"I remember thinking, 'Please, someone turn that off,'" she said.
Primis was transported to a hospital, where she remained for a week. In the meantime, the magnitude of the attack became clear. Three women were dead, including two of Primis' regular clients. And Sodini's motive began to emerge.
Sodini's Incel Legacy
For nine months leading up to the shooting, Sodini, 48, wrote about his "exit plan" in an online journal and described his troubles with women. He bemoaned his inability to attract a partner and wrote that he had not had sex since he was 29.
"I dress good, am clean-shaven, bathe, touch of cologne - yet 30 million women rejected me - over an 18 or 25-year period," he wrote. "Thirty million is my rough guesstimate of how many desirable single women there are. A man needs a woman for confidence ... This type of life I see is a closed world with me specifically and totally excluded."
He complained that women treated him brutally in his youth and then ignored him in middle age.
"The future holds nothing for me. Twenty five years of nothing fun," he said. "I never even spent one weekend with a girl in my life, even at my own place."
He also posted odd YouTube videos in which he referred to his desire for a girlfriend.
Since his death, Sodini has taken on semi-famous status among the involuntary celibate, or incel, community — men who believe they can't attract a partner and who blame women for their romantic and sexual failures.
On incel sites, posters sometimes use "going Sodini" as shorthand for committing a violent attack on women. Others use the term "going ER," which refers to the much better-known attack by Elliot Rodger, who killed six people in a stabbing and shooting spree in Isla Vista, California, in 2014. Before going on his rampage, Rodger posted a manifesto in which he explained that he had "no choice but to exact revenge on the society" that denied him sex and love.
In April, Alek Minassian drove a van into pedestrians in Toronto, killing 10 ― eight of whom were women. Before his attack, he posted a message on Facebook celebrating the "Incel Rebellion" and Rodger. 
Beierle's Yoga Studio Attack
Like Sodini, Beierle, 40, left a trail of online musings about women.
In YouTube videos believed to be posted by Beierle in 2014, which have now been removed, he railed against the "treachery" of women — calling them "cunts," "bitches" and "vipers" — and expressed a desire to get even with those who wronged him.
He claimed girls treated him harshly when he was young. Later in life, he said, they disrespected him, giving him their phone numbers when they had boyfriends or calling the police on him for no reason.
"Made one date, [she] didn't show up. Made another date, [she] didn't show up. Kept making excuses," he said of one woman. "Ah, I could have ripped her head off."
In one video, titled "The Plight of the Adolescent Male," Beierle said he related to Rodger.
"I don't think a female can ever understand a societal pressure that is put on an adolescent male to unburden himself of this stigma," he said, referring to virginity.
His hatred toward women was not limited to online videos.
In 2012, Beierle was arrested on two counts of simple battery after two young women told police that he grabbed their buttocks at a dining hall at Florida State University. In 2016 he was arrested again after being accused of grabbing another woman's buttocks at a pool at his apartment complex.
The charges in both cases were dismissed.
It remains unclear why Beierle targeted Hot Yoga Tallahassee and whether he had a connection to the studio or any of the victims.
To this day, Primis doesn't know why Sodini picked her aerobics class that night, though it appears to have been premeditated. He had a copy of the class schedule, investigators said, and her class was circled.
She said he probably he picked it because it was one of the largest classes the studio offered.
And because "every week, it was all women," she added.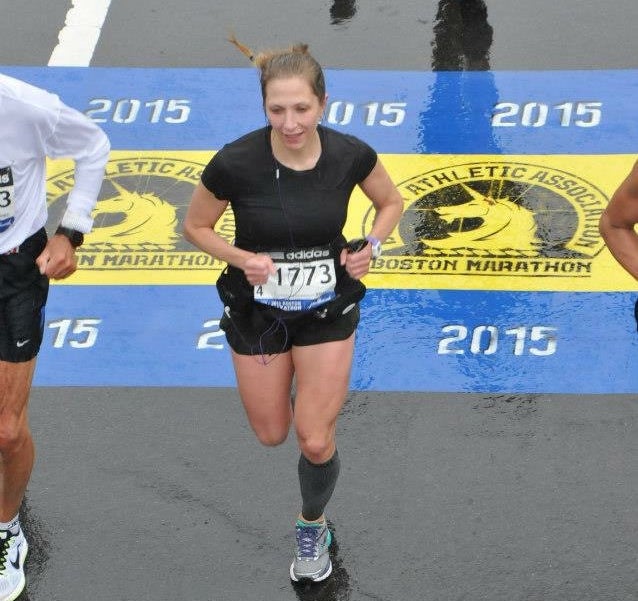 9 Years Later, Stronger But Changed 
After she was shot, Primis, who was 10 weeks pregnant at the time, put all her energy into getting better for her baby.
"I never really gave [Sodini] much thought. Or read much about him. All I knew is that he had killed himself and he just wanted revenge against women," she said.
Primis went on to have a healthy birth. Her son — her first — is now 8. A few years later, she had twins, now 6.
Nine years after the attack, she still has pain from the shrapnel lodged in her body. But she's physically stronger than ever, running marathons and entering in bodybuilding competitions. She lives in the same community in Pennsylvania and teaches exercise classes, though she never returned to LA Fitness.
Emotionally, she said, she has been forever altered by Sodini's rampage.
"I still, to this day, don't trust people I don't know," she said. "I watch everybody closely. When I am out in public, I always, in the back of my mind, have an escape plan and tend to plan for the worst, which is not the way I used to be."
Over time, she has learned to forgive Sodini, she said, calling him a very sick person. While she wouldn't wish her experience on anybody, she said she isn't sorry it happened to her.
"I learned invaluable lessons," she said. "Life is precious. I try to make the most of it now."
For the survivors of the yoga studio shooting, she had one message: "It does get better. It just takes time."
Calling all HuffPost superfans!
Sign up for membership to become a founding member and help shape HuffPost's next chapter