 WASHINGTON -- Another round of new polls on the Florida Republican primary race agree on who is comfortably ahead, but disagree on the size of that margin. Six new polls released late Sunday or Monday found that Mitt Romney's lead over Newt Gingrich ranges from five to 20 percentage points.
Some of the largest margins came from four polls that reached voters over both landline and mobile phones, including three surveys released on Monday:
Again, all four of these polls called likely Republican primary voters using samples of both landline and mobile telephones. The SurveyUSA poll employed live interviewers for its cellphone sample and an automated methodology for the landline calls. The other three organizations used live interviewers for all calls.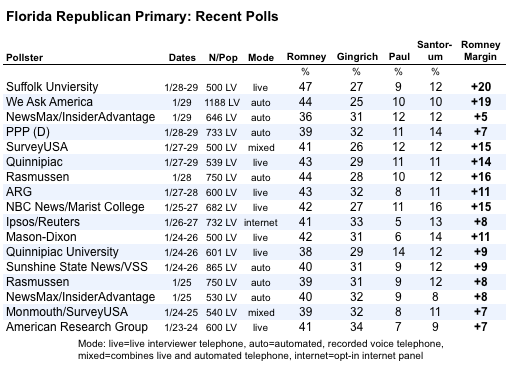 The closest result, from NewsMax/InsiderAdvantage, shows Romney leading by just five points (36 to 31 percent). Matt Towery, the pollster who runs InsiderAdvantage, served as Gingrich's campaign chairman from 1992 until 1999 and describes himself as a longtime friend of the former speaker. As reported by BuzzFeed, many of the InsiderAdvantage surveys in Iowa similarly "pulled toward Gingrich."
By design, the trend lines on the HuffPost Pollster chart, derived from all available public polls in Florida, smooth out the variation in individual surveys. The latest update shows Romney leading by nearly 14 points (42.4 to 28.5 percent), followed by Santorum (11.7 percent) and Paul (10.6 percent).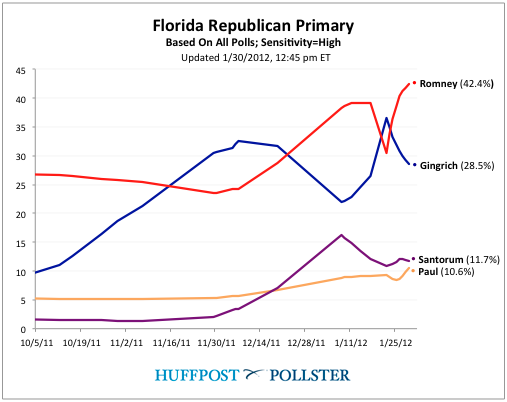 Voter uncertainty, a hallmark of the Republican primary campaign for months, remains a potential factor in the outcome of the Florida contest. The latest Quinnipiac survey finds that more than a quarter of the likely Republican primary voters in that state either are completely undecided (7 percent) or say they might still change their minds about the candidate they are supporting (24 percent of those with a preference).
Florida election officials reported on Monday that 591,666 votes had already been cast in early and absentee voting, a number that would represent roughly 30 percent of the votes cast in the state's 2008 Republican primary. Needless to say, those who have already cast ballots can no longer change their minds.
Nevertheless, the remaining voter uncertainty combined with the wide discrepancies among some of the polls is a warning that small variations in polling methodology can make a big difference in the results. Thus, while Mitt Romney appears headed for a Florida victory on Tuesday, his ultimate margin may still surprise.
Calling all HuffPost superfans!
Sign up for membership to become a founding member and help shape HuffPost's next chapter
BEFORE YOU GO
PHOTO GALLERY
Mitt Romney 2012