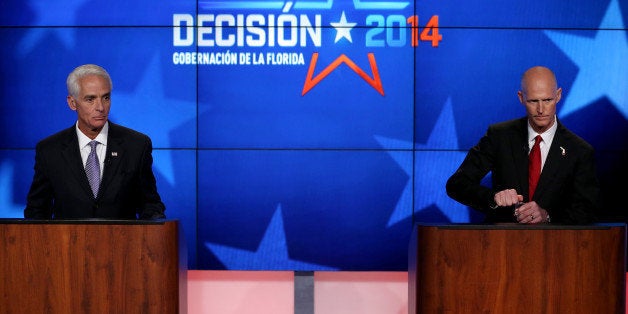 By Gary M. Segura and Matt A. Barreto
On October 8, WFLA-TV in Tampa Bay released a poll conducted by Survey USA on the Florida governor's race between incumbent Republican Rick Scott and Democrat Charlie Crist. The poll found Crist leading Scott 44% to 42%, with eight percent undecided and six percent for the Libertarian candidate.
Like the Georgia poll, this Survey USA result suffers from the same three fatal flaws: (1) a perilously small sample; (2) combined with English-only interviewing; and (3) a failure to understand the intra-Latino dynamics in Florida. During the 2012 election, Miami Herald political writer Marc Caputo devoted a full column to how robopolls in Florida have significant problems getting the Latino vote right. According to Caputo, Republican-leaning Cubans are far more likely to participate in robopolls than Democratic-leaning Puerto Ricans and other Latinos.
First, the WFLA/Survey USA poll is right to break out Cuban and non-Cuban Latino voters in Florida. Unfortunately, their poll interviewed only 53 non-Cuban Latino likely voters. The margin of error alone is +/- 13.5%, meaning that the poll's actual point estimate was accurate only within a 27-point range.
More importantly, polling only in English adds a significant conservative skew, and this is especially risky in Florida. Why? Because Florida has the highest share of Spanish speakers among Latino U.S. citizens, in particular a high percentage of Puerto Rican-born voters who are all citizens by birth and raised on a Spanish-speaking island. Besides Puerto Ricans, Florida Latino voters have one of the highest percentages of immigrants from Cuba, Colombia, the Dominican Republic and Mexico. English-only surveys exclude these populations.
On Friday, Latino Decisions released a Florida poll done for the National Council for La Raza Action Fund that was reported in the Miami Herald and elsewhere. In our poll of 600 Latino registered voters, surveyed by live callers in both English and Spanish and reached on either landlines or cellphones, we obtained results significantly different from WFLA/Survey USA. If we confine our results to "likely" voters, as Survey USA did, the results show a similar trend for Cuban Latinos with both polls finding a 56% to 33% advantage for Rick Scott.
However, among non-Cubans the WFLA/Survey USA poll is way off. The Latino Decisions/NCLRAF poll finds non-Cuban Latinos backing Democrat Charlie Crist 64% to 22%, which is consistent with actual results from previous elections in Florida. The +42 Democratic margin in our sample of 302 non-Cuban Latinos directly contrasts with the WFLA/Survey USA poll's +21 margin for Scott--a net swing of 63 points. Further, as noted by Marc Caputo in his column, pollsters often over-represent the Cuban vote. The WFLA/Survey USA poll estimates Cuban at 44% of all Latinos, when their real share is 34%.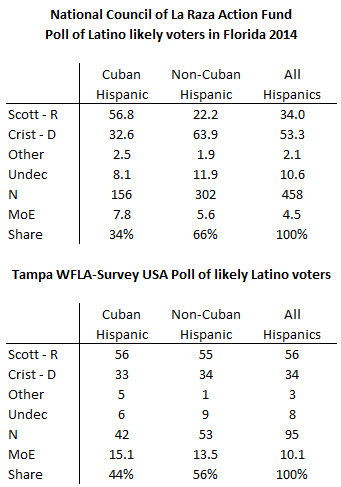 In short, as in their Georgia poll, Survey USA's approach to accounting for Latino votes has returned estimates that almost certainly bear little resemblance to reality.
In Georgia, Latinos represent a smaller share of the electorate, estimated to be about 5% in 2014. In Florida, however, Latinos are 16% of the electorate, and we estimate the non-Cuban portion is 10.5%. Methodological biases in estimating Latino vote have significant impact on the overall estimates.
Survey USA's poll has Crist leading overall statewide by 2 points, 44% to 42%. If we assume the poll is accurate for the non-Latino population, we can re-do the math substituting their faulty Latino numbers with our own. The result? Replacing the non-Cuban data in the WFLA/Survey USA poll with the non-Cuban data in the Latino Decisions/NCLRAF poll, Crist has 46.7% and Scott 39.2% -- a seven-and-a-half point lead, rather than a 2-point lead.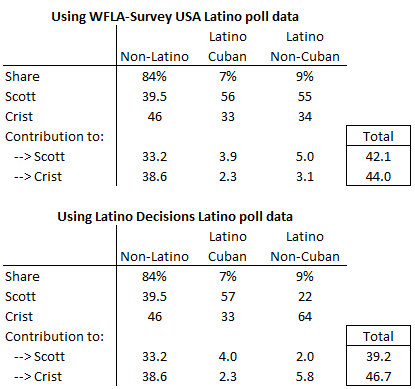 Unfortunately, this is not the first case of a misleading Florida poll biased by erroneous Latino estimates. Late in 2012, a Tampa Bay Times/Mason Dixon poll reported that Romney was leading President Obama by 7 points statewide. Among Latinos, the poll had Romney leading by 2 points. On Electon Day, however, Obama won statewide by almost 1 percent -- a net 8-point difference from the Tampa Bay Times poll. Among Latinos, Obama bested Romney by 18 points, rather than lose by 2 points, as the poll had predicted. At 16% of the statewide electorate, biased data on Latino preferences data can, has, and if not remedied will continue to bias statewide poll results in Florida.
REAL LIFE. REAL NEWS. REAL VOICES.
Help us tell more of the stories that matter from voices that too often remain unheard.