WASHINGTON -- Two new polls released on Friday confirm that Mitt Romney holds a comfortable lead in Florida's Republican primary, erasing the brief bump that Newt Gingrich enjoyed just after his South Carolina victory.
The latest poll from the Quinnipiac University Polling Institute, which interviewed 580 likely Republican primary voters from Tuesday through Thursday, finds Romney opening up a nine-point lead over Gingrich (38 to 29 percent), with Ron Paul (14 percent) and Rick Santorum (12 percent) running far behind.
Interviews from a previous Quinnipiac poll conducted on Sunday and Monday had shown Gingrich surging ahead by six points (40 to 34 percent). Other polls conducted over the weekend, just as Gingrich's big win in the South Carolina primary was dominating the news, found a similar result. But six surveys conducted later in the week show Romney now leading Gingrich by margins ranging from 7 to 9 percentage points.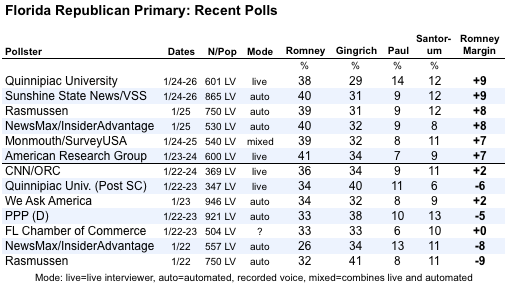 A second poll released on Friday by the Sunshine State News Service, fielded from Tuesday through Thursday among 865 likely primary voters, also finds Romney leading Gingrich by nine points (40 to 31 percent), followed by Santorum (12 percent) and Paul (9 percent).
The consistency of the results is notable, given that the Quinnipiac and Sunshine State News polls use very different methodologies. The Quinnipiac poll has live interviewers calling voters on both landline and mobile phones, while the Sunshine State News poll uses an automated, recorded-voice methodology that, due to legal restrictions, can contact only landline phones.
The HuffPost Pollster chart, based on all available public polls in Florida, now reflects the Romney rebound in the most recent surveys. It gives Romney a roughly eight-point lead over Gingrich (39.1 to 31.3 percent), trailed by Santorum (12.1 percent) and Paul (8.9 percent).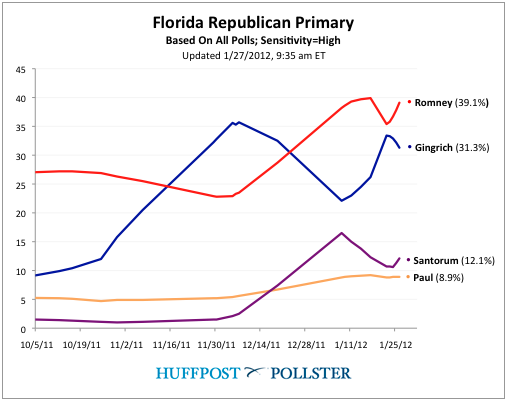 The chart shows that although Florida voters' support for Gingrich has surged during January, the extra bump around the South Carolina primary has faded. Since Sunday the chart finds Gingrich's support dropping roughly two percentage points and Romney's jumping by nearly four points.
Not surprisingly, given the continuing volatility in voter preferences, the new polls find other evidence that many Floridians remain uncertain about their choices. The Quinnipiac poll reports that one-third of those with a preference (32 percent) say they may still change their minds before Tuesday's GOP primary, while another 6 percent of all Republican voters are completely undecided.
So as always in this tumultuous primary campaign, the current polling snapshot is subject to change, although without a major intervening event over the next four days, Mitt Romney has good reason for optimism on Tuesday.

Popular in the Community