WASHINGTON -- After a remarkably turbulent week, a handful of polls released Thursday brought a new twist to surveys on Florida's Republican presidential primary: a consistent finding.
The new polls also continue to show Rick Santorum and Ron Paul running far behind in single digits, with Santorum a few percentage points ahead of Paul.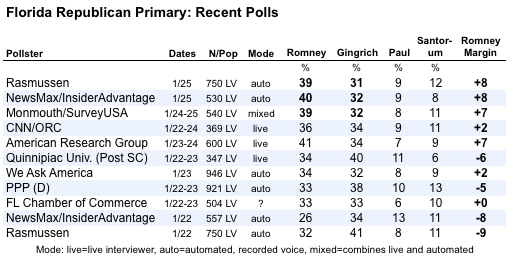 The three polls used an automated, recorded-voice methodology to reach Floridians on their landline telephones. The Monmouth/SurveyUSA poll added an additional sample of mobile phone numbers called by live interviewers.
Combined with surveys conducted earlier in the week using a variety of different methods, the data now yield a relatively consistent story: In interviews conducted over the weekend, just before and after Gingrich won Saturday's South Carolina primary, Gingrich surged into the lead in Florida. But in interviews conducted Monday through Wednesday, Romney rebounded to a lead of 7 to 9 percentage points (and that includes those interviews from a CNN/ORC International poll conducted on Monday and Tuesday nights).
The HuffPost Pollster chart, which attempts to smooth out the random variations that are inherent in polling, is struggling to keep up with the rapid twists and turns of voter preferences in the Republican race. Our latest update based on Thursday's new polls shows Romney leading Gingrich narrowly (36.1 to 34.5 percent) with Santorum (11.1 percent) and Paul (8.5 percent) far behind. Should the Romney rebound persist in future polls, his trend line will quickly shift upward to reflect the new results.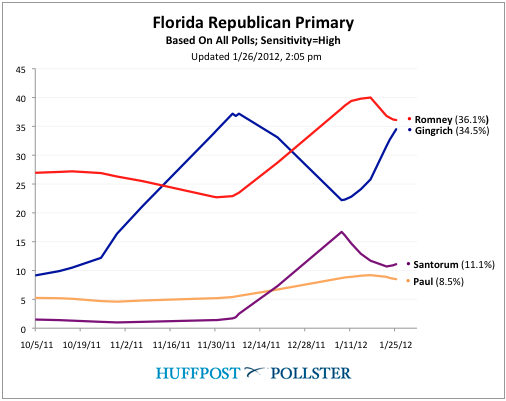 Every poll conducted this week has confirmed a surge in Florida voters' support for Gingrich compared to where he stood before the South Carolina primary. The more consequential question may be whether the larger bump measured over the weekend -- with polls showing Gingrich briefly ahead -- was real or an artifact of the difficulty of polling when the South Carolina results dominated newscasts. After all, if taken at face value, the run of polling suggests a net 17 percentage point shift from big Gingrich lead to comfortable Romney lead over just three or four days this week.
As always, those who follow pre-election polls should remember that a telephone interview amounts to something of an ambush. Uncertain voters who know they may have days or weeks to make a decision -- both about whether they will vote and which candidate they will choose -- are suddenly confronted with immediate questions: Are you likely to vote? And if the election were held today, for whom would you vote? The polls may be measuring answers that accurately represent the likely Republican electorate and are therefore consistent, but nonetheless reflect fleeting opinions.
Moreover, when news coverage offers a "one message environment," when it's all good news about Candidate A and bad news about Candidate B, the polls may show brief bumps in support for the candidate benefiting from the coverage. Something like that typically occurs during the presidential nominating conventions. Gingrich appears to have experienced just such a bump over the past weekend.
It is also worth remembering that, according to most reports, Romney's campaign and allied Super PAC have been spending huge sums in Florida, and those watching television or with access to the ad buy data report pro-Romney ads far outnumber those being aired by Gingrich and his allies.
Finally, recall that support for Gingrich turned on a dime following a nationally televised debate on Jan. 16. With another CNN debate set to air Thursday night, the current reading may turn out to be just the latest brief snapshot in time.