WASHINGTON -- Newt Gingrich's improbable late January surge appears to be rolling into Florida, as a new poll confirms that victory in the South Carolina primary produced a "big jump" in the former House speaker's support with just six days remaining before the Florida primary.
The new survey by the Quinnipiac University Polling Institute shows former Massachusetts Gov. Mitt Romney still narrowly leading Gingrich, 36 to 34 percent, in interviews conducted among 601 likely Republican primary voters from Jan. 19 to Jan. 23. But on roughly half of the interviews conducted since Saturday's South Carolina primary, Gingrich moves from trailing Romney by 11 percentage points on the Quinnipiac poll (26 to 37 percent), to a six-point lead (40 to 34 percent).
Quinnipiac's new survey, which used live interviewers and sampled Florida voters over both landline and mobile telephones, confirmed the same trend measured by other surveys conducted entirely after the South Carolina vote. Three automated, recorded-voice surveys, by the Democratic pollsters Public Policy Polling (PPP), NewsMax/Insider Advantage and Rasmussen Reports, showed Gingrich leading (by margins of 5, 8 and 9 percentage points, respectively). Two more polls, an automated survey by WeAskAmerica and a poll of undisclosed methodology sponsored by the Florida Chamber of Commerce, showed a roughly dead-even race between Romney and Gingrich.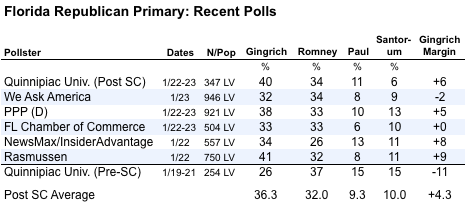 The HuffPost Pollster Chart, based on all available public polls in Florida, shows the latest surge for Gingrich and currently gives him a slight edge over Romney, 34.4 to 33.7 percent. A simple average of results from interviews conducted after the South Carolina primary, however, would give Gingrich a slightly larger advantage (36.3 to 32.3 percent).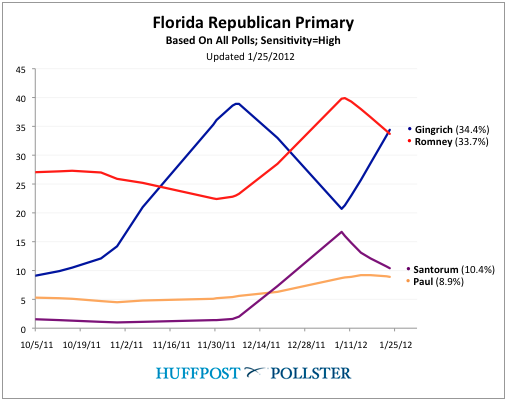 More data from the Quinnipiac University poll underscores the potential for further volatility in voter preferences in the six days remaining before the Florida primary election. Thirty-eight percent of those currently supporting one of the candidates say they may still change their minds before the election, and another 7 percent of all voters are undecided. Roughly the same number of Gingrich and Romney supporters said they might still change their minds.
CORRECTION: The original version of this article misstated the margin between Mitt Romney and Newt Gingrich on the full Quinnipiac poll and incorrectly reported the Gingrich lead in the PPP poll.
Calling all HuffPost superfans!
Sign up for membership to become a founding member and help shape HuffPost's next chapter
BEFORE YOU GO