The Florida primary is in the history books and, as analysts predicted, Mitt Romney romped Newt Gingrich. While the Romney campaign should pat itself on the back for its double-digit victory, they should keep the champagne on ice for now. The polls show President Obama down in Florida, but he may have gotten the last laugh.
Here are four troubling signs for the GOP emerging from the Sunshine State's primary:
1. Statewide GOP turnout is down from 2008
Compared to the 2008 primary, GOP turnout was down 14% on Tuesday. In 2008, 1,949,498 Republicans cast their ballot in the Florida primary; last night, the number was 1,672,702. Are there less registered Republicans now in Florida than there were in 2008? No, there are 25,000 more.
The cause for the drop in GOP turnout last night is unclear. The Republican base isn't electrified by its front-runner candidate, but it would be foolish for Democrats to assume that means they won't show up to vote in November because the one thing they are fired up about is defeating President Obama. However, as we saw in the 2000 Florida recount, elections are sometimes won on the slimmest of margins, and Washington Republicans are going to need all hands on deck if they want to defeat the president.
2. Romney's favorability ratings are down and his negatives are up
Romney may have bombarded Gingrich with negative ads and outspent him 5:1 in Florida, but as the HuffPost Pollster chart below shows, it wasn't just the former speaker's image that took a dive as the GOP candidates toured the Sunshine State.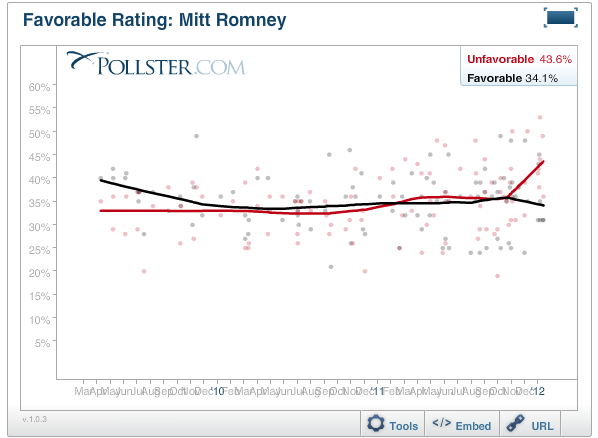 Of the last four nationwide polls of general election voters, Romney's ratings are upside down in all of them. When averaged, he finds himself with a 13.5-point favorability deficit with 32% of voters responding that they have a positive opinion of the former Massachusetts governor; meanwhile, 45.5 view him negatively.
Romney's favorability deficit problems are made worse by the fact that its independent and moderate voters who are being turned off. In the latest PPP survey 54% of independents said to have an unfavorable opinion of Romney. Similarly, according to the same poll, if the election were held today, 66% self-described moderates would vote for President Obama. The latter statistic should be especially troubling to Romney's campaign advisers given its similarity to Obama's 60%-39% lead over McCain among the same demographic. Nonetheless, we are still 9 long months away from the election -- an eternity in politics. But if Romney's ratings are tanking now against Newt Gingrich, Rick Santorum and Ron Paul, it's hard to see him faring better against President Obama and his $1 billion.
3. Romney is trailing Obama by double-digits among Hispanic Floridians
A recent Univision-sponsored poll of over 500 Florida Hispanic voters showed President Obama with a 10-point, 50-40, lead over Mitt Romney. The majority of the undecided voters in the survey were non-Cuban Hispanics, which should raise a red flag in the Romney campaign given that demographic's past tendency of voting for Democrats.
The Obama campaign shouldn't (and certainly won't) sleep on the laurels and take the Florida Hispanic vote for granted. At 50%, the president is underperforming his 2008 57-42 solid defeat of John McCain, which allowed him to win Florida by 3 points. With the Hispanic population growing and playing a decisive role in elections across the country, Romney cannot afford to lose the Hispanic vote in Florida the way John McCain did in 2008. Conversely, the president is going to need a comfortable margin of victory of at least 13-15 points among Florida Hispanic voters in order to cushion his losses elsewhere.
4. GOP turnout down in 1-4 corridor
While we already covered the statewide GOP turnout drop, a candidate's performance in the Interstate 4 corridor, which is considered the state's bellwether, is such an important indicator of electoral success that it deserves to be analyzed on its own.
Nearly 20% of the vote's cast in last night's primary came from the six counties the highway directly touches, and as Micah Cohen pointed out, nearly half of Florida's primary voters live within the corridor's two media markets.
Romney defeated Gingrich last night by 14.5 points. When his percentage point margins of victory in the six 1-4 counties are aggregated, it yields a an average spread for Romney of 10.4 points over the former House speaker (4 points less than the statewide average). Given the area's large population of devout Christians, this may be another sign that social conservatives have yet to enthusiastically embrace Romney's candidacy. Further, as the table below shows, the Republicans' turn-out challenges in the 1-4 counties mirrored those the GOP saw across the state.
Despite these challenges, the Romney campaign should feel good about its performance last night. They handed one of the preeminent leaders of the conservative movement a solid double-digit defeat in one of the most politically complex states in the country. That's not an easy thing to do in Florida.
Then again, the Sunshine State, with its 10 media markets, is exactly the kind of place where one should expect to see a well-financed, telegenic candidate like Romney outperform under-financed rivals. The problem for Romney is that President Obama's team will not only match his fundraising, but they may very well double or triple it. There is nothing Team Romney can do about that. What you can bet they are doing right now is figuring out why the Republican turnout was low throughout the state last night; how they are going to improve their candidate's image (especially among moderates and Independents); and how they are going to make Romney an acceptable alternative to President Obama among Hispanic voters.

Popular in the Community