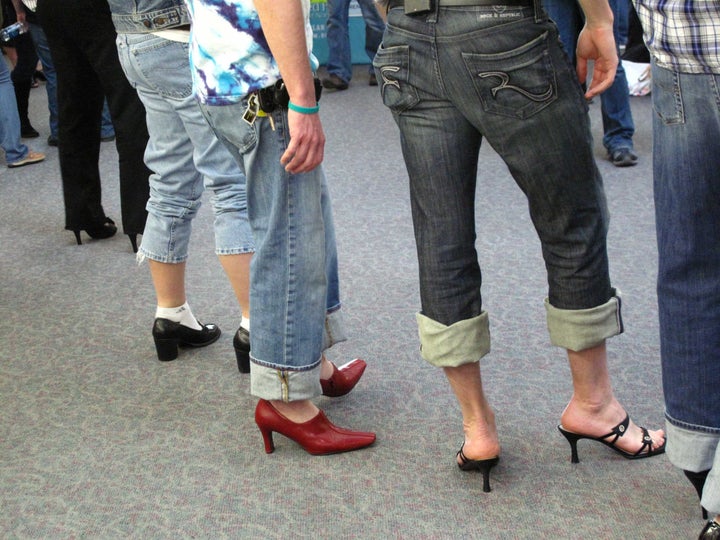 Does forcing a student to conform to social norms prevent bullying or perpetuate it?
A recent episode in Florida once again brought this debate to light: a male student who wore high heels to school was asked by an assistant principal to remove them -- even though he wasn't violating dress code.
Riverview High School Principal Bob Heilmann told 10 News that he made the request out of concern for the student's safety.
"Part of bullying is to try to prevent it, whether people make fun of what you are wearing, or your hair. If I can prevent that, I will prevent that," said Heilmann.
Some students felt the assistant principal didn't have the student's best interests in mind.
They saw the incident as an act of discrimination, and organized a small protest. They made tags with slogans such as "support diversity" for classmates to wear, and organized a theme week that included a cross-dressing day and a day for everyone to wear heels.
Riverview isn't the only school struggling with where to draw the line between self-expression and self-endangerment.
This incident comes just days after bisexual teen Jesse Irey was sent home from Liberty High School in Missouri for refusing to take off a T-shirt that read, "Queer + Str8 Equal."
According to FOX4kc.com, the school released a statement that the word queer is "aligned with hate-driven remarks resulting in hostile physical reactions that are detrimental to a safe learning environment."
But Irey says the school district is being hypocritical of its "hate free" policy.
With the prevalence of teen suicides that appear to be linked to bullying and cyberbullying in recent months -- a suicide pact carried out by two 14-year-old girls in Minnesota this month; the suicide of a 13-year-old boy in Ohio in March; two suicides in two weeks at a New York high school, one of which occurred after anti-gay bullying on Facebook; and those are just a few examples -- administrators understandably want to be cautious and do what they can to prevent bullying. But is outlawing specific attire or accessories an effective way to prevent bullying?
There's no simple answer to that question, says psychologist Susan Swearer. An associate professor of school psychology at the University of Nebraska, Lincoln, Swearer has presented dozens of keynotes and workshops on bullying across the United States, and was recently asked by the Obama administration to share her expertise on the causes of and solutions for bullying at a conference at the White House.
Swearer says bullying is such a difficult issue because "It all depends on the intent." She tells Huffpost, "If the intent was that the principal was really concerned, I think that's fine. If the principal had a negative view of the student's attire, that can be problematic... The difficulty with bullying is that it's the intent of the person making the suggestion about what to do."
It's also tough to know what passes for okay because each situation is different.
"I think part of the problem with these kinds of question is it depends on the personality of the child involved and the climate in the school," says Swearer. "We know that kids are bullied because they're different; but what's different in one community may not be different in another community... It would be great if [bullying] was an easy problem to solve, but it's not. It's an extremely complicated problem. Every community confronts this issue in a different way."
In the case of the Florida student, Swearer would recommend that administrators talk to the parent or guardian first, rather than the student, because they're the guardians -- the ones legally responsible for the student.
"If an administrator feels that a student is drawing unnecessary attention to himself or herself, the thing to do would be to talk to the parents and say that 'I'm concerned that because of their dress, they could draw attention to themselves.'"
Adults, she says, are the key. "Adults in the system -- teachers, administrators, parents -- need to be incredibly vigilant about this issue, need to be involved and model appropriate behavior so that we can create a climate where bullying is just not okay. It's up to adults; adults need to model healthy social relationships."
She says the question we should be focusing on is, "How do we raise kids who don't fall prey to bullying?"
What do you think about the assistant principal's position? Tell us in the poll below.
Calling all HuffPost superfans!
Sign up for membership to become a founding member and help shape HuffPost's next chapter