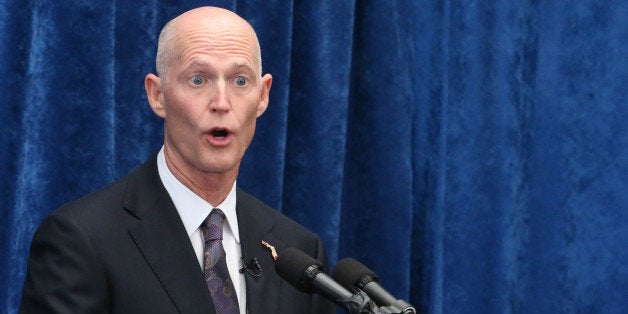 TALLAHASSEE, Feb 2 (Reuters) - Florida's prisons system is struggling with serious staffing and budget shortfall, according to the head of the Department of Corrections, who told a state legislative committee on Monday she plans to seek an additional $51 million this year to address long-neglected needs.
The agency, which had a budget of some $2.2 billion last year, has been under fire for months because of inmate deaths and "whistleblower" accounts of a violent culture behind the walls.
Former Corrections Department Secretary Michael Crews last week told the Miami Herald he had tried for years to persuade Republican Governor Rick Scott that the prison system was so badly run-down and understaffed that inmates and employees were not safe. Scott forced him out late last year.
Department Secretary Julie Jones said she has a "100-day plan" of major policy changes, emphasizing increased training on "use of force" by correctional officers, improved staffing levels and mental health services, as well as upgrading worn-out facilities.
She said she has training teams going throughout the state to make sure all staff members know force is allowed only in self-defense, to quell disturbances, prevent escapes or stop resistance to lawful instructions.
She also said her inspector general's office, with 160 investigators, checks out every inmate complaint or whistleblower tip about corruption or brutality by staff. But she conceded the agency had a "perception problem" and inmates and their families don't believe it.
She said there were 894 more "use of force" reports in the prison system last fiscal year, an increase of 14 percent from the prior year. But she said there were 2,800 "precipitating acts" by inmates that could have led to justifiable force by guards, an 18 percent increase, so the policy of reporting every incident had showed results.
The state had 19,806 correctional officers in 2009 but only 16,424 last year, while the inmate population has grown from 92,000 to more than 100,000 over the past seven years, the committee heard.
Low salaries, starting at about $32,000 a year, and rapid turnover in the ranks has caused many prisons to adopt 12-hour work shifts, with fatigue and broken equipment contributing to prison dangers, according to Senate Criminal Justice Committee Chairman Greg Evers, a Republican.
"It becomes a safety issue to me, when officers get tired, inmates get unruly," Evers said. (Editing by David Adams and Eric Walsh)

Popular in the Community