"On Friday, March 2, 2018, the Citrus County School District was made aware [by a HuffPost reporter] of a concerning podcast," Himmel said in the statement. "The Human Resources department was notified and an investigation was initiated immediately. The teacher has been removed from the classroom and the investigation is ongoing."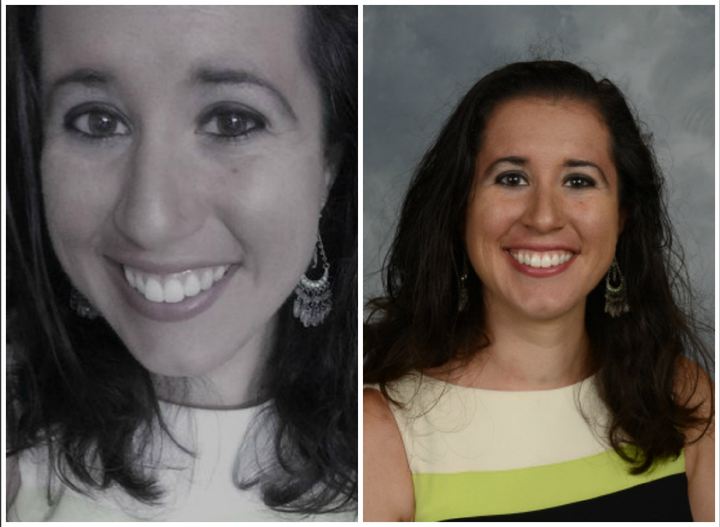 Dayanna Volitich, a 25-year-old social studies teacher at Crystal River Middle School in Florida, has been secretly hosting the white nationalist podcast "Unapologetic" under the pseudonym "Tiana Dalichov" and bragging about teaching her views in a public school, HuffPost has discovered.
In her most recent podcast on Feb. 26, a guest railed against diversity in schools, dismissing the idea that "a kid from Nigeria and a kid who came from Sweden are supposed to learn exactly the same" and have the "same IQ." Volitich enthusiastically agreed with the guest, and went on to argue that "science" has proven that certain races are smarter than others.
In the same episode, Volitich boasted about bringing her white nationalist beliefs into the classroom and hiding her ideology from administrators. She said that when parents complained to the school's principal about how she is injecting political bias into the classroom, Volitich lied to the principal and said it was not true.
"She believed me and backed off," she said.
Volitich also agreed with her guest's assertion that more white supremacists need to infiltrate public schools and become teachers. "They don't have to be vocal about their views, but get in there!" her guest said. "Be more covert and just start taking over those places."
"Right," Volitich said. "I'm absolutely one of them."
After HuffPost made inquiries about Volitich's white nationalism to the Citrus County School District on Friday, "Tiana Dalichov" tweeted that she "might disappear for a while" and then set her account to private. She also scrubbed the website for her podcast.
HuffPost took screenshots of many of the racist and incendiary statements she made online.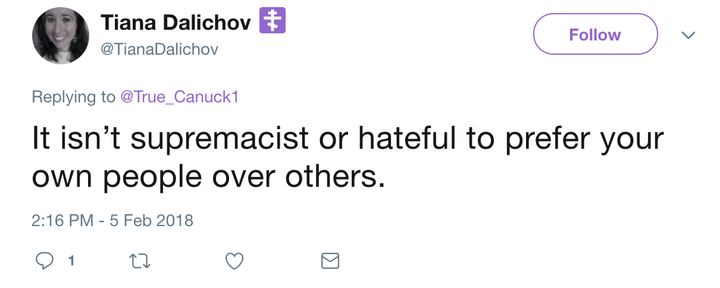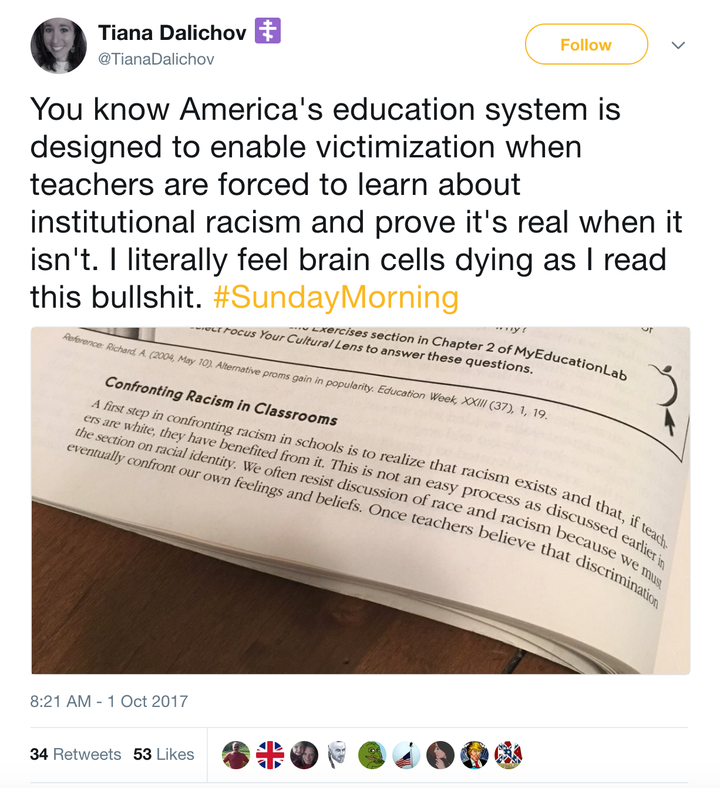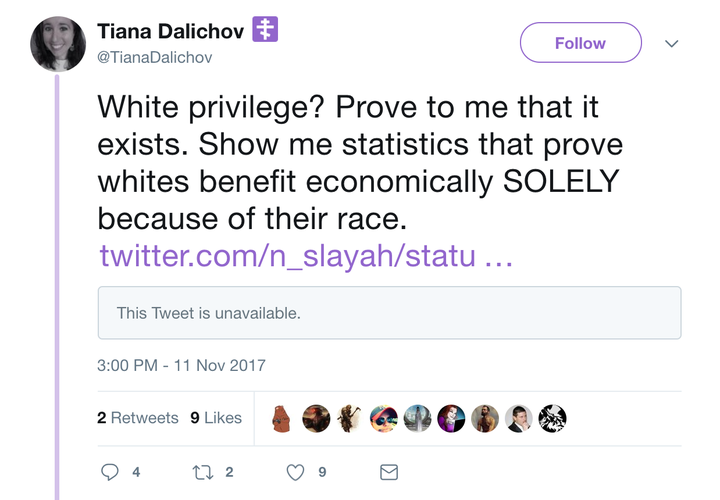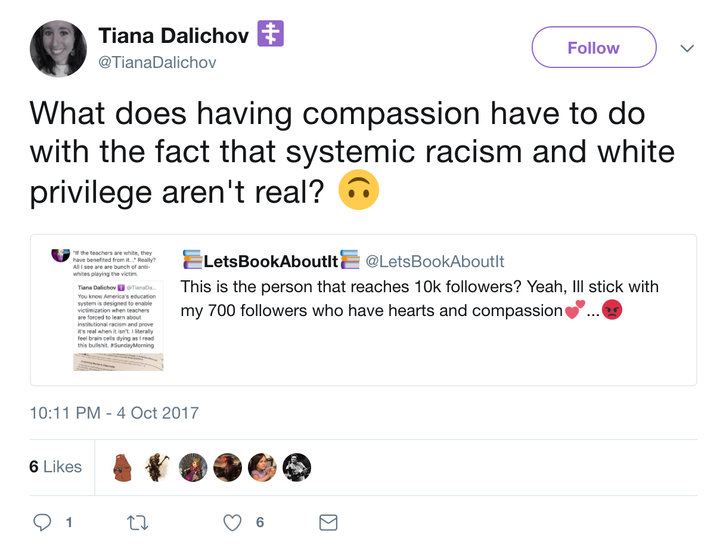 We also downloaded the episode of this week's podcast, which you can listen to here (start at 01:30 for the aforementioned comments).
The school where Volitich works is overwhelmingly white. In the 2015-2016 school year, nearly 90 percent of the school's students identified as white, per the National Center for Education Statistics. Only about 4 percent of students identify as black, and 3 percent identify as Hispanic. Most of the school's students qualify for free or reduced-price lunch.
Scott Hebert, executive director of educational services for the Citrus County School District, could not confirm that "Dalichov" was Volitich but said the district "will be looking into the statements she made, checking the validity to see if they violate our code of ethics and policy."
"She does not speak on behalf of the Citrus County School District," Hebert said. "The views she's listed [online] are really not in line with how our district operates."
"Tiana Dalichov" didn't respond to HuffPost's requests for comment on Facebook and Twitter on Friday. She has since deleted those social media accounts. Volitich did not respond to HuffPost's message to her school email address on Friday.
In the episode, "Tiana Dalichtov" talked openly about being a public school teacher, but didn't reveal her real name or the school where she worked.
HuffPost found a website promoting the writing of "Tiana Dalichov" that had a bio section listing the author's home as Crystal River, Florida. Volitich is listed in public records as residing in Crystal River. She is also listed as being 25 years old. This year, when a fan tweeted at "Tiana Dalichov" asking how old she is, she responded that she was 25.
On an episode of her podcast, she mentioned that last school year was her first year in the district where she works. Citrus County School District confirmed to HuffPost that Volitich started teaching in the district in August 2016.
Volitich's photo on the Crystal River Middle School website and social media profile photos of "Tiana Dalichov" appear to feature the same person. The photos show Volitich and "Dalichov" wearing the same set of earrings (seen at the top of this piece).
Lastly, the names "Tiana Dalichov" and "Dayanna Volitich" share all but two of the same letters and the same number of syllables.
In her podcast appearances and social media posts, Volitich talks regularly about being a teacher (even mentioning she teaches in Florida) and makes statements that are deeply alarming ― particularly for someone tasked with shaping the minds of middle-school students.
On this week's podcast, Volitich said that when students ask her questions about current events, she responds with unbiased "facts."
But as "Tiana Dalichov," Volitich has suggested "facts" such as that terrorism will continue unless Muslims are eradicated "from the face of the Earth."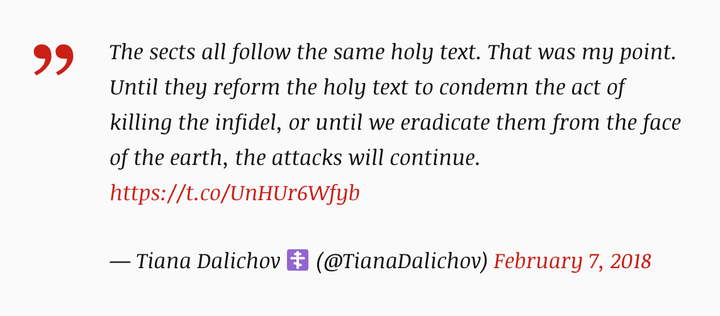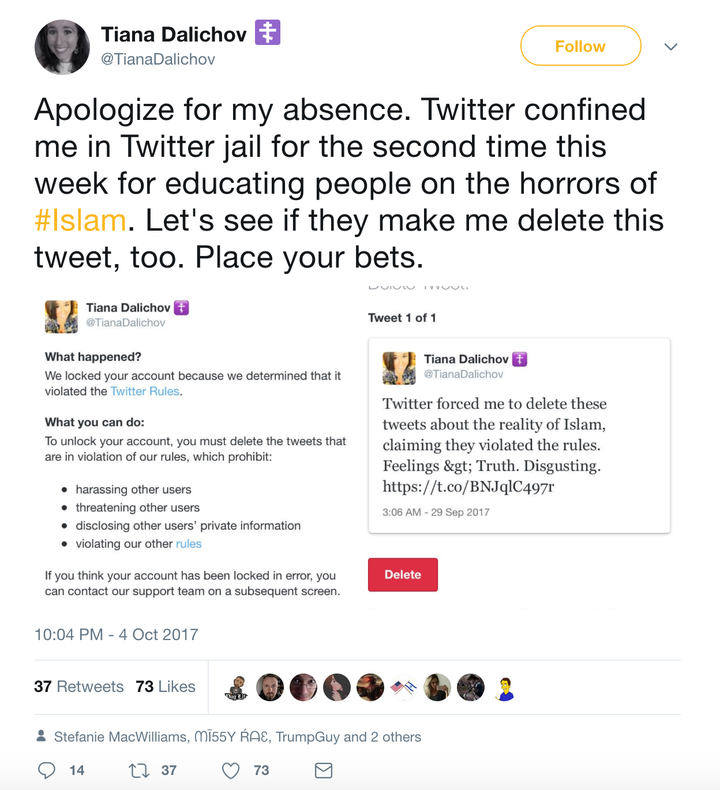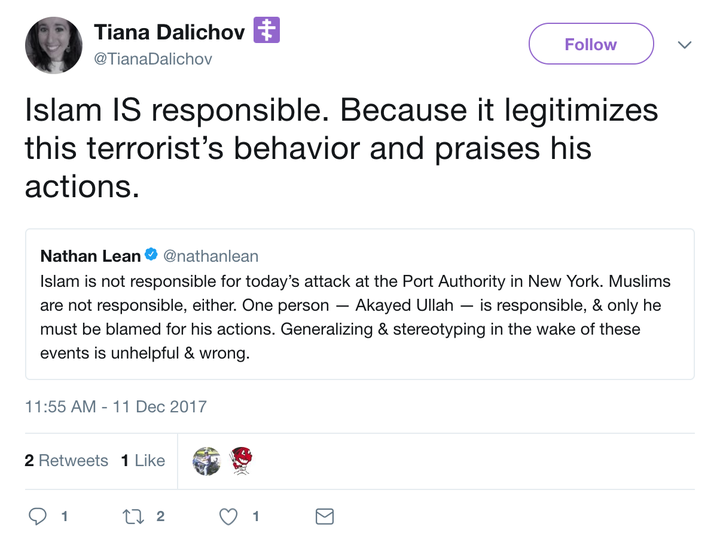 She has gushed about the work by anti-Semitic author Kevin MacDonald, and has said the "JQ is incredibly complex." JQ stands for the "Jewish Question," an anti-Semitic conspiracy theory that Jewish people have undue influence over the media, banking and politics that must somehow be addressed.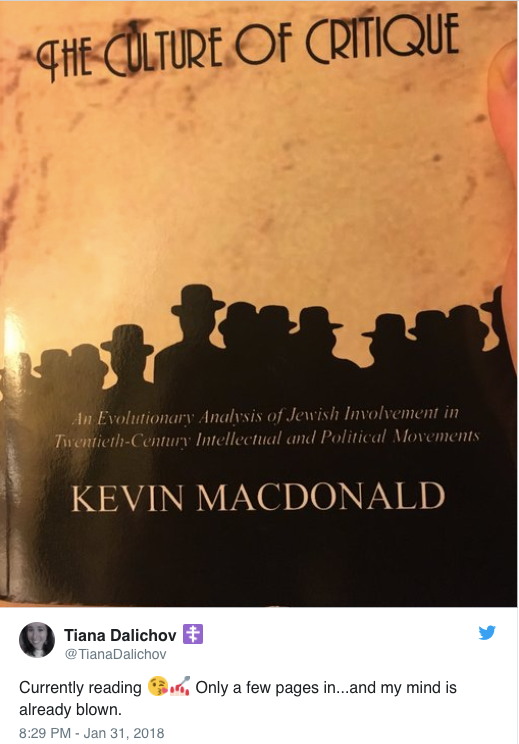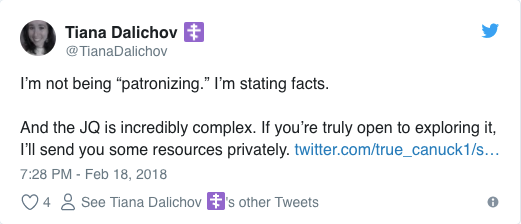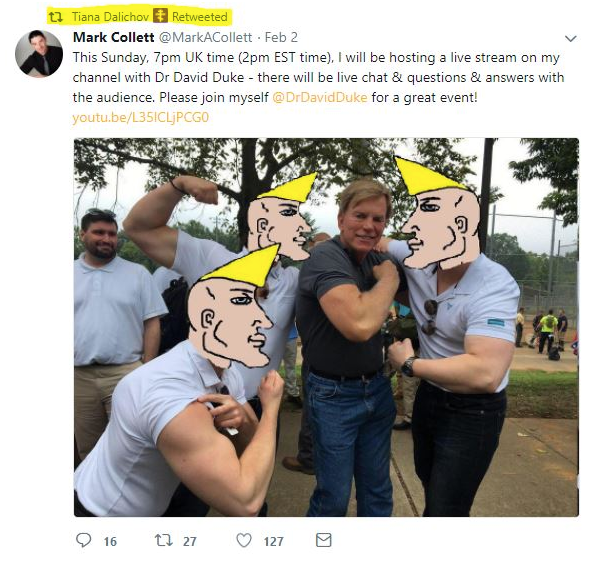 Many white supremacists across America today lead double lives, advocating loudly and anonymously for white supremacy and fascism online while holding down respectable jobs and doing their best to keep their online lives hidden.
A former Catholic substitute teacher and field hockey coach in Maryland was fired earlier this year after his school learned that he was also employed by the National Policy Institute ― white supremacist Richard Spencer's think tank ― and the website Altright.com. Like Volitich, he posted on social media under a pseudonym. Additionally, he was in charge of Spencer's security detail during the deadly "Unite the Right" rally in Charlottesville, Virginia, in August 2017.
Volitich made clear on another podcast this year that her students know her political beliefs.
She said we wouldn't tell the students, fearing retribution from administrators. But she said she told them, "if you can figure out who I voted for, you can put the name in this basket on my desk and we'll see how many of you can figure it out … I will give your class a reward.'"
She said all of her students guessed correctly by using "logic" and "engaging" with what she was teaching.
Any tips about this teacher? Please email rebecca.klein@huffpost.com, jenna.amatulli@huffpost.com, or christopher.mathias@huffpost.com
CORRECTION: A previous version of this story indicated that public records list Volitich as residing in Crystal City, Florida, and that a website listed the home of "Dalichov" as the same city. In fact, both of those references were to Crystal River, Florida.
Support HuffPost
The Stakes Have Never Been Higher
Popular in the Community