The race to count Florida's votes got even messier on Sunday as Gov. Rick Scott's campaign filed a handful of lawsuits seeking to give law enforcement custody of election equipment and prevent certain ballots from being included in official results.
A recount began Saturday in the U.S. Senate race between Scott, a Republican, and Democratic Sen. Bill Nelson. Scott narrowly leads Nelson by about 0.15 percentage points, well within the state's 0.25 percent threshold for a manual recount.
Scott accused Brenda Snipes, the supervisor of elections in Broward County, of violating state law by refusing to provide information to his campaign about the number of outstanding ballots. He also alleged Susan Bucher, the supervisor of elections in Palm Beach County, had run afoul of state law by duplicating and damaging certain ballots. He asked a state judge to authorize law enforcement officials to "impound and secure" all voting equipment when it wasn't in use for the recounts or other election-related activity. He also asked the judge to require both officials to preserve all ballots related to the 2018 elections.
In a separate suit against Snipes, Scott's campaign asked a judge to block Broward County from counting any of the ballots it didn't include in the unofficial results it submitted to the Florida Department of State by noon Saturday, a deadline set by state law. That request, if granted, could mean some valid ballots would not be counted. Florida accepts vote-by-mail ballots until 7 p.m. on Election Day and the county may not have them all counted by Saturday's deadline.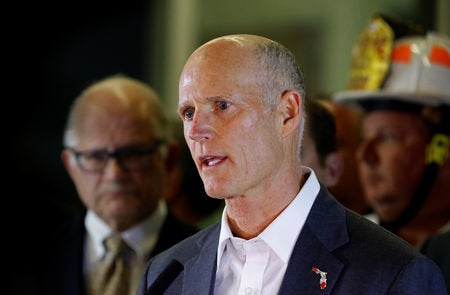 The populous and heavily Democratic Broward County is a key area for Nelson if he is to overcome Scott's lead. In a Sunday statement, Nelson's campaign accused Scott of trying to stop valid votes from being counted.
"If Rick Scott wanted to make sure every legal ballot is counted, he would not be suing to try and stop voters from having their legal ballot counted as intended," the campaign said in a statement. "He's doing this for the same reason he's been making false and panicked claims about voter fraud ― he's worried that when all the votes are counted he'll lose this election. We will not allow him to undermine the democratic process and will use every legal tool available to protect the rights of Florida voters."
"In suing to seize ballots and impound voting machines, Rick Scott is doing his best to impersonate Latin American dictators who have overthrown Democracies in Venezuela and Cuba," Peñalosa said.
There are also recounts underway in statewide contests for governor and state agriculture commissioner. Bucher, the Palm Beach County election official, told CNN it would be "impossible" for her staff to meet the state's deadline for recounting the votes.
Sarah Revell, a spokeswoman for the Florida Secretary of State's Office, told the network that if a county can't meet the deadline "then the results on file at that time take their place." The chair of the Palm Beach Republican Party told CNN that would be good news for Republicans because GOP candidates are currently leading.
Nelson's campaign also has a lawsuit seeking to force the state to count ballots thrown out because the signature on them didn't match the one on file with the state's voter registration.  Federal judges in Georgia and New Hampshire have blocked similar laws in those states this year.
In a televised statement in front of the governor's mansion Thursday evening, Scott suggested there was "rampant fraud" in Broward and Palm Beach counties and asked the Florida Department of Law Enforcement to investigate. The state law enforcement agency said Friday it wasn't investigating any allegations of fraud, but Scott continued to insist in a television interview on Fox News Sunday that such fraud existed.
Calling all HuffPost superfans!
Sign up for membership to become a founding member and help shape HuffPost's next chapter