A Florida Republican filed a six-week abortion ban on Tuesday – confirming that the Sunshine State will very likely restrict abortion care earlier than its current 15-week ban.
State Sen. Erin Grall (R) filed the bill, which would ban abortions after six weeks with limited exceptions, on the first day of the state's legislative session. State Rep. Jenna Persons-Mulicka (R) filed a companion measure in the Florida House.
Most people don't know they're pregnant before six weeks, which means this legislation will be a major barrier to critical services for Floridians and others in the southeast who seek care in Florida because their own states banned abortion following the fall of Roe v. Wade. The restriction includes exceptions for rape and incest, but only up until 15 weeks of pregnancy ― and in order to get one, the survivor "must provide a copy of a restraining order, police report, medical record, or other court order or documentation" to prove she was a victim of rape or incest, according to the legislation.
The proposed legislation also includes an exception for the life of the pregnant person if two physicians certify in writing that the woman will die if she continues the pregnancy. Exceptions to abortion bans are often useless and are only included to make extreme restrictions seem more reasonable.
The legislation also bans abortion care by telehealth, including mailing the medication for abortion. It seeks to prohibit "any person other than a physician from inducing a termination of pregnancy," which appears to criminalize anyone self-managing their abortion in the state of Florida.
Anyone who "willfully performs or actively participates in a termination of pregnancy" that violates these restrictions can be charged with a third-degree felony, which carries a maximum prison sentence of five years.
"Florida Republicans have gone scorched earth with what is effectively an all-out abortion ban."
Grall previously introduced the state's current 15-week abortion ban, which was enacted last year.
"For decades now, Florida has been a nationwide leader in defending the rights of the unborn. SB 300 will make Florida a beacon of hope for those who understand that life is sacred and must be protected," Grall told HuffPost in an emailed statement.
Florida Senate President Kathleen Passidomo (R) told HuffPost she supports Grall's legislation and hopes to see it enacted into law.
"I am pro-life, and the Floridians I speak with on a daily basis overwhelmingly support the prior steps our Legislature and Governor have taken to protect unborn life, promote adoption, and support parents," she said. "The legislation filed today by Senator Grall builds on Florida's strong track record of protecting the most vulnerable, especially the unborn."
Democrats spoke out against the proposed six-week ban.
"Today, Florida Republicans have gone scorched earth with what is effectively an all-out abortion ban ― with threats to criminalize women and their doctors," Senate Minority Leader Lauren Book (D) told HuffPost.
"Today, women who suffer miscarriages are sent home to get sicker and risk death before they can receive medical care," she continued. "Today, child victims of incest are forced to flee the state as medical refugees to get care. And with this bill, it will only get worse. This is it. They have come."
Book said Democrats will fight the legislation.
"And if it's a war they want, it's a war they will get. This issue bridges the partisan divide, and we will not go down as easily as they believe," Book said. "On behalf of my daughter all women and girls in our state, that's a promise."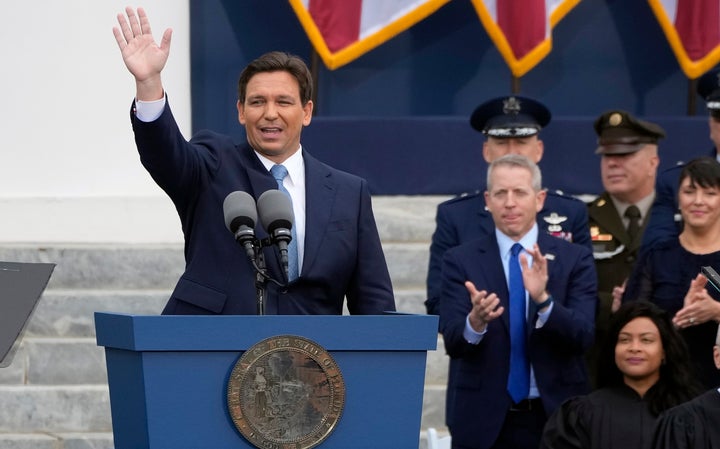 With Florida's Republican supermajority, it's all but certain that the six-week abortion ban will pass through the legislature and become law. The success of this bill is also critical for DeSantis, who needs to pad his anti-choice record ahead of a potential 2024 presidential run.
White House Press Secretary Karine Jean-Pierre criticized DeSantis and the extreme abortion ban legislation.
"Politicians like Governor DeSantis espouse 'freedom for all,' while directly attacking the freedom to make one's own health care decisions," she said. "This proposal is wrong and out of touch with the overwhelming majority of Americans, including Floridians, who support a woman's right to choose," she said.
Democrats and pro-choice leaders have been bracing for Republicans to introduce more extreme abortion restrictions in the Sunshine State for months. Given that the Supreme Court repealed federal abortion protections last year, many knew that Republicans would try to further restrict abortion further; they just didn't know how far anti-choice lawmakers would go.
Passidomo mentioned in November the possibility of a 12-week ban with exceptions for rape and incest survivors. And in December, DeSantis hinted at support for a six-week abortion ban, but his comments were vague at best.
Abortion opponents initially saw Florida's current 15-week abortion ban, which is being challenged in court, as a big accomplishment. But since Roe v. Wade fell last summer and over a dozen states have near-total abortion bans on the books, the 15-week ban is simply a reminder to DeSantis' base that the governor has not gone far enough.
DeSantis will likely face a crowded far-right Republican primary pool in 2024, which will include former President Donald Trump — and he'll need a more extreme ban on his track record to even compete.
State Rep. Anna Eskamani (D) told HuffPost in December that a 2024 ballot initiative codifying abortion rights in Florida is "definitely something that is being actively explored." However, Eskamani, who worked at Planned Parenthood for six years before joining the Florida House, said it would extremely difficult to reach the 60% threshold required to approve such a measure.
Popular in the Community