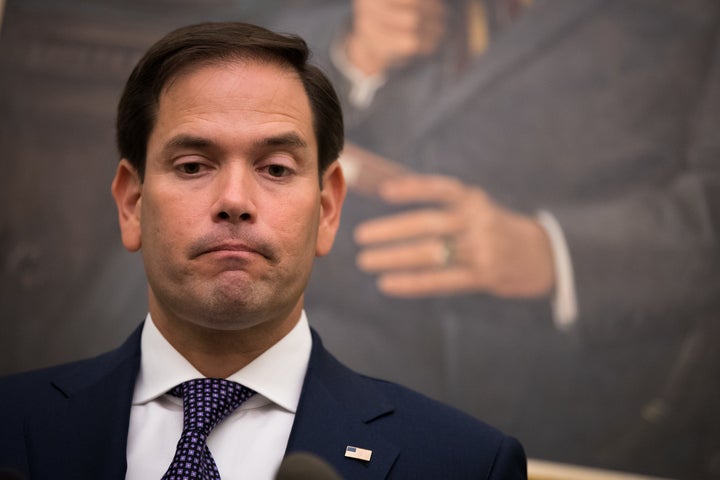 But both men have a history of coziness with gun advocates, receiving "A+" ratings and endorsements from the National Rifle Association ahead of their respective elections in 2014 and 2016. The distinction is reserved "for legislators who have excellent voting records on Second Amendment issues and who have vigorously fought to promote and defend the right to keep and bear arms."
During a Republican presidential primary debate in 2015, Rubio said new gun laws were "ineffective" and "infringe on the rights of law-abiding people and do nothing to keep guns out of the hands of dangerous people." A few months later, he went out and bought a gun on Christmas Eve.
Critics were quick to remind the lawmakers of their track records of voting against gun restrictions that could help prevent tragedies like the one in Parkland.
Some discussed Rubio's longtime acceptance of campaign donations from the NRA. An analysis by The New York Times last year found he had received more than $3.3 million from the group.
Rubio rejected calls for gun control in an interview with Fox News after the Parkland shooting, saying it was the wrong time to discuss such efforts "because people don't know how this happened."
"I think it's important to know all of [the facts] before you jump to conclusions that there's some law we could have passed that could have prevented it," he said. "There may be, but shouldn't we at least know the facts? I think that we can always have that debate, but ... you should know the facts of that incident before you run out and prescribe some law you claim could have prevented it."
Later on Wednesday, Rubio said federal authorities told him the shooting was a "clear attack" that was "designed and executed to maximize loss of life."
"Let's remember, the Second Amendment has been around for over 200 years," Scott told CNN at the time. "That's not what killed innocent people; evil killed innocent people."
Broward County Sheriff Scott Israel said Wednesday that the shooter in Parkland was armed with an AR-15 assault-style rifle, a high-capacity weapon that has become synonymous with many of America's deadliest mass shootings. The shooter in the Orlando attack used a similar weapon, which is easier to obtain in Florida than a handgun. HuffPost reporters purchased an AR-15 in Orlando in just 38 minutes only two days after the shooting.
Many lawmakers have been urging Congress to take action to rein in access to such weaponry, but those efforts have mostly failed.
A bipartisan effort to ban "bump stocks," which give semiautomatic weapons the capability to fire long bursts of ammunition, gained steam shortly after 58 people died in a mass shooting at a Las Vegas music festival last year. Rubio said he was open to legislation that would ban bump stocks and that Congress should move "to prevent such attacks in the future."
But four months later, the effort has largely failed at the national level, even as states and cities have moved to ban their sale.
"This happens nowhere else other than the United States of America," Murphy said. "This epidemic of mass slaughter ... it only happens here, not because of coincidence, not because of bad luck, but as a consequence of our inaction."
CORRECTION: A previous version of this story mistakenly stated the Orlando shooter used an AR-15.
Popular in the Community