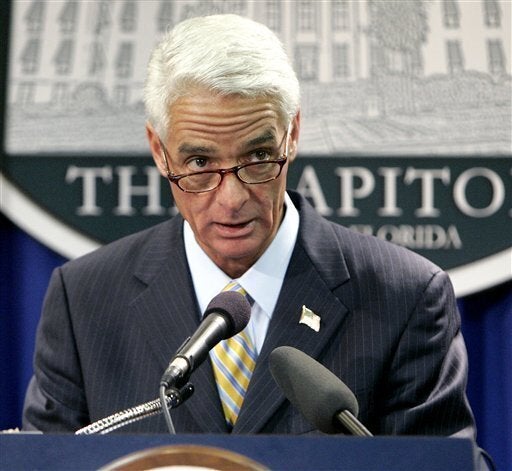 A new proposal for seating Florida's Democratic delegates at the party's convention in Denver has emerged, this time from a Republican. The state's Republican governor -- Sen. John McCain's number one Sunshine State buddy Charlie Crist -- said he would "oversee" a mail-in re-vote for Florida's more than five million Democrats.

"He must be kidding," says Ann Zucker, chair of the Council of Presidents of all Democratic clubs in Greater Fort Lauderdale. "Does Gov. Crist think we are stupid? He actually signed the bill causing this problem, and we all know this is merely part of his quest to be on the Republican ticket."

Crist, often mentioned as a potential running mate for McCain, held a press conference over the weekend in which he said that if the Democratic National Committee would pay for a new election, his Elections Division would oversee it "to ensure the integrity of the process." He then reiterated his pledge Sunday on ABC's This Week with George Stephanopoulus in tandem with DNC leader Gov. Howard Dean and Sen. Carl Levin (D-MI), whose state has a similar early primary punishment.

Gov. Dean however, said it was up to the state to fund a re-do election. Florida legislative leaders from both parties, meanwhile, say "not a penny" of public funds will be used for an election that was "settled last January."

Crist's recommendation would mean only limited expenses to the state if the DNC paid the lion's share, he indicated. He said this would be an alternative but he still preferred seating of the delegation based on the Jan. 29 primary results.

Crist has been campaigning in Florida this past week with McCain.

State Sen. David Aronberg of Palm Beach County echoed the Democratic criticism of the governor's suggestion, saying "no state money" should be used in a re-vote. "The state is already in debt," Aronberg said. "However, there is always the possibility of doing a do-over election if it was paid for by private donors."

The 'private donor" argument is one of many being floated to solve the DNC-Florida feud. Also under consideration, according to comments by Crist and Dean, are a "50-50 split in delegates between the Sen. Hillary Clinton and Sen. Barack Obama. Most observers say this is unlikely, because it would work in favor of Obama's candidacy inasmuch as Clinton won the January primary and is favored in a Florida re-do vote.

"The governor's suggestion is an insult," said activist Michael Gambetta, of Fort Lauderdale, president of the GLBT Florida Democratic caucus, which held its semi-annual meeting this weekend in West Palm Beach. "Whoever handles an election has access to email addresses, voter lists, and would be able to identify how certain segments of the public are responding. This information could be used in the general election by the Republicans."

"Ridiculous," said Broward County Supervisor of Elections Democratic candidate Adriane Reesey, "It is inconceivable that Crist would be overseeing a Democratic vote. We've already had an election in January. And, wouldn't the Republicans like to bankrupt the DNC with additional expenses?"

Florida Democrats are currently scrounging to find a way out of the elections quandary caused when they broke party rules and voted a week ahead of Super Tuesday. The DNC has refused to recognize the results - even though a record 1.7 million Democrats voted in the January primary. Gov. Dean has repeatedly said that in order for Florida to be seated at the Aug. 25-28 convention in Denver, it would have to fund its own re-election and reiterated that stand on the ABC Sunday show.

But party chief Rep. Karen Thurman of Orlando has told the party faithful that there only could be a "re-do" if three conditions are met: 1. The full participation of Sen. Clinton and Sen. Obama; 2. A guaranteed commitment of the millions of dollars it will cost to conduct the event; and 3. A detailed election plan that would "enfranchise all Florida Democrats, including our military service members serving in Iraq, Afghanistan and elsewhere."

Sen. Clinton had won the January primary but indicated she would support a "redo" primary vote. Sen. Obama says he would only support a new caucus.

Actually, Florida's Convention delegation - at this point - would make only a miniscule difference in favor of Clinton if the January results were recognized. Because delegates are elected based on proportional Congressional district votes, Clinton only would be ahead of Obama by a handful of delegates in Florida . Most observers believe a redo of the election would have much the same results, at an unnecessary cost of 4 to 5 million dollars.

If Florida and Michigan were to be seated at the convention, the magic number to name a nominee would be 2,209 delegate votes (without the two states, it is 2,025).
With the proportional selection of delegates based on a percentage basis of each district tally, it will hardly matter, political pundits agree.

Florida Republican leaders publicly also have been cool to Gov. Crist's proposal to oversee a new Democratic vote, but have been quick to enter the fray and keep the controversy in the news. GOP House speaker Marco Rubio (reportedly eyeing the governor's mansion if there is a VP Crist) said that Crist's plan would overburden the state's election departments, already gearing up to run a national general election in November. He said no state funds were available for another election.

Other Republicans sneered at the Democrats, saying Gov. Dean was "obsessed" with the Florida situation, saying the record turnout on Jan 29 should be good enough to seat a Florida delegation. On that point, many Democrats are in agreement.

The entire controversy has become a major item for political posturing. Republican State Rep. David Rivera of Miami said he would offer a bill (the Legislature is now in session) that would ban the Democratic nominee from the Florida ballot in November if the DNC refuses to seat the Sunshine State's 210 delegates. Other GOP members said "no" to such potential legislation, noting "it would make us look as bad as Howard Dean."

But, the controversy has elevated anew with Crist's nationally televised offer, with his Dem opponents labeling his latest TV appearance "an audition" for the vice presidential spot. Many Republicans also reacted by putting themselves in the middle of the Democratic controversy and are sure to use the Democratic infighting as a campaign issue this fall.

Although most Democrats are fuming at the Republicans attempts to enter the delegate controversy, some called for a pause in the battle. Democratic party leader Thurman said that the delegates will be seated in any case. "It is important to remember that the Democratic nominating process does not end until June 10 when other states will be voting, She said there is always the possibility of appealing to the Credentials Committee of the National Convention to seat the Florida delegates as currently allocated.

"We continue to move ahead with preparations for an unprecedented coordinated general election campaign," Thurman said.

Some Florida Democrats urged caution in flatly rejecting a mail-in redo election. Rep. Dan Gelber of Miami Beach was quoted in the Miami Herald as saying it could be like the Academy Awards, if a private accounting firm were hired to oversee a postage-paid-by-mail vote and the State or national party or private donors would come up with the money.

Florida's delegation battle has become the big news. Television newscasts locally and on cable and newspapers give the subject mammoth coverage daily. "Governor Proposes Oversight of a Revote" says page one of the Miami Herald. The Florida Sun-Sentinel, headquartered in Broward, the State's most Democratic county, had major headlines about the delegate controversy on successive days. "A Second Primary is Unlikely... Democrats see many hurdles to makeover vote," was the headline prior to the Crist-Dean television appearance Sunday.

Most Florida political junkies argue that the DNC punishment was too harsh and now neither party wants to bend and show weakness, adding that the controversy is playing into the hands of Republican strategists. The GOP, they say, sees Florida as an electoral battleground in November that can go their way if they keep the controversy alive. Democratic activists mostly agree, saying this is not the time to aggravate the public, recalling that it was only a handful of ballots that cost Al Gore Florida's electoral votes and the loss of the 2000 election.
Popular in the Community