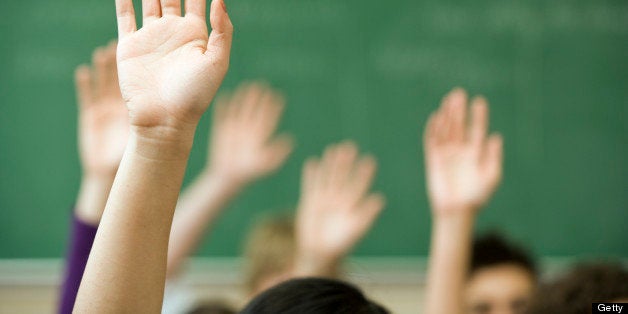 Florida's public school grades, highly anticipated by parents as a way to measure quality, are no longer an accurate barometer of how well or how poorly a school performs, the state admitted on Thursday.
The grades, which affect everything from teacher pay to property values, have become so diluted they no longer serve their intended goal -- measuring a school's educational worth, the state said.
So for the second straight year, no school will be permitted to drop more than one letter grade, possibly reducing the state's number of failing schools from 242 to 108 by one estimate.
School grades are due later this month and many A and B schools were expected to drop to a C or D because of tougher cutoff scores on the writing portion of the FCATand mediocre performances in reading and math.
For some schools, it can be an even bigger save. For example, Florida Intercultural Academy charter school in Hollywood last year would have fallen from an A to an F but only slid to a B because of the rule.
Broward County Schools Superintendent Robert Runcie applauded the one-letter-drop decision, saying "the vast majority of performance is not falling precipitously in a single year and the accountability system should reflect what's on in the schools."
Runcie said the current system relies too much on arbitrary cutoff scores rather than student improvement. Last year the state increased the passing writing score from a 3 to a 3.5 out of a possible 6 -- until the scores plummeted and it returned to a 3. This year, it's going back up to a 3.5.
"Who's to say it shouldn't be a 3.2? What's the scientific logic where you put the [cutoff]?" he asked.
The state grades are important to schools, as they can affect enrollment. Teachers at schools that get As or which see improvements are eligible for bonuses. They grades also can affect property values since many families look to move into neighborhoods with A-rated schools.
But the number of A schools in Broward County skyrocketed from 12 in 1999 to 128 last year. While some was due to better student performance, changes in the grading scale have also been a major factor, raising questions about whether an A school is always a top-performing school.
Many families are aware the criteria has changed over the years and "they will delve a little deeper and look at school's reputation and go online to see different ratings and testimonials on websites," said Parkland real estate agent Michael Citron.
But Fort Lauderdale parent Nick Sakhnovsky sees the change as troubling.
"There are parents who are basing their decisions or attitudes toward a school and teachers solely on the grades," he said. "It's misleading to parents."
Florida Education Commissioner Tony Bennett said the one letter "safety net" is a transition plan until the state develops a more permanent grading system next year based on a new set of national standards called Common Core.
School grades historically have been based on the reading, writing and math portions of the FCAT, but in recent years the formula has included more subjects as well as graduation rates, end of course exams and other data.
"What began as a pure grading system, a pure measure, over time has become overly nuanced," said Bennett, adding he may recommend no more than a one letter drop next year, which is the last year FCAT will be used.
"I will hold fast this should not and cannot be part of the permanent accountability landscape," Bennett said.
Members of the Board of Education agreed the system is flawed, but had other ideas to fix it. Some wanted to overhaul the whole system, which Bennett said there was not enough time to do. One board member suggested issuing no grades at all this year, which Bennett said would be prohibited under state law.
Board member Sally Bradshaw argued the safety net amounted to grade inflation.
"I don't understand when it becomes acceptable to manipulate the truth just because the truth is uncomfortable, and that's what we're doing," she said.
Last year, the provision benefited 388 of the 2,513 schools evaluated.
Among those, 339 would have dropped an additional grade, 40 schools would have dropped two more letter grades and nine would have dropped three more letter grades.
Florida Intercultural Principal Tammy Lara, who started a year ago, said she doesn't expect the safety net to be necessary this year for her school.
"We've done a very good job of bringing up our scores, although we still have a long way to go," she said. "I don't think this will affect us."
Orlando Sentinel staff writer Leslie Postal contributed to this report.
stravis@tribune.com or 561-243-6637 ___
(c)2013 the Sun Sentinel (Fort Lauderdale, Fla.)
Distributed by MCT Information Services
Related
Popular in the Community