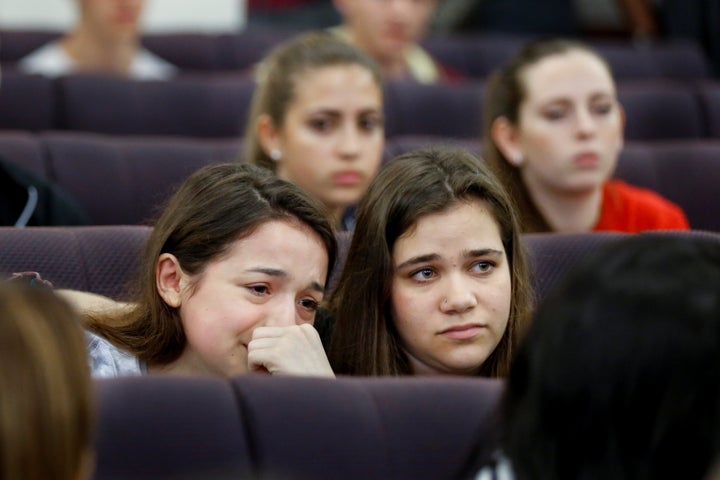 For approximately 15 minutes, the Florida state Senate appeared to back a new measure that would have prohibited the sale of AR-15s for two years. Then Republicans overturned it.
In a rare Saturday morning session, the state lawmakers considered a short-term ban on the assault-style rifle used to slaughter 17 people at Marjory Stoneman Douglas High School in Parkland, Florida, last month. Democratic lawmakers attempted to put the gun restriction into a bill, SB 7026, that would invest money in mental health and school safety programs.
After the upper chamber debated for nearly an hour, Senate President Joe Negron (R) ruled that the amendment temporarily banning the sale of AR-15s had passed in an unrecorded voice vote, the Tampa Bay Times reported.
A quarter-hour later, that ruling was overturned by a roll call vote of 21-17.
Every Senate member who voted against the amendment was Republican. Just two Republicans, state Sens. Anitere Flores and Rene Garcia, crossed party lines to support 15 Democrats in favor of the measure. It wasn't enough.
State Sen. Kelli Stargel (R) argued that offering one's "thoughts and prayers" in response to a shooting is a more effective way of curbing gun violence because an assault weapons ban wouldn't prevent people from using things like explosives to harm others.
"Thoughts and prayers are really the only thing that's going to stop the evil from within the individual that is taking up their arms to do this type of massacre," Stargel said.
In his argument against the amendment, state Sen. David Simmons (R) compared not selling AR-15s to Adolf Hitler taking guns away from German citizens. The Anti-Defamation League has repeatedly blasted that kind of comparison.
"It's offensive for anyone to manipulate the history of the Holocaust to score political points," the Jewish civil rights organization tweeted earlier this week at U.S. Rep. Don Young (R-Alaska), who had made the same argument as Simmons.
On Saturday, student activists who survived the Stoneman Douglas shooting and have taken on the National Rifle Association voiced their displeasure with Florida lawmakers on Twitter. They also had another message: They know the Republicans who voted down the amendment, and they won't forget. 
Calling all HuffPost superfans!
Sign up for membership to become a founding member and help shape HuffPost's next chapter