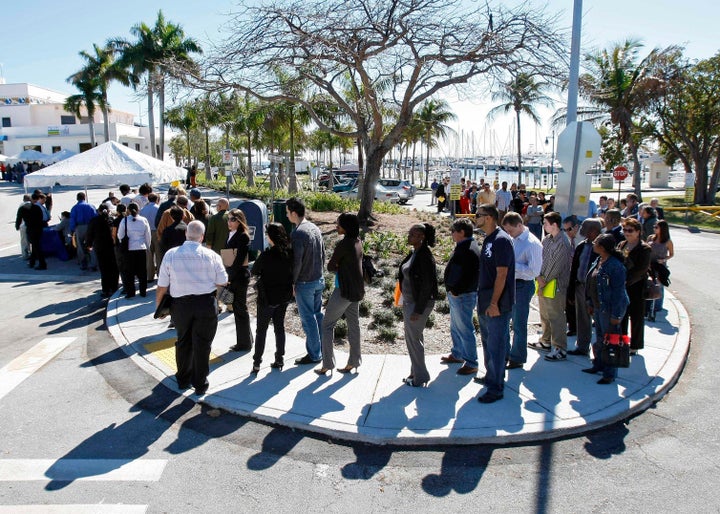 Thanks to a pending law, next January Florida will become the stingiest state in America when it comes to unemployment insurance benefits.
A bill awaiting Republican Gov. Rick Scott's signature will cut unemployment taxes on businesses by reducing the maximum benefits for people laid off through no fault of their own to 23 weeks. That's three fewer weeks than the standard 26 weeks provided by nearly every state for the past 50 years. And as the unemployment rate falls, benefits will diminish on a sliding scale, with a floor of just 12 weeks when the rate is 5 percent or lower.
Rep. Doug Holder, the Sarasota Republican who sponsored the bill in the Florida House of Representatives, told HuffPost the measure wouldn't harm the unemployed because the average person who draws unemployment in Florida uses only 17.7 weeks of benefits before finding work.
"If the average person is utilizing 17.7 weeks, we've got quite a cushion between 17.7 and 23 weeks," Holder said, adding that the bill would replenish the state's unemployment trust fund within a few years. "The most important thing for us in Florida to do is to send a message to the business community and let them know we're open for business."
The legislation directs new claimants to participate in a skills review program to develop a plan for referring the worker to potential job opportunities, Holder added. It also makes it easier for businesses to challenge claims from former workers and provides stricter work search requirements for claimants.
"The proposed reforms provide relief to employers by weeding out individuals taking undue advantage of the system and provide relief to the unemployed by offering additional assistance to help them get back to work," bill sponsor Sen. Nancy Detert (R) said in a statement. "The bill also saves administrative costs which can be reallocated to make sure those receiving benefits are meeting the requirements of the program."
The National Employment Law Project, a worker advocacy group, has said Florida will take first place in what the group has called a "race to the bottom" once Gov. Scott signs the bill. Florida is the third state after Michigan and Missouri to cut the standard 26 weeks of benefits. The reductions in the Florida bill, which are the steepest by far, will take effect in January.
Florida is one of 25 states where the jobless are eligible for 99 weeks of unemployment benefits thanks to 73 weeks worth of federal extensions put in place to fight the recession. Unless the Republican-controlled U.S. House of Representatives is willing to reauthorize those extensions, they'll expire in January and 23 weeks of support will be all that's left in Florida.
All states require people collecting jobless aid to search for work, but the specific requirements vary by state. Floridians collecting jobless aid must search for "work that is reasonable for the claimant considering his or her background, training, abilities, and duration of unemployment," but the law doesn't specify a minimum number of job contacts, according to a 2010 report by the National Foundation for Unemployment Compensation and Workers' Compensation, a research nonprofit founded by UWC Strategic Services on Unemployment & Workers' Compensation, which lobbies on behalf of business interests on worker issues.
The new law will require workers to prove they've contacted at least five potential employers each week, supplying the name, address, and phone number of each employer.
"Requiring submission of detailed evidence of five employer contacts each and every week through automated and voice response systems that are already strained by high workloads will only lead to more system breakdowns," said NELP director Christine Owens in a statement. "These kinds of mandates will inevitably and unnecessarily impose major new administrative burdens on the state's unemployment insurance program, cause more payment delays, and undoubtedly frustrate and discourage some workers from filing for unemployment insurance they have earned."
The bill also broadens the definition of "misconduct" to include behavior outside the workplace or work hours, which NELP says goes beyond the standard in most states. Dough Holmes, president of the UWC, said that while many states might not have such broad misconduct statutes, legal cases have set standards for out-of-office behavior being considered misconduct if it reflects badly on a business.
The Florida Chamber of Commerce, which strongly supported the legislation, said it cuts down on waste and fraud. "One of the big things we hear from our members is frustration from having fired or dismissed individuals for misconduct and the employee having filed for benefits immediately after they've left," said Teye Reeves, policy director for the chamber.
Popular in the Community