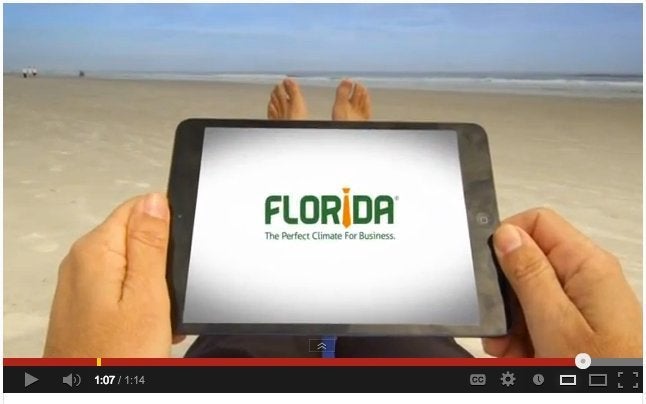 Florida says it's "the perfect climate for business" -- unless, apparently, you're a woman or need to hire a research firm.
Governor Rick Scott and the state's economic arm Enterprise Florida launched the new $380,000 advertising blitz last week, debuting a new website, fresh logo with an orange necktie in place of the "i" in "Florida," and the catchy slogan above, which they hope will lure companies to the Sunshine State.
"...I am constantly calling on CEOs to let them know why Florida is the best place in the world to start, grow or expand their business," said Scott. "Now, we will be able to have an ongoing initiative and brand to reinforce what we've been saying."
This next thought may seem as ancient to younger women as whalebone corsets. But to some of us who grew up with tales of important downtown clubs where businessmen dined and women were unwelcome, of big deals cut on golf courses without pesky women in attendance, the message is not so subtle: Businessmen Welcome Here. The rest of you? Eh.

...Our state is fourth in the nation for women-owned businesses, with more than a half-million women's companies contributing $77.4 billion to the economy, according to the Florida Women's Business Center. From 1997 to 2011, women-owned businesses grew 73 percent compared to 50 percent nationally. There's your target audience.
"Perhaps they should add a tag line: 'Florida is the perfect climate for business if you're a man,'" wrote Beth Leytham, a Tampa-based public relations executive, in an email to the Tampa Tribune.
"I thought immediately that it set us back, all the work that we've done. It's not that they have to make it pink or 'girlie,' but maybe put a briefcase or something like an iPhone or smartphone in there to represent business," Pamela Rogan, the President of the Central Florida Chapter of the National Association of Women Business Owners, told MyFoxOrlando.
The only bid from out of state, North Star's pitch was $76,000 higher than Tampa's woman-owned ChappellRoberts, the next closest competitor, reports Biz Journals. North Star was hired anyway, with another $180,000 for the project going to Jacksonville-based On Ideas for "brand design and campaign strategy."
Calling all HuffPost superfans!
Sign up for membership to become a founding member and help shape HuffPost's next chapter
BEFORE YOU GO
PHOTO GALLERY
Rick Scott Controversies