Teen survivors of last week's deadly mass shooting at a Florida high school swarmed the state Capitol in Tallahassee on Wednesday, demanding lawmakers take action against gun violence.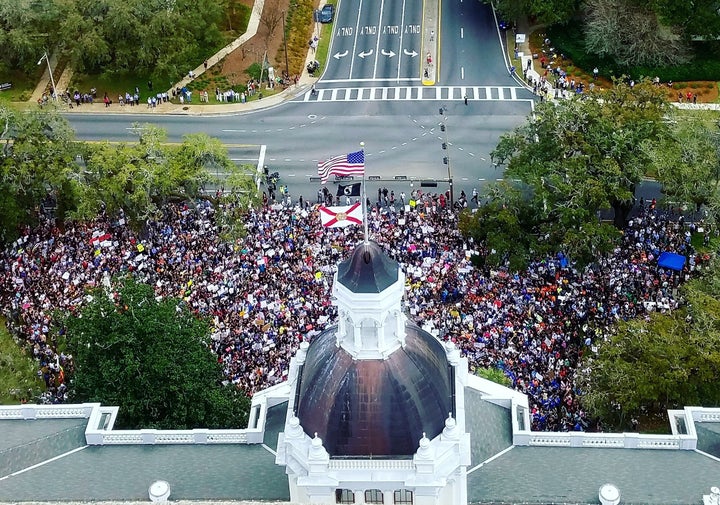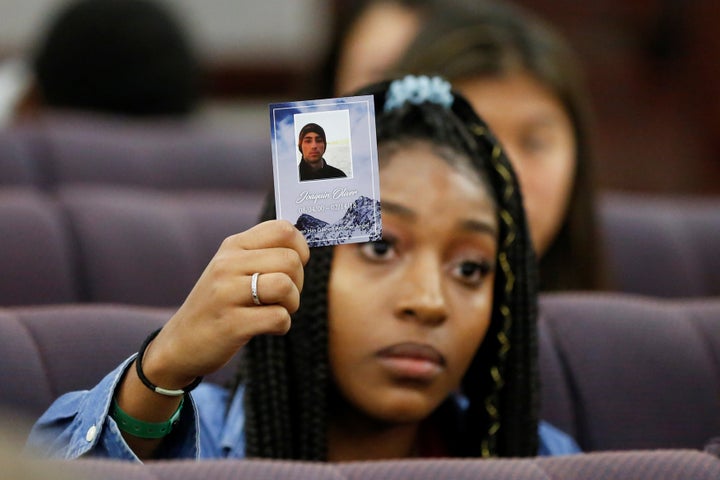 The group joined other students, parents and mass shooting survivors on Wednesday morning, marching roughly a mile from Florida State University's Westcott Fountain to the Capitol building. By 8:30 a.m., the students were entering the building to begin meetings with state lawmakers from both parties.
"A tragedy like this can never happen again, and ... we will never let it happen again," Suzanna Barna, a senior at the high school, told CNN on Wednesday.
"Today, we're really just hoping that they will be receptive to what we're saying and listen to what we went through," she continued. "We obviously want them to listen to our ideas on policy, but for now, if we could just get them to actually care about the matters we're talking about, that's probably the first step."
At least one GOP lawmaker postponed a scheduled sit-down with the group until later Wednesday. State Sen. Kathleen Passidomo (R) had to reschedule because of an appropriations meeting, her aide Jared Willis told HuffPost.
State Rep. José Oliva (R) met with a group of students for an off-the-record discussion on gun legislation, reported CNN. Other students hoping to meet with state Senate President Joe Negron (R) were turned away at his office because they didn't have an appointment.
People affected by previous mass shootings, including survivors of the 2016 Pulse nightclub massacre in Orlando, planned to join a rally set to begin around noon on the steps of the Capitol.
By noon, thousands of people had gathered outside the Capitol to hear Parkland survivors and local activists speak. Many at the roughly hourlong rally held signs in support of tighter gun control, and chanted, "Never again" and "Throw them out," referring to legislators who receive financial contributions from the National Rifle Association and other pro-gun groups.
Florence Yared, a junior at Stoneman Douglas High, was one of the first shooting survivors to address the sprawling crowd.
"No longer can I walk the halls I walked millions of times before without fear and sadness," Yared said. "No longer can I walk the halls without imagining blood stains and dead bodies ― all because of the damage that a single AR-15 rifle caused.
"The only purpose of an assault weapon like this is to kill ― and to kill as many people as possible," Florence continued. "I'm not trying to take away your Second Amendment rights, nor am I trying to eliminate all guns. But we cannot protect our guns before we protect our children."
"Many students throughout the country can't wait to go vote, can't wait to run for office, to make a change, to make a safer world," Florence said. "You adults have failed us by not creating a safe place for your children to go to school. So we ― the next generation ― will not fail our own kids."
Inside the Capitol, other survivors from last week's Parkland shooting held a press conference after meeting with lawmakers. Lorenzo Prado, a junior at the high school, described the harrowing experience of being mistaken for the gunman on the day of the shooting.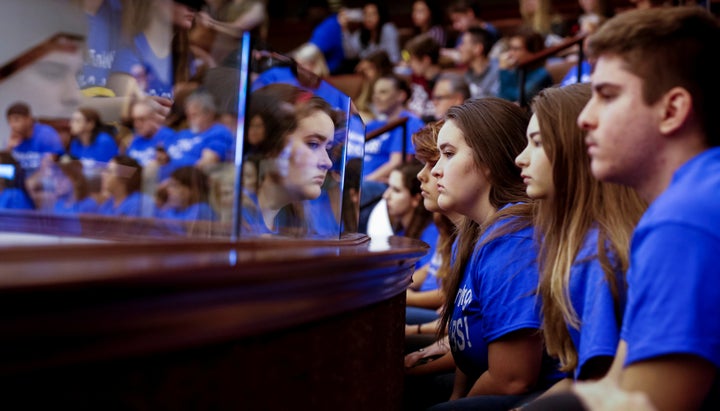 "I am here to demand change from our government because the lives lost, who shall not be lost in vain, shall then be used as a catalyst for change in our country today," Prado said.
"We'll make change in our country, and if not today, tomorrow. And if not tomorrow, the day after that and the day after that until we achieve the change that we want in this country — until the day that safety is preserved in all schools in our beloved country of America," he continued. "We students will keep fighting for our right to live."
Meanwhile, hundreds of students at schools in Florida's Broward and Miami-Dade counties organized walkouts Wednesday in solidarity with the Parkland survivors.
Gov. Rick Scott (R) planned to meet with "small groups" of the Florida shooting survivors "for 20 minutes each" around 5 p.m. on Wednesday, according to MSNBC.
President Donald Trump is scheduled to meet at the White House on Wednesday afternoon with high school students and teachers for a "listening session" on gun violence and policy.
Willa Frej contributed reporting.
Popular in the Community