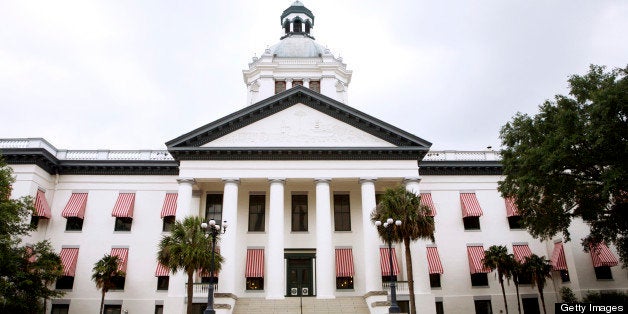 TALLAHASSEE, Fla., May 3 (Reuters) - Florida legislators, following a trend among states bouncing back from the national recession, adopted a record $74.5 billion spending plan on Friday and adjourned their 2013 lawmaking session.
"While it's true that our spending did go up, we have held $2.8 billion in reserve, we paid back a $300 million loan and we are spending $500 million for our state pension plan," Republican Joe Negron, told the Senate moments before the unanimous vote approving the plan.
Florida's budget for the fiscal year starting July 1 will be more than $4 billion higher than the current year's spending. Republican Governor Rick Scott, who cut spending in each of his first two legislative sessions, recommended increases this year because for the first time since 2008 state economists forecast increased tax collections.
Scott insisted on pumping more than $1 billion into education and sought $2,500 across-the-board pay raises for school teachers. The Legislature added $300 million, putting back a cut at the university level made last year, and came up with a plan that ties teacher pay raises to performance - $2,500 for those rated as effective and $3,500 for teachers evaluated as highly effective.
Amy Baker, coordinator of the state Revenue Estimating Conference, said general revenue collations are projected to increase by $1.1 billion, or 4.5 percent, in the coming year.
She said 81.1 percent of that comes from the state's 6 percent sales tax, with another 18.8 percent of the increase in revenue from the stamp tax on real estate activities, and other sources.
Baker said the balance brought forward next summer also will be up by $1.2 billion from last year. Coupled with normal growth through population growth and employment gains brings the total new revenue to $3.5 billion.
Standards & Poor's Rating Service reported this week that state governments across the nation are showing unexpectedly strong gains from both income and sales taxes. Florida does not have a state income tax so the core of its revenue sources has always been the consumer-borne sales tax.
With more to spend, legislators put some pork in the budget, including $1 million for a Bay of Pigs Museum in Miami, commemorating the botched 1961 invasion of Cuba.
"It's something everyone in the Miami delegation likes," said Miami Senator Miguel Diaz de la Portilla.
But one special project conspicuously absent was funding for a renovation of the Miami Dolphins' stadium, which died despite a heavy lobbying effort by the National Football League team, which is owned by billionaire Stephen Ross.
Scott, who has a line-item veto to extract what he dislikes from the budget, served notice on legislators that he will be going over their pet projects with a critical eye, red-lining those he finds lacking in statewide value.
While Scott got most of what he wanted in the budget as well as some other pieces of legislation, the state's 2013 session will be remembered for one key item he backed that died.
Legislators spurned Scott's political gamble on extending the state's Medicaid program to about 1.3 million poor people, as part of the federally funded Affordable Care Act.
Scott built his political career fighting President Barack Obama's national healthcare plan and his Feb. 20 reversal on Medicaid caused a bitter backlash among Tea Party activists who supported him in 2010.
The Senate compromised, seeking to accept an estimated $50 billion in federal funding in the next decade for expanding Medicaid. But House Speaker Will Weatherford, a Republican, adamantly refused to rely on federal funding, which he said can evaporate if Congress changes its mind, so Scott's plan fizzled.
Democrats, outnumbered 76-44 in the House and 26-14 in the Senate, tried to get Scott's plan accepted but were powerless to do so. House Democrats have appealed to Scott to call legislators back into special session to pass the expansion but he has yet to make his intentions clear.