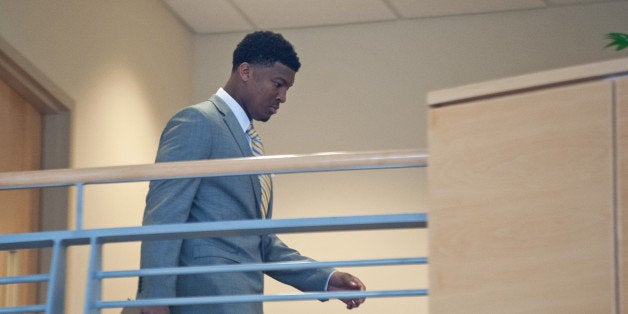 A former Florida State University student who accused star college quarterback Jameis Winston of raping her filed a federal lawsuit against the school on Wednesday over its handling of her case.
The woman, identified as Jane Doe, blames FSU for making deliberate decisions to avoid its Title IX obligations to promptly investigate the alleged rape from December 2012, according to a copy of the suit obtained by The Huffington Post. The "concealment" of the student sexual assault, the suit claims, was done to "to protect the football program."
The suit comes as ESPN reports that Winston plans to leave school and enter the NFL draft.
FSU President John Thrasher said in a statement that the university is "disappointed" in the lawsuit and is still reviewing the allegations contained in it.
"After a year of selective news leaks and distorted coverage, Florida State looks forward to addressing these meritless allegations in court," the statement said. "Evidence will show that through its confidential Victim Advocate Program, FSU did everything the plaintiff asked for and that the assertions FSU shirked its Title IX obligations are false."
The lawsuit filed Wednesday alleges that the female student faced harassment on and off campus as a consequence of delays in FSU's investigation. Although the woman has not been publicly named by any mainstream media outlet, The Huffington Post found many instances of websites and blogs outing and mocking the accuser, as well as spreading her personal information. This led the student to drop out of college in November 2013, the lawsuit claims.
In December 2013, State Attorney Willie Meggs announced Winston wouldn't be charged with a crime, and last month, a university hearing cleared the football star of violating the student code of conduct.
But the suit claims the university's athletics department "chose to violate school policy and not report to the FSU administration" when it became aware of the rape allegations.
FSU has admitted officials in its athletics department were informed in January 2013 that Winston was being investigated for rape, and chose to refer him to a Tallahassee attorney. After Winston and two other athletes said it was a consensual sexual encounter, the university said, "the Athletics Department did not file a report with the University's Title IX administrator or the Office of Student Rights and Responsibilities." Other FSU administrators said they did not know about the allegations until media inquiries began in November 2013.
"Had FSU not been deliberately indifferent to Plaintiff's harassment, discrimination and retaliation, and instead complied with its own policies and federal law by promptly investigating Plaintiff's rape and sanctioning Winston while protecting Plaintiff's safety, Winston would have been removed as a threat to Plaintiff long before ever suiting up to play football in a Seminoles jersey, and Plaintiff would be on campus progressing toward an FSU degree," the lawsuit states. "Instead, Plaintiff was forced to leave campus while Winston remains, having suffered no consequences."
FSU officials did not question Winston about the alleged rape until January 2014. The school began an official investigation in September 2014, and held a hearing in December, which was presided over by retired Florida Supreme Court Justice Major Harding.
Winston made a statement during the hearing, in which he said, "If Complainant did not want to have oral sex or intercourse with me she was fully capable of expressing it to me." He declined to answer any questions, except to say that the woman showed consent by "moaning."
Winston's witnesses, two teammates present that night, declined to answer questions in the hearing. Witnesses on behalf of the complainant all said Doe never doubted she was raped, according to a copy of the hearing transcript.
"It is undisputed that you and (accuser) had sexual intercourse in the late evening and/or early morning hours of December 6 and 7, 2012, respectively," Harding wrote in his decision. He added, "In light of all of the circumstances, I do not find the credibility of one story substantially stronger than that of the other. ... In sum, the preponderance of the evidence has not shown that you are responsible for any of the charged violations of the Code."
One of the witnesses from that night, Winston's teammate Chris Casher, was found responsible in his own university hearing of violating the code of conduct for his actions on Dec. 6, 2012, by "recording images without consent," though public records don't indicate what the images show.
The woman and her attorneys have long said they would likely file a civil lawsuit against Winston, FSU or both. The civil lawsuit filed Wednesday names Florida State University's Board of Trustees, but not Winston. It seeks a jury trial and an unspecified amount in damages.
This post has been updated with more details from the lawsuit and with a statement from Thrasher.