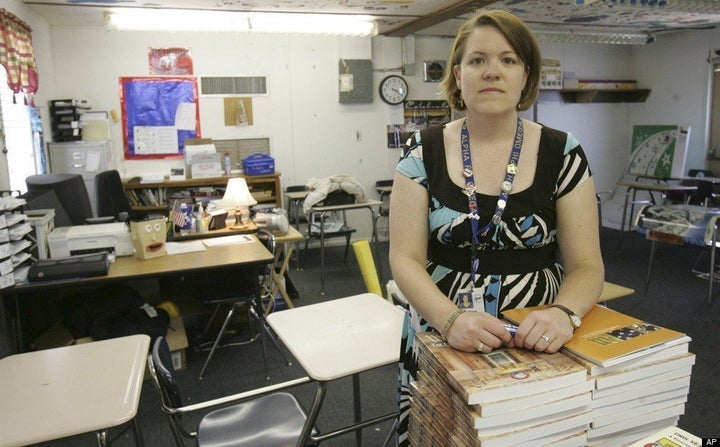 Across the country, a divisive education reform movement has widely called for schools to hold teachers accountable for their students' performance.
President Obama and Education Secretary Arne Duncan have been vocal in their support for merit pay, the practice of financially rewarding teachers for students' improvement on standardized tests.
At a time when the Wisconsin government has cut down unions' collective bargaining rights, and other states are waging anti-union battles, Idaho and Florida are pressing for merit pay -- and other controversial reforms -- without the blessing of teachers unions.
Idaho Schools Chief Tom Luna says, "this legislation is all about recognizing and rewarding our great teachers," painting the policy in a positive light. Unions disagree, however, arguing against reforms that link teacher evaluations, pay and firing too strongly students' test scores.
Under Obama's "Race to the Top" initiative, states applied for grant money to pursue changes in education policy in 2009. Winners were announced last year.
While Florida won $700 million for reforms, some of which will be used to bankroll the merit pay plan, Idaho's grant was rejected, leaving the state to reallocate education funds to foot the bill.
The [Idaho] merit pay plan carries a $38 million price tag in the 2013 fiscal year, and a $51.3 million in the 2014 fiscal year.
The Idaho bill passed the House on Wednesday, March 9, and awaits Governor C. L. Butch Otter's signature. With the governor's approval, Idaho will officially become the first state to pass merit pay legislation.
Earlier this week, another education reform bill was sent to the governor's desk, this one including plans to do away with teacher tenure and limit collective bargaining.
Meanwhile, in Florida, where a bid for teacher merit pay was unsuccessful last year, a revised bill has passed the Senate on Thursday, March 10, and is expected to succeed in the House. While Governor Charlie Crist vetoed the bill last year, the new governor, Rick Scott, is known to have a more favorable view of merit pay.
Florida's merit pay bill also cuts teacher tenure, banning it for educators hired after July, 2011. According to The New York Times, the passage of the bill "would position Florida as a leader among those states taking on teachers' unions."
The push toward merit pay in Idaho, and especially in Florida, begs the question: will other states follow suit?
Calling all HuffPost superfans!
Sign up for membership to become a founding member and help shape HuffPost's next chapter