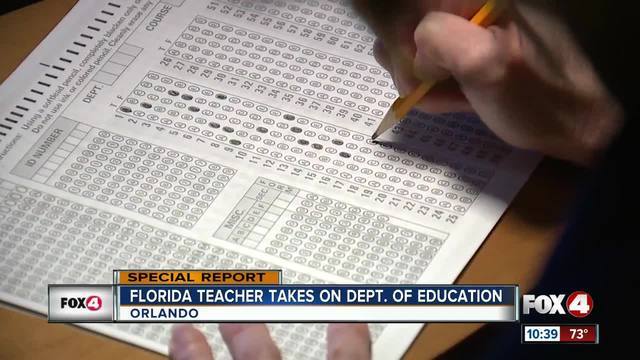 Twenty-year veteran Broward County, Florida teacher Julie McCue and physical teacher Daryl Bryant, who has taught at a charter school near Cape Canaveral for three years, are suing the Florida Department of Education (FDOE). In 2010, as part of its application for a federal Race to the Top grant, Florida proposed making teacher certification exams more difficult, supposedly to raise standards. The current exams were introduced in 2015. On the revised tests failure rates have soared by up to 30% on some sections. The passing rate on the essay portion of the Florida Teacher Certification Exam (FTCE) fell to 63% in 2015. Teachers working under temporary certification who fail the FTCE risk losing their jobs.
At a recent state board of education meeting Florida Education Commissioner Pamela Stewart defended the high failure rate on Florida teacher certification exams claiming the tests are "aligned to the standards that are being taught in the classroom which are appropriate." But the FDOE has not produced evidence that the tests reliably predict teacher performance, which may be a basis for overturning them. In New York State multiple teacher certification exams were dismissed by the courts precisely because the State Education Department could not demonstrate that they actually measured teacher qualifications.
Julie McCue charges that the state is really using a flawed examine to deny teachers credentials and salary increases. Broward County claims to use a "pay-for-performance salary schedule," but the reality is that no matter your education, experience, or classroom performance, teachers are denied raises if they do not pass the new state test.
McCue has failed the essay portion of the Florida Educational Leadership Examination (FELE) test four times since 2015. Each time, suspiciously, she received the exact same score, just one point below passing. The FELE test was created by the FDOE, but is administered and graded by testing mega-giant Pearson Education.
According to a report by WPTV in West Palm Beach, Pearson profits each time someone fails one of their exams. Prior to 2009, the Florida Department of Education subsidized test takers. Candidates paid $25 to take each part of the multi-part tests and did not pay to retake a section that they failed. Pearson now charges test-takers up to $200 per section, an increase of 800%, and an additional $20 to retake a section. Test-takers can appeal failing scores, but they have to pay $75 for a reevaluation.
At the day-long administrative hearing FDOE produced five "expert witnesses" to defend the testing process and Pearson sent its lawyers to observe. A representative of FDOE maintained that Pearson's grading system is extremely detailed and thorough. FDOE's attorney said "the idea of human error is beyond belief." While one of the FDOE "expert witnesses" was a Florida school administrator, he is also, coincidently, a paid Pearson employee. During the past two years he reviewed 20-25 failing FELE essays and acknowledged he has never reversed a score. One hundred and sixty failing FELE test takers challenged their scores last year, and none were reversed by Pearson.
This must be the only time in test assessment history that grading is 100% reliable. I found an article on a Pearson website where they bragged that their Versant Technology when reading essays had an inter-rater reliability of 0.89, which was HIGHER than human inter-rater reliability, and is considered very high. But it still means that about 10% of the test grades were not consistent.
But there is another reason the FDOE expert witness' scoring is invalid and the administrative judge should through the whole FDOE and Pearson gang out of court, reverse the failing grades, and recommend they be prosecuted. The test scorer testified that he had reviewed 20-25 failing FELE essays and never reversed a score. But if was only assigned to review failing exams that were being appealed, he already knew these test-takers had failed. Essentially he was being asked to confirm what FDOE and Pearson wanted confirmed. In a fair review, without bias, these tests would have been mixed in with ungraded exams and the reviewer would not know that any of them had already received a failing grade.
Testimony at the Florida administrative judicial hearing calls into question the grading of many Pearson "essay" exams. The Pearson/SCALE edTPA is used to evaluate student teachers by over 700 teacher education programs in forty states and is required for certification in sixteen states. It is a roughly sixty-page portfolio plus video that is subject to arbitrary grading practices, arbitrary practices that Pearson also denies.
The Florida administrative judge is expected to issue a preliminary ruling within a month. The judge's decision is sent to the Florida Education Practices Commission that makes the final decision. I'm rooting for Julie and Daryl.
Related
Popular in the Community