WASHINGTON -- Florida violated federal civil rights law with its new and unusual requirement that unemployment claimants file online and take math and reading tests before they can receive benefits, the U.S. Labor Department determined this month.
The department's Civil Rights Center's initial determination lays out the problems some non-English speakers and people with disabilities have encountered seeking benefits. For instance, details omitted from translated material "constituted a failure to provide meaningful access" to vital information, the department found. And when people called for help, they couldn't get through.
"A broken phone system coupled with no meaningful alternative to the online processes left many unemployed Floridians effectively shut out from much needed unemployment insurance," Valory Greenfield, an attorney with Florida Legal Services, said Thursday. Greenfield's group filed the complaint on behalf of the Miami Workers Center, a nonprofit that advocates for low-income and minorities in Florida.
The workers center filed its complaint in November 2011 after Florida Gov. Rick Scott (R) signed into law reforms that made Florida's unemployment system the stingiest in the nation. The complaint is similar to one filed by the National Employment Law Project charging that the reforms made it too difficult for workers to receive benefits. The second complaint is still pending.
A spokesman for the U.S. Labor Department said the department "is now working with the state of Florida to ensure that all persons who have limited English proficiency or have disabilities, and who are eligible for unemployment compensation, have fair and meaningful access to those benefits."
But Monica Russell, a spokeswoman for the Florida Department of Economic Opportunity, said the unemployment reforms have been improving the state's economy and that the U.S. Labor Department signed off before the laws took effect.
"Now a different division within DOL, in response to questionable allegations by a special interest group, is challenging those very same laws," Russell said in an email. "Nevertheless we are committed to working with our federal partner to ensure that Florida's economy continues to grow."
A key issue is that the reforms required applicants to file claims online, even though as many as 40 percent sought benefits via phone before the law passed, according to the state government. The law project's complaint alleged the online-only requirement drastically reduced the number of unemployed Floridians who received benefits. It also states that tens of thousands of workers failed to finish the math and reading tests, which the Scott administration describes as a "skills assessment."
"Requiring jobless Floridians to take a skill assessment test is the right thing to do, not just for them, but also to ensure Florida's tax dollars are spent on making sure our workforce is the most qualified in the nation," a Scott spokeswoman said in response to the second complaint in 2012.
The new law also slashed the duration of state benefits from 26 weeks to as few as 12 weeks, depending on the state's unemployment rate, and it has served as a model for other states.
"This ruling should give serious pause to states that are thinking of adopting online-only systems and other unemployment program restrictions similar to Florida's," George Wentworth, an attorney with the National Employment Law Project, said in a statement.
It's another defeat for Scott's safety net reforms. His efforts to require drug testing for welfare applicants have been shut down by federal courts on constitutional grounds.
This story has been updated to include comments from the U.S. Labor Department and the Florida Department of Economic Opportunity.
Before You Go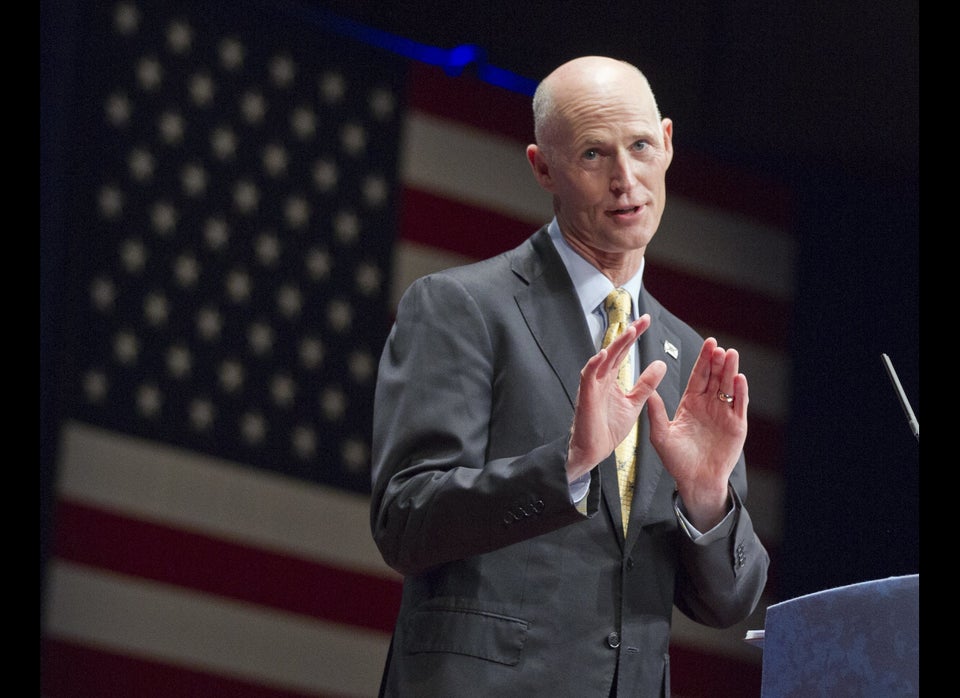 Rick Scott Controversies
Popular in the Community