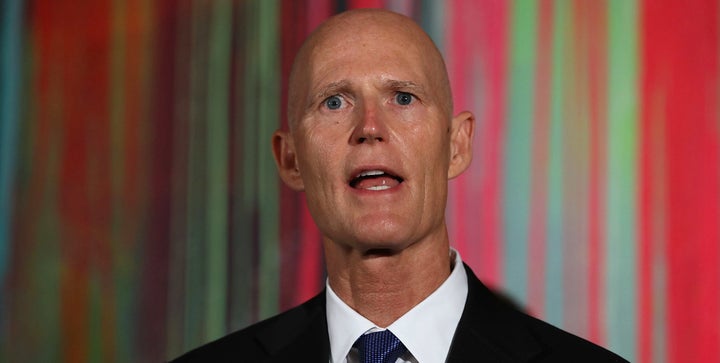 UPDATE: Oct. 12 ― At a hearing Wednesday, Judge Mark E. Walker further extended the voter registration deadline to Tuesday, Oct. 18, to accommodate Floridians displaced by Hurricane Matthew.
"No right is more precious than having a voice in our elections," he said, according to the Tampa Bay Times.
"We are thrilled the court agreed to extend the voter registration deadline a full week following Hurricane Matthew," said Florida Democratic Party Chair Allison Tant in a statement. "While we wish it had not taken a lawsuit to get the Scott administration to do the right thing, today's ruling is a major victory for all Floridians and for the democratic process in the Sunshine State."
The U.S. District Court for Florida's Northern District extended the state's voter registration to Wednesday evening after Gov. Rick Scott (R) refused to do so in anticipation of Hurricane Matthew.
The state's voter registration deadline will now be extended from Tuesday to Wednesday at 5 p.m. local time in order to give Floridians displaced or otherwise burdened by the storm more time to register. The deadline may be further extended after a hearing Wednesday.
The order, issued by U.S. District Court Judge Mark E. Walker on Monday, came less than a day after Florida Democrats sued to extend the deadline. The judge sided with the plaintiffs, ruling that not extending the registration period is an unconstitutional infringement on the right to vote.
"These voters have already had their lives (and, quite possibly, their homes) turned up-side down by Hurricane Matthew," reads the order. "They deserve a break, especially one that is mandated by the United States Constitution. Ensuring that they can exercise their constitutional right to vote thus promotes the public interest."
Walker argued that the interests of voters should be prioritized over Scott's interest in maintaining the existing deadline, noting that there are no do-overs for voters.
"If aspiring eligible Florida voters are barred from registering to vote then those voters are stripped of one of our most precious freedoms," reads the order. "This isn't golf: there are no mulligans."
Scott, a Trump supporter who co-chairs a super PAC supporting the GOP nominee, had previously refused to extend the deadline after Hillary Clinton's campaign pressed him to do so.
"I'm not going to extend it," Scott said Thursday evening. "Everybody's had a lot of time to register. On top of that, we have lots of opportunities to vote, early voting and absentee voting, so I don't intend to make any changes."
In the ruling, Walker preemptively dismissed any speculation that his decision was politically motivated.
"It has been suggested that the issue of extending the voter registration deadline is about politics," he wrote. "Poppycock. This case is about the right of aspiring eligible voters to register and to have their votes counted. Nothing could be more fundamental to our democracy."
Hurricane Matthew hit the southeastern U.S. over the weekend, killing at least 27 people across five states and causing billions of dollars in damage. Some Florida towns experienced significant flood damage, and hundreds of thousands reported power outages across the state.
South Carolina, also hit hard by the storm, extended its voter registration deadline last week.
Read the court's full ruling below:
Before You Go
Hurricane Matthew Damage In The U.S.
Popular in the Community