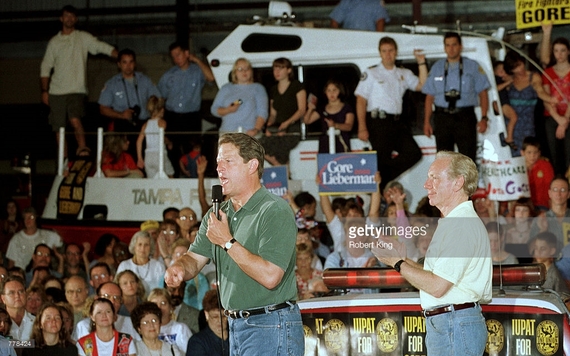 Al Gore and Joe Lieberman in Tampa in 2000 (Robert King/Getty Images)
It was six in the morning, on Labor Day, 2000.
"Addressing an overflow crowd at a fire station in Tampa." This was only one of the pre-dawn stops on Gore's 28-hour "workathon," a cross-country sprint launching his fall campaign for the White House.
Florida's Hillsborough County has voted the way the Sunshine State has voted in presidential contests since the 1960s -- and this would be borne out once again in 2000, the year Gore lost Florida to George W. Bush by 537 votes statewide. That was 2,912,790 to 2,912,253. Gore lost Hillsborough by 11,000.
That's why Donald Trump is stumping in Tampa today. He's already appeared in the area twice since the summer conventions -- twice in the Orlando area, four times in South Florida, once in Daytona Beach, and once in Jacksonville. These are the four pivotal points of the nation's biggest swing states: 29 electoral votes. It's generally held that Trump cannot win without it.
Hillary Clinton has logged four appearances since the conventions -- one in St. Petersburg, one Daytona Beach, two South Florida.
What do we mean by swing state?
It's a fast-growing place of 19 million people where Republicans have dominated state offices since the 1990s and hold a lock on congressional seats thanks to redistricting in the decades that the party's controlled the Legislature. Yet it has voted twice for President Barack Obama, twice for President George W. Bush, once for President Bill Clinton, once for President George H.W. Bush, twice for President Ronald Reagan.
And Hillsborough County has gone the same way each time -- the true bellwether in the state with perfect beach weather.
The temperature of the Trump campaign isn't so hot since the conventions. In Florida, the latest average of public opinion polls run since Aug. 1 shows Clinton holding a 3.6 percentage point advantage. Trump has led in only one of the seven polls counted, by two points, a small university poll competing with the nationals. Clinton was up five in the last counts by CBS and NBC News.
Trump, who trumpeted his standing in polls throughout his primary contests, is asking people to look at something else lately. His crowds.
"Could we fit anybody else in here, I don't know,'' Rudy Giuliani, "America's mayor," said last night, opening for Trump in Austin, Texas. "You know what that means? It means we're going to win."
Trump, who has turned from a trademark improvisational campaign in the primaries to a tightly scripted, TelePrompTed appeal since slumping in the post-convention polls, told his audience in Austin: "We are going to declare our independence from politicians who don't listen to us... and media executives... who never report our massive and very friendly crowds."
Trump's own approach to the unfriendly among these crowds also has moderated. Gone is the "Get 'em out" for protesters that the Democrats have made part of their TV ad attacks on Trump. He met the first protester in Austin with silence and a quick thumb gesture -- out. He met the second with, "What are ya' gonna do?"
So Trump is counting on a good crowd today, in a mid-day rally at the Florida State Fairgrounds Entertainment Hall, a venue of 52,000 square feet -- expandable to 140,000 square feet with the adjacent Expo Hall.
 In the county that has voted the way Florida has since the 1960s, in the state that swings like the weather vane of the nation's elections.
Perhaps even a better "overflow crowd" than Gore's firehouse stop.