An explosive new leak has the potential to shift the outcome of the vote in Florida on November 8. But this October surprise concerns an issue that has garnered scant election-season press coverage: climate change.
A recent exposé by the Miami Herald/Times found that big utilities and fossil-fuel interests have been pulling a fast one on Florida voters, deploying "the language of promoting solar" in order to sell a ballot measure that would actually threaten the solar industry.
Caught on a leaked tape at a right-wing policy convention, an industry insider recommended this "incredibly savvy maneuver" nationwide against solar advocates to "completely negate anything they would try to do either legislatively or constitutionally down the road." After all, he noted, "solar polls very well."
Amendment 1, which is supposedly about "Rights of Electricity Consumers Regarding Solar Energy Choice," actually allows utility companies to impose new charges on solar customers ― the same kinds of charges that have ruined the rooftop solar industry in Arizona. The amendment is predicted to make solar leasing, which removes many up-front costs, more difficult or even impossible.
But the cynicism of this industry doesn't just end with the misleading language of the ballot measure. These very same fossil-fuel interests have deployed an even more offensive tactic in their deceptive campaign: using people of color as a political prop against renewable energy.
Communities of color have a serious stake in the climate fight: an estimated 68 percent of African Americans live within 30 miles of a coal-fired power plant. Black children are three times as likely as white children to suffer an asthma attack. And many communities of color stand to suffer most from the destruction wrought by extreme weather, droughts, economic disorder related to the climate crisis ― particularly in Florida, which is ground zero for intensifying hurricanes and alarming rises in sea levels.
"There's simply no evidence that the growth of solar poses any threats to low-income communities."
And yet some of the nation's worst polluters have been successful in exploiting voices of color to attack climate solutions. In the case of Amendment 1, Florida-based African American and Latino organizations, including chambers of commerce and urban leagues, have endorsed the dishonest initiative, buying into the pernicious myth that clean energy is just for rich, white people and that a transition to clean energy would raise costs for people of color.
This couldn't be further from the truth. Solar is essential for creating good-quality jobs in communities of color and for solving the climate crisis. And there's simply no evidence that the growth of solar poses any threats to low-income communities. Blacks and Latinos already understand this: in national polls, they express over 80 percent support for renewable energy such as solar and wind. Strikingly, even though 57 percent of African Americans correctly believe that shifting to these sources reduces energy costs, nearly two-thirds would still be willing to pay more on their monthly electrical bill for renewables.
And on job creation, the story is much the same. Investing in our fossil-fuel infrastructure ― dominated by a white, male workforce ― produces less than a third of the jobs that would be created by investing in the green-energy sector. Considering that only 1.5 percent of the workforce in coal and 3.5 percent in oil and gas is African American, expanding the clean-energy economy could and should prioritize the employment needs of communities of color who have long been shut out of economic progress.
There is a moral imperative to aggressively reduce emissions. If we defeat this ballot measure, the Sunshine State could quickly become a national leader in tackling the number-one source of carbon emissions for average Americans ― their homes.
At this very moment, fearless Native activists at Standing Rock who oppose the North Dakota oil pipeline are showing us that racial justice and environmental justice go hand in hand, and that their wellbeing and that of the earth are inextricably linked. Florida's own communities of color ― at the front lines of out-of-control storms, contaminated air, and rising seas ― should disregard the desperate ploys and token multiculturalism of the fossil-fuel industry. We cannot allow ourselves to succumb to the disinformation of dirty energy.
Danny Glover is an actor, producer, and activist. Van Jones is president and founder of the Dream Corps, and is a regular CNN contributor.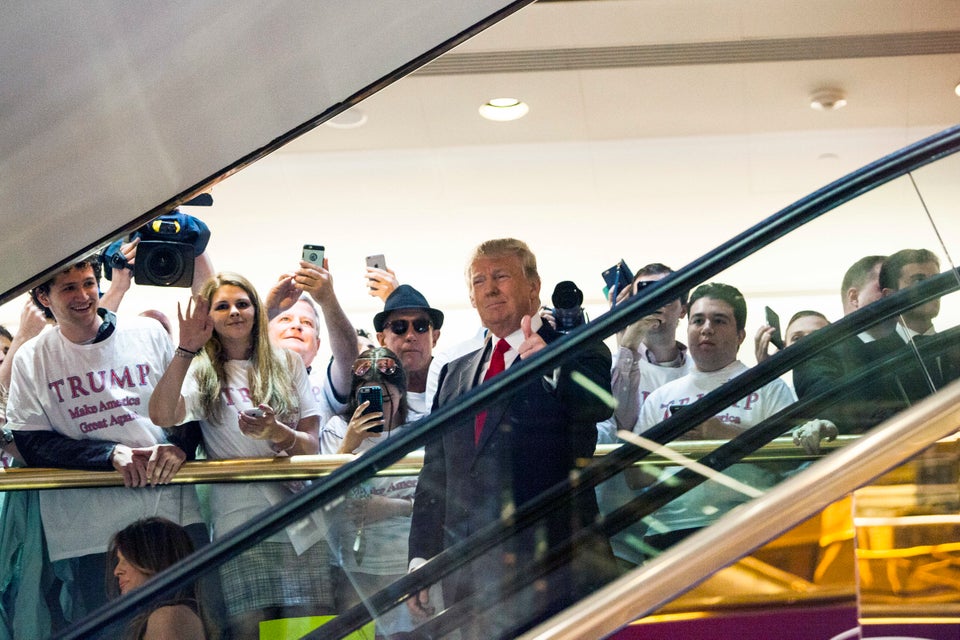 Best 2016 Election Photos