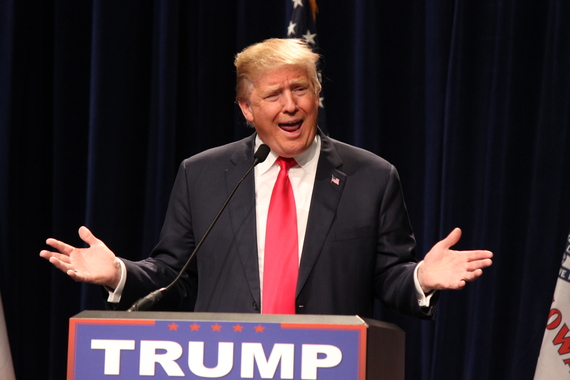 Donald Trump during a rally in Iowa in January. Photo credit: Evan Guest via Flickr

By Thomas Kennedy
I remember the frustration I felt in the summer of 2009 as I applied to college. As an undocumented student, fresh out of high school, the nature of my status prevented me from being accepted to most higher education institutions. In that vulnerable moment for me, it was Miami Dade College that opened its doors and accepted me as a student. I had to pay expensive out of state tuition rates, but being accepted allowed me to at least take a couple of classes a semester.
More than six years later, I am finishing my degree at Florida International University, another inclusive institution which was one of the first to adopt in-state tuition for undocumented students. These two schools have been pillars of the south Florida community when it comes to embracing undocumented and low income students. The Trail of Dreams, a 1,500 mile walk from Miami to Washington D.C. in support of the 2010 Dream Act, was conceived in the halls of Miami Dade College.

So it is sad and unfortunate that this record of inclusion from these schools has been tarnished by institutional leaders who embrace Donald Trump and are providing financial and logistical support for his campaign of bigotry and hate.
When the former chair of the board of trustees at Miami Dade College, Helen Aguirre Ferre became the Hispanic Outreach Director for the Republican National Committee during an election in which the party's candidate has shown himself to be anti-immigrant, Ferre sold out the Hispanic community in which she has worked and thrived, as well as the student population of the College, where 88% of students are people of color, the highest percentage of any college or university in the U.S.
Ferre's job now is to spin Trump's racism in order to make him palatable to Latino voters. But don't be fooled.
Ferre, a Republican media personality, supported Mitt Romney's presidential campaign when he proposed making the life of immigrants in this country so difficult that they would have to "self-deport." She has used her television talk show "Issues with Helen Ferre" to demonize and belittle the immigrant community. Once, my own mother, who is undocumented, called in to the show and Ferre dismissively put her on mute, telling her to stop complaining since at least she had a roof over her head.
I would have dismissed any of this as the typical Republican antics that are too common in Miami-Dade County but Ferre's new role as Hispanic Outreach director for the Republican National Committee is a new low. Here is someone who has always sold herself as a conservative ally of the immigrant community and says she supports DREAMers, yet now embraces a candidate who wants to deport 11 million undocumented immigrants and ban Muslims from coming into the United States.
Thankfully, a media campaign spearheaded by a number of South Florida pro-immigrant groups pushed Ferre to step down from the chairmanship of the board.
Modesto Maidique, the former president of Florida International University, has similarly let down immigrant students. Maidique hosted a fundraiser at $50,000 a plate for the candidate on July 26th in which Trump's Florida surrogates, such as Gov. Rick Scott, Pepe Fanjul Sr, and Rep. Carlos Trujillo were present. Seventy percent of the students at my school are Latino. Should our main campus really be named after a man who supports a candidate for president who is a bigot, says disparaging things about Hispanics and other minorities and would push policies who would adversely affect a majority of its students?
Modesto Maidique has undeniably done good work for the university, and this is not an attempt to deny that, but this does not mean that he gets a blank moral check when he supports a presidential candidate who spews such hatefulness against immigrants, women and people of color. Maidique's lack of good judgement smears the university and is offensive to the student body and faculty who hold up the school's name with pride. Frankly, as a student, I want the university to distance itself from anyone who actively enables division and hatred within our communities.
It is discouraging and depressing that two prominent actors in the field of education, who have been part of institutions that have contributed so much to the advancement of the Hispanic community in South Florida, are now spokespeople and advocates of a populist demagogue who is racist, ignorant and vulgar. To be clear, as private citizens Helen Aguirre Ferre and Modesto Maidique have the right to back whichever candidate they choose. This is a founding principal of our democracy. Yet we, as members of the community who would suffer the breakup of our families and other painful consequences of a Trump presidency, must stand against those who enable this threat to our well-being and make excuses for hate.
Never in the history of this country has a candidate known less or been less prepared to be president of the United States. The irresponsibility, lack of political courage and bad judgement by Helene Aguirre Ferre and Modesto Maidique deserves condemnation.

Thomas Kennedy is a writing fellow for the Center for Community Change Action.
Calling all HuffPost superfans!
Sign up for membership to become a founding member and help shape HuffPost's next chapter