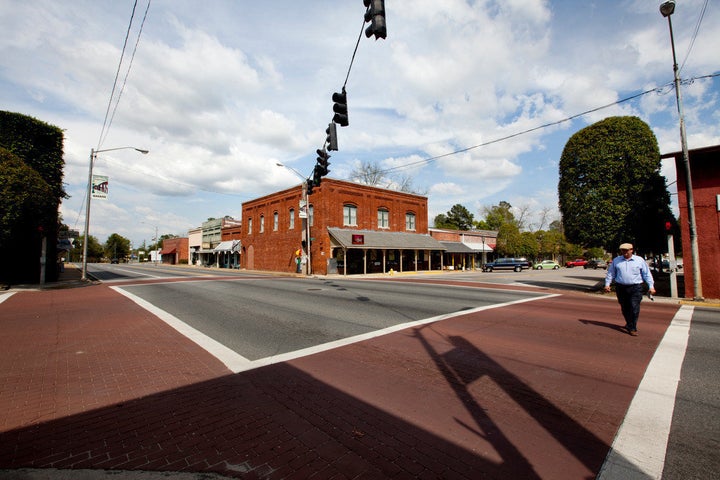 It's an image that lingers in the American consciousness like a soft, warm dream:

Oak-lined courthouse squares. Gazebos and band shells. One-chair barber shops. Vest-pocket cemeteries. The town café, gossip for breakfast and meatloaf for lunch. Old-time movie theaters, with one screen and a real marquee and popcorn with genuine butter.

In Florida, this is no dream, if you know where to look. It's small-town downtown life, as it was and as it remains.

Take Monticello, for instance, the seat of Jefferson County. Population: about 2,500. Located in North Florida, 28 miles northeast of Tallahassee and gently halfway between Pensacola and Jacksonville, Monticello rests easily in the shadow of the state capital, sufficiently close for a quick side trip, sufficiently distant to enjoy a more tranquil existence. A courthouse square dominates in the center of this compact town, family-owned cafés and shops, and spectacular live oak canopies, draped with Spanish moss.

Monticello keeps regular hours, so long as your regular hours are 8 a.m.-ish to 5 p.m.-ish every weekday except Thursday, when the town shuts down at noon, simply because it always has. Downtown shops also are open from 8 a.m. to noon on Saturday, when area farmers and ranchers (corn, peanuts, cotton, dairy, cattle, etc.) still come to town to shop and socialize. Sunday? Forget-about-it. In these parts, that's still the day of rest.

If you dare, drop into Register's Barbershop on the 100 block of East Dogwood Street. Ted Register does not suffer fools, but he'll appreciate a visitor who politely stands his or her ground. Three ancient chairs, a bikini-girl calendar, and a photo of Floyd the Barber from The Andy Griffith Show which, by the way, is still broadcast locally every weekday by WCTV out of Tallahassee. No phone in sight, though; if there were a phone, it likely would have a side-mounted hand crank.

Don't tell anyone, but if you mosey into the office of Deputy Clerk Nick Flynt, he might accompany you into the second-floor courtroom, recently restored and perfectly appropriate for a remake of To Kill A Mockingbird. On the way out of the building, glance up at the cupola and the new roof, paid for by traffic tickets. Do watch your speed in Jefferson County.

Yes, the small-town downtowns of North Florida have a distinctly Southern feel, complete with a touch of the old Confederacy. Further south, small-town downtowns often have a more northern feel (this is, after all, a geographically ... unusual state), though many have a feel all their own.

Homestead, for instance, and its "Historical Main Street District." Fully restored from the ravages of 1992's Hurricane Andrew, this is a place of palm trees and graceful cast-iron benches, a historic town hall, the farming-intensive Florida Pioneer Museum, and the modest, nostalgic Seminole movie theater.

In the seaside town of Delray Beach, securely locked within the megalopolis that is South Florida, one finds Old School Square, the John and Elizabeth Shaw Sundy House (a fixture on the National Register of Historic Places), occasional reminders that pineapple and tomato crops once dominated, and the Colony Hotel, circa 1926. Looking for something a little more modern, but not too modern? Try the neon-intensive Doc's All American, a joint that serves up burgers and soft ice cream a la 1955.

Also in Palm Beach County, just east of the Intracoastal Waterway, one finds Lake Worth, a place of elegant charm and wonderful Old Florida architecture. Exhibit A: City Hall, on the corner of Lake Avenue and Dixie Highway, a striking, Moorish-styled building that dates to President Franklin D. Roosevelt's Works Progress Administration. It seems to blend perfectly with the one-story pastel storefronts that line Lake Avenue. In this downtown, even the Publix supermarket has a retro flair.

A little farther north, let's visit Stuart's compact downtown, a place with streets named Osceola and Seminole, a place that calls itself "The Sailfish Capital of the World." Reminiscent of Key West, this town easily navigates the world of bed and breakfasts, small cafes and a "heritage museum" located in the historic Stuart Feed Supply building.

It's really much the same in so many corners of Florida. The antique shops, friendly cafes, trolley rides and horse-drawn carriages of Mount Dora. The African-American flavors of Eatonville. Everything from roaming chickens to airboat rides in Oviedo. The once rocket-intensive ambience of Titusville, now trying to find its way in a space shuttle-free world. The restored buildings and shops of Sebring, firmly rooted on the National Register of Historic Places.

The dreamlike, more gentle rhythms of life.

In Florida, this is no dream, if you know where to look. It's small-town downtown life, as it was and as it remains.

By Marty Merzer, VISIT FLORIDA
Lara Cerri, Peter Cross, Colin Hackley and Ted McLaren also contributed to this article.
Florida's Small-Town Downtowns
Popular in the Community