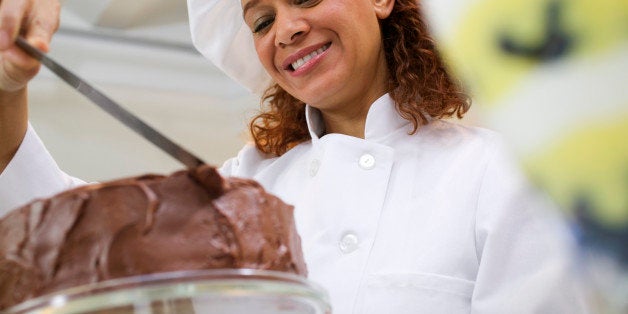 The proof is in the pudding this year. Women chefs cracked the "glacé" ceiling repeatedly to achieve record "first female" milestones in culinary history, magazines, James Beard Awards, the White House and Michelin guides.
According to Dana Cowin, longtime Editor-In-Chief of Food & Wine:
To help encourage the ongoing and important conversation about the role of women in the food industry, Food & Wine is excited to make January 2015 the first all-women's issue in the magazine's history. We're committed to highlighting the accomplishments of extraordinary women from chefs to mixologists to artisans, both in print and throughout the brand on our digital platforms. With the launch of #foodwinewomen, created to amplify the theme of the January issue, we hope to bring attention to even more amazing women in the months and year to come.
As an advocate for women, I've taken issue with the F&W annual "10 Best New Chefs" list for more than a decade, because so few women made the list. In fact, I considered it the "Food & Whine" issue. The list recognizes innovative, rising chefs who have been in charge of a kitchen for less than five years. Only 43 women of the 262 Best New Chefs (BNC) -- less than 16 percent -- have been listed since it was inaugurated in 1988. No women were selected in 2003. One lone ranger was chosen from 2004 to 2007 and from 2008 to 2011. Two women were named in 2008, 2012 and 2014. This year Cara Stadler, chef and co-owner, Tao Yuan, Brunswick, Maine and Gabrielle Quinonez Denton, co-chef and co-owner, Ox, Portland, Oregon, were honored. Three women were recognized among the five F&W 2014 "Best New Pastry Chefs." They are Sam Kincaid, Fork, Philadelphia; Sarah Rich, Rich Table, San Francisco and Jen Yee, Lafayette, New York City.
Hence, I was redeemed when Dana Cowin called to inform me that my advocacy, letters and annual status reports, along with outspoken women chefs, "have made a difference and an impact." This has been an active year for initiating dialogue about the status of women chefs. Time magazine's November 2013 "The Gods of Food" feature, which honored 13 men and no women, engendered a strong backlash. Soon after, Food and Wine and Fortune, sister Time Inc. publications, co-published "The Most Innovative Women in Food and Drink."
Dana Cowin and I were interviewed about the Food & Wine January issue and the progress of women in the food industry. The program is scheduled to air January 17 on "Women's Media Center Live with Robin Morgan," a nationally syndicated radio broadcast with podcast available at iTunes and at wwwWMClive.com.
Women were the top winners at this year's James Beard Awards (JBA), the food industry "Oscars." Nancy Silverton of Pizzeria Mozza, Los Angeles, was Outstanding Chef. Barbara Lynch, Barbara Lynch Gruppo, Boston, was Outstanding Restaurateur. Four of the ten regional categories were won by women. Since the JBA inception in 1990, Silverton is the fourth woman Outstanding Chef, along with Alice Waters, the first in 1992; Lidia Bastianich, 2002 and Judy Rodgers, 2004. Lynch is only the second woman Outstanding Restaurateur, after Maguy Le Coze, Le Bernardin, New York City, 2013.
The James Beard Foundation (JBF), in partnership with Women Chefs and Restaurateurs (WCR), are hosting a "Pioneers and Legends" dinner at the James Beard House in New York City, with nine JBF award-winning chefs on January 15.
Women officially rule the White House kitchen cabinet. Susan E. Morrison was named as the first woman -- and seventh -- Executive Pastry Chef in November. She will spearhead the 420-pound holiday Gingerbread White House replica, complete with Bo, Sunny and Santa. Her responsibilities include overseeing dessert menus for all social events, receptions, luncheons and state dinners. Morrison began as a contract pastry employee in 1995 and was appointed Assistant Pastry Chef in 2002. Cristeta Comerford, the first female Executive Chef since 2005, has been a mentor to Morrison.
Five women were among Dessert Professional magazine's 21st annual "Top Ten Pastry Chefs in America." They are Della Gossett, Spago, Los Angeles; Katzie Guy-Hamilton, Max Brenner Worldwide; Cher Harris, Hotel Hershey, PA; Ghaya Oliveira, Restaurant Daniel, New York City and Jennifer Yee, Lafayette, New York City. Mame Sow is Executive Pastry Chef at The Cecil, named Esquire magazine's "Best New Restaurant in America."
Executive Chef and Co-owner Suzette Gresham, at Acquerello in San Franciso, joins Dominique Crenin, Atelier Crenn, in San Francisco, and Emma Bengtsson, Aquavit, in New York City, to be honored as the three American women chefs who run a Michelin two-star restaurant.
Alas, the culinary career track to top toque for women is not a cakewalk. Food & Wine spotlights "The Mentor Effiect" in leading women chefs' careers. Networking and mentoring are keys to success. Women Chefs & Restaurateurs (WCR) offers professional and support services, with over 2,300 members nationwide. The 22nd annual national conference will be held in New York City, April 18-20, 2015.
Kerry Diamond and Claudia Wu co-founded Cherry Bombe biannual magazine to celebrate women and food. The magazine just received the Adweek Reader's Choice Award. The inaugural Cherry Bombe Jubilee conference featured women industry leaders. Sue Chan co-founded the Toklas Society, a new social and professional women's network of over 1,000 members in the food and hospitality industry.
In the spirit of the holiday season, it is noteworthy that Rudolph, the Red-Nosed Reindeer, will "go down in history." However, many worthy women and their achievements will not go down in history. That's why it's important to report our successes, including "female firsts."
Warm wishes for a delicious new year filled with just desserts.
Fired up? Let's dish. Please comment about how to support and honor women chefs and restaurateurs.
Related
Popular in the Community