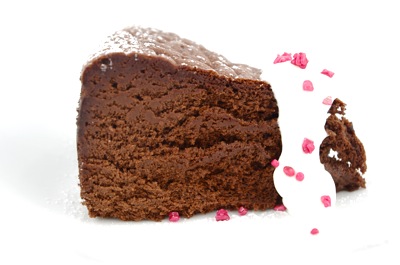 The month of February, cold and harsh, a blanket of white if we are so lucky, a breath of spring occasionally whispering in our ear, stuck unforgivingly somewhere between the rousing, glittery, festive end-of-the-year holiday season and the warming, welcoming arms of spring. February, rarely one's favorite month, finds us impatient for the winter to end, dreaming of summer vacations in the sun, and escape. But for the romance of Valentine's Day. So we strap on ours skis or snuggle down under blankets, our hands wrapped around a mug of hot cocoa or we dream of our knight in shining armor as we stir flour into sugar, rub in butter and scent with vanilla and cinnamon and wait for Valentine's Day. For most of us, Winter respite comes in the form of a heart, that sentimental keepsake, that unlooked for display of affection, candlelight and a glass of champagne warming us up halfway through this otherwise cold, snowbound, steely gray month.
Ah, Valentine's Day, a day of romance and expressions of love, flocks of chubby, pale-skinned, rosy-cheeked cherubs hovering, tiny bows and arrows poised, at the ready for any wandering souls in search of true love. Valentine's Day, the sweetest of days to declare our undying love and devotion to our most adored; gifts of diamonds and rubies, bouquets of roses, heart-shaped boxes of hand-dipped chocolates, candle-lit dinners at the most elegant of restaurants, a bottle of pink Champagne on the table.... screeeeeeech..... (sound of phonograph needle scraping across the lp, the mellow sound of Chet Baker crooning "My Funny Valentine" turning into nails on the blackboard).
Grumbles and moans emanate from my man, my lover, the most eternally romantic of souls, at the very first signs of cherubs, putti, Cupids, roses and hearts. He curses, fist shaken heavenward, as the date rolls around, as shop windows fill with plump red satin ribbons, fluffy white teddy bears and heart-shaped boxes. As Valentine's Day approaches each year he stoutly proclaims his disdain for this "faux holiday, this commercial invention by some ad man or company created for the sake of making a few bucks, selling silly, heart-shaped cards, bouquets and chocolates." He, like so many other men and women, finds himself harrumphing this day as he argues "I certainly don't need someone else to designate one particular day, tell me when and how I should tell you that I love you! I can do that when and how I please!"
Yet we all end up getting caught up in the romance of the day. Even him. Yes, Valentine's Day after Valentine's Day he woos me, he pampers me, he brings me flowers or chocolates, he offers to take me out to dinner, buys me something special that he knows will make me smile. And in return, I offer him something homemade, something elegant, something chocolate. And as we grumble at the ads on tv or sneer at the decorations that pop up in the windows of our favorite boutiques, as we claim that we, like millions of other people, just don't need one specifically designated date to show our love, we end up allowing ourselves to be swept up in the dreamy romance of it all.
This year I offer you one decadent, very chocolate treat, a Chocolate Truffle Torte, perfect for the chocolate lover you would love to woo. This Chocolate Truffle Torte is not to be taken lightly; with a texture as smooth and silky, as light as a whipped chocolate mousse, as dense as a tiny chocolate truffle, with a deep, dark bittersweet edge, the Chocolate Truffle Torte is a very adult, very sexy treat and certainly special enough for Valentine's Day. Best served a sliver at a time, the rich, barely-sweet flavor begs for the balance of a sweet, cool crème anglaise or a red fruit coulis, it is perfect with a dollop or two of lightly-sweetened freshly whipped cream and a tumble of fresh raspberries or one luscious scoop of ice cream: vanilla bean, pistachio, exotic cardamom or grown-up coffee. Or, for a really luxurious, truly romantic treat, sprinkle a slice with candied rose petals or violets or a dusting of edible gold leaf. And serve, of course, with Champagne.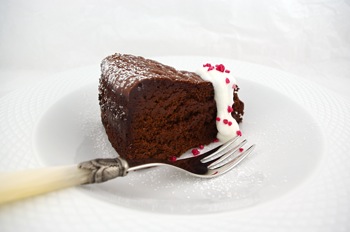 FLOURLESS CHOCOLATE TRUFFLE TORTE

This recipe was given to me by my friend Rachel who lives in Vermont
12 servings or so

1 2/3 cups (10 oz/280 g) 62% - 70% Cacao Bittersweet Chocolate, chopped
1 cup (16 Tbs/225 g) unsalted butter, cubed
¼ cup (65 ml) water
1 heaping tsp instant coffee granules*
1/3 cup (70 g) sugar
Pinch of salt*
1 tsp vanilla
8 large eggs
Powdered sugar for dusting

*Coffee and salt heighten the chocolate flavor: you don't taste them as separate flavors, but you will be able to tell when they are not present.

Preheat the oven to 325°F (160°C). Grease the bottom and sides of a 9 or 10-inch springform pan and line the bottom with parchment paper. If you are worried that the batter may leak out the bottom of the pan, simply cut the circle slightly larger than the bottom circle and press down onto the buttered pan, pressing half an inch or so up the sides.

In a heavy-duty saucepan over medium-low heat, melt the chocolate and the butter with the water, coffee and salt, stirring until melted and smooth. Add the sugar and stir until smooth. Remove from the heat and stir in the vanilla. The mixture may look as if it is separated or "curdled" but don't worry. This is normal.

In a large mixing bowl, beat the eggs with an electric mixer on high speed until doubled in volume, about 5 minutes. Fold the beaten eggs into chocolate mixture in thirds, blending until well combined and smooth after each addition. Pour carefully into the prepared springform cake pan.

Bake for about 35 minutes, or until the cake has risen and the edges are firm and glossy (center will appear underbaked, and still move when jiggled). Cool completely in the pan on a wire cooling rack. Cover the cake, pan and all, and refrigerate for at least 4 hours or up to 4 days.

30 minutes before serving, run a knife around the edge of the pan, loosen and lift off the outside ring of the pan. Invert the cake carefully on a wire rack or parchment paper, gently peel off the parchment paper then turn the cake right side up on a serving platter. Or peel off the outside bit of parchment paper and carefully and slowly slide a long and thin-bladed knife between cake and parchment and slide off onto the platter. Dust with powdered sugar.

See serving suggestions above the recipe.
Jamie Schler lives, eats and writes in France. To read more of her work visit Life's a Feast.
Calling all HuffPost superfans!
Sign up for membership to become a founding member and help shape HuffPost's next chapter