How many of you guys think about flowers while you're in the market, or walking by a florist? Unless someone has died or it's Valentine's Day, I bet never.
It's time to change that thought. Why? Because women love flowers, the same way we like sports cars and beer. Flowers are part of female culture as much as high heeled shoes and lipstick.
I am going to layout an easy, no frills approach to having some flowers around your house or apartment. It doesn't matter if you are single, dating, nerdy, ugly or handsome, this simple approach for adding flowers to your scene will pay off.
Pay off how? In booty of course, we are guys this is our end game.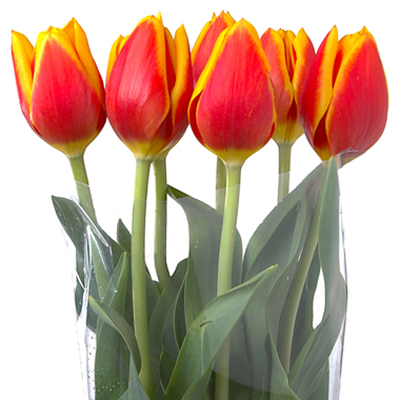 It all starts Wednesday evening, this is generally not a party or happy hour type of evening. Take your time on the way home from work, swing by a grocery store or your local florist and buy a bunch of flowers. What kind? I recommend buying "U.S. Grown" or "California Grown" however, just grab the ones that look interesting to you, don't over think it.
There are a few different bunches to check out. At a supermarket a "consumer bunch" is about five to fifteen stems, all the same type of flower, like ten stems of tulips or five stems of lilies. Then you have the "enhanced bunches" this is the same as a "consumer bunch" only they have added an extra element like, some greens or foliage. From here you go into bouquets, these can really have a lot of "wow", but they also have a higher price tag.
For you beginners, I recommend just grabbing a simple "consumer bunch" of tulips or lilies; this will cost less than ten bucks. Most of these bunches have directions on what to do printed on the sleeve, and it's basically the same info for most flowers.
Take the flowers home, cut their stems a couple inches up from the bottom at a 45 degree angle using a sharp knife. Then place in cold clean water (tap water is fine), pull off foliage that gets in the water, and don't place them in direct sun light. Some flowers come with a little packet of plant food, toss that in the water as well.
You can do this right? Oh wait, you need a vase. For you low key men, a big mason jar works great, or for you guys on a budget a thrift store find can be seriously hip. One or two tulips sticking out of a red wine bottle works too.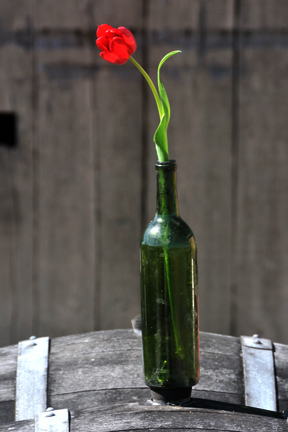 If you have a little cash and like to shop, vase shopping can be really fun, especially if you call your girlfriend or a prospect and ask her to go "vase shopping" on a Saturday. She will think she won the lottery, and you will definitely be getting the booty Saturday night. (Don't forget to buy flowers while you are out, or have them at home awaiting the new vase!)
OK, so you bring home the flowers on a mellow Wednesday night, toss them in a vase with some water. If they don't all fit, use a couple different vessels and put a few in the living room, a few in the bathroom and a few in the bedroom.
Thursday night is a whole different story. Right after work, Happy Hour is calling; the NFL and hot wings are calling...it's Thirsty Thursday. What turns into a friendly game of pool with the girls at the next table gets a little spicier, when the cute one has her eye on you. In the back of your mind, you put your game plan together and hope your apartment is relatively clean. Then you remember, you've got a gorgeous bunch of Oriental lilies sitting on your coffee table. Jack pot!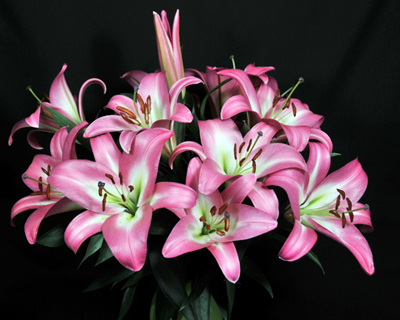 This cutey who works in sales and marketing has a late morning, and it looks like she is scheduling you for the late evening, early morning.
Her expression when she sees the flowers back at your place, seals the deal better than you could yourself.
Ahh, yeah, I like flowers.
Scenario two, that girl goes home with your buddy and you wake up Friday alone. No problem, the flowers are still there and are still in great shape. A bunch of fresh flowers should easily last a week. So dust yourself off, it's Friday night. The concert? The club? The show? You have the phone number from a hottie at the gym you've been wanting to use. Let the flowers guide you, call her up, take her out, show up with a few stems of tulips or iris and see what happens. Women love flowers.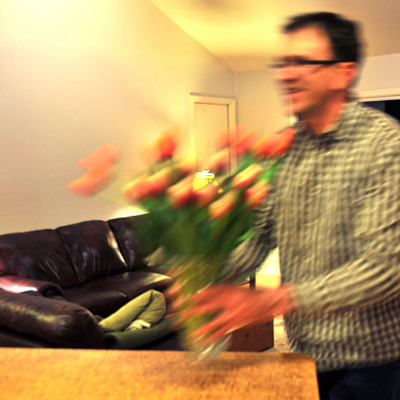 As the weekend cruises by, you get to spend more time around your place instead of chained to your cubical. Check out how the flowers evolve and change over just a couple days. Whether they were instrumental in an epic naughty night with the opposite sex or not, they are still pretty cool to have around. They are easy to deal with, warm up your bachelor pad and add a little color and personality to that black leather couch.
Make it a habit of bringing home some flowers every Wednesday, and enjoy them through the weekend, you'll thank me for it.
Popular in the Community