At a wedding 20 years ago, they walked down the aisle as flower girl and ring bearer. This past weekend, Brittney Husbyn and Briggs Fussy walked down the aisle together once more -- only this time, as husband and wife.
"She turned around one day in class and said, 'I think I have a picture of you on my wall at home,'" Fussy said of the serendipitous encounter. "I remember just little glimpses [of the wedding]. Brittney's running around, making commotion."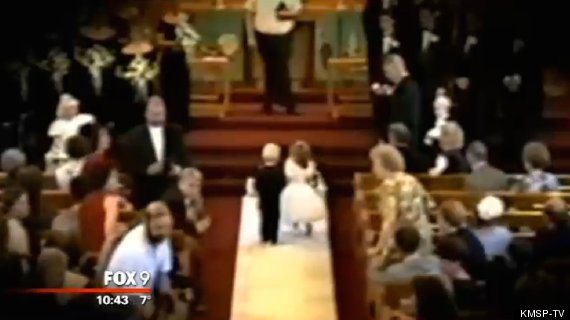 Briggs and Husbyn as ring bearer and flower girl
This long-ago connection reportedly prompted the couple to go on a date. Husbyn and Fussy dated for five years before saying "I do," KMSP-TV reports.
"This is a rom-com waiting to happen," declared Cosmopolitan of the couple's sweet love story. "Kate Hudson and Paul Rudd better GET READY."
All together now: Awwwww.
Congratulations, lovebirds!