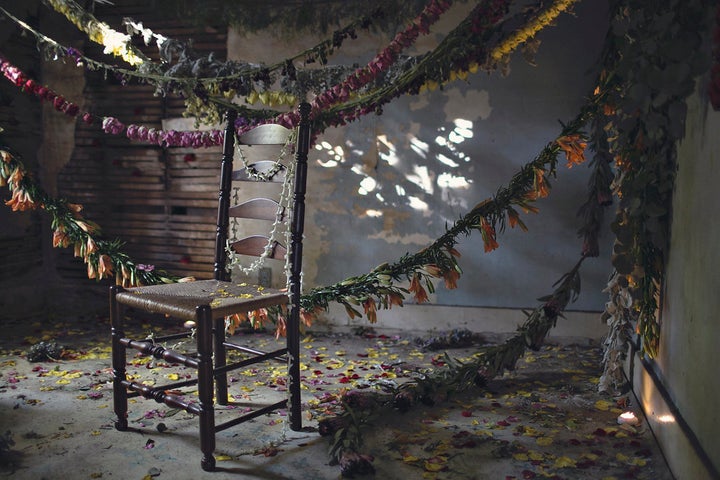 DETROIT -- The ephemeral installation that filled an abandoned house with flowers last weekend was over before the blossoms had time to wilt, but it leaves behind the seeds of a plan to keep the property blooming for years.
The Flower House, created by florist Lisa Waud and several dozen collaborators from around the country, opened in the Detroit enclave of Hamtramck for about 2,000 visitors. The brief exhibition is only the first stage in Waud's plan for the site, which will eventually be home to a flower farm. 
Waud first started dreaming about a large-scale floral installation after seeing photos of a 2012 fashion show that used a million flowers for an ethereal backdrop, but her plan for the Flower House really began to take shape when she settled on a site. Last year, she purchased two adjacent vacant houses at Hamtramck's housing auction for $500.   
"I opened up the door, and it was full of clothes and mail and broken furniture and all kinds of things, and that's when I realized that it wasn't just a campus for our work. ... and realized that I was responsible for the house even after the project was complete."
After hauling out several tons of debris, stabilizing the structures and doing a trial run, Waud invited a dozen florists to Hamtramck last week to transform one of the houses into a work of art, using tens of thousands of blossoms, branches and vegetables to create a separate installation in each room, and on the staircases and porches.
Knives and forks were swept up into a wild cyclone sculpture that took over an empty upstairs room, and fresh peppers and tomatoes spilled out of kitchen cabinets. In the bathroom, flower chains replaced the shower curtain and a roll of birch bark spun where toilet paper used to hang. 
All the flowers were donated by American flower farms, who sent greenery by the truckload. Their involvement sparked a realization in Waud: that the project should continue beyond the installation.
The house will be deconstructed, a process that salvages materials so they can be reused, and the leftover blooms will become mulch for dahlias and peonies she'll grow for her business, Pot & Box.
Some have questioned the value of tearing down a house after pouring so much time and effort into it. But to Waud, it's her individual way of growing her business, putting down roots in the city and bringing a little life back to the block.
"We're doing creative reuse of buildings and land," she continued. "We're celebrating immense collaboration and generosity, we're celebrating the simple idea of beauty, we're celebrating local and national pride for our farms and we're celebrating rebirth."
Kate Abbey-Lambertz covers the ways cities are evolving and innovating to become more sustainable, as well as land use, housing and inequality. Tips? Email: kate.abbey-lambertz@huffingtonpost.com.
PHOTO GALLERY
Green Artists Making Climate Change A Priority
Calling all HuffPost superfans!
Sign up for membership to become a founding member and help shape HuffPost's next chapter