SIOUX CITY, Iowa -- A Boston man with a flower tucked into his beard surprised two presidential candidates on the campaign trail in Iowa on Monday, pulling out 20 daisies from his backpack and asking each candidate to offer prayers for peace before a crowd of voters.
Rod Webber, a filmmaker and musician, has been following candidates on the campaign trail all over the country for the last six months on his own dime, asking presidential hopefuls on both sides of the aisle to say prayers in exchange for flowers.
On Monday, Webber attended a Rick Perry event in West Des Moines and then drove nearly three hours to a Jeb Bush meet-and-greet in Sioux City. Clad in a large top hat, Webber looks as if he could be a cartoon character, but that's not what he's going for.
"I'm not looking to be comedic," Webber told The Huffington Post. "Yes, this does strike something that people will remember. The flowers are a symbol of growth and life itself."
During the question-and-answer portion of both campaign events in Iowa, Webber stood up and offered each candidate flowers. Both Perry and Bush recognized the man from a previous campaign event in New Hampshire.
"This man was in New Hampshire with me twice last week," Bush said as Webber got up and gave the former Florida governor a hug.
Webber handed the bouquet to Bush. "You offered 20 prayers last time," Webber said. "This is just for your wife, but I want you to do a prayer for peace with me right here in person."
Holding hands with Webber, Bush prayed aloud before a crowd of nearly 200 voters at Morningside College.
"I hope this goes well," Bush said as the audience erupted in laughter. "Dear Lord, we do need a peaceful world, we need American leadership to make sure that there is peace all around the world. I worry about people that are struggling in their lives. A more peaceful world will allow them to rise up not just in our country, but the rest of the world as well. I say this in favor of my savior, the son of God, Jesus Christ, amen."
Webber didn't get the same response at Rick Perry's event in West Des Moines earlier in the day.
When Webber approached the former Texas governor, Perry motioned for the man to move away. "I'll pray for you, brother. How about that?"
Webber said he's interacted with Perry many times and was disappointed with his response. "I've bumped into Rick about four times in New Hampshire, so I thought we struck up a rapport, but they had the CNN cameras, and I think Rick was embarrassed while Jeb embraced it."
The artist says his goal is to take the message of peace to another level with prayer, something many GOP candidates can understand.
"That silly lovey-dovey notion of peace and love can be a real peace, it can be a lasting peace," he said. "It can be a love, a true love and it can be something that can be brought to the children who will grow up to be future leaders. If anything, this is my cause."
"Jeb Bush more so than anyone else and Lindsey Graham actually took me up on it, he led his people in prayer with me, and I thought that was great."
Webber said many times when he asks candidates on both sides of the aisle to offer a prayer of peace, presidential hopefuls use the opportunity to campaign.
"When I say 'a prayer for peace,' often times that goes into, 'Well, I'd be the best leader because of X, Y and Z,' and everything they are saying is colored by that," he said.
Webber said he'll continue to attend campaign events around Iowa for Bush and a few other candidates. He said he'll also head to South Carolina for more campaign events in the coming week.
"I want to get this message across and make it connect with politics, because that's the hardest thing," he said.
As voters filed out of the auditorium, Webber noticed with disappointment the bouquet of flowers still sitting on the podium.
"I'll just leave them here in case Jeb decides to come back," he said.
Before You Go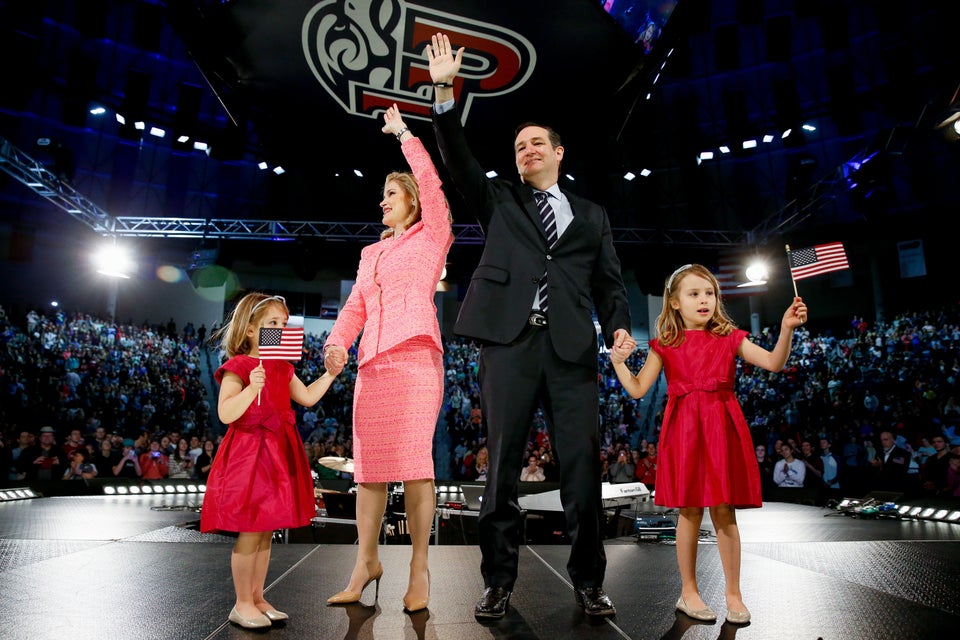 Declared 2016 Presidential Candidates
Popular in the Community