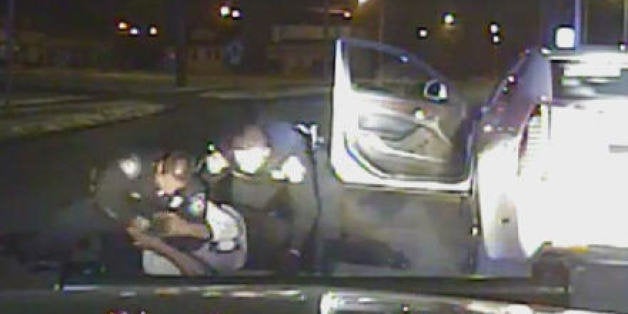 (Reuters) - A judge on Wednesday entered a not guilty plea for a man charged with drug possession who was dragged from his car, struck several times in the head and Tasered by suburban Detroit police during an arrest recorded on squad car video.
Floyd Dent, 57, says police physically abused him and planted cocaine in his car after the traffic stop on Jan. 28 in Inkster, Michigan, the latest in a series of altercations that have raised concerns about police use of force in the nation.
Gregory Rohl, Dent's attorney, has said his client, who is black, was targeted because of his race. Dent elected to stay mute in Wednesday's proceeding, so the judge entered a not guilty plea on his behalf.
"It's overwhelming, being in the spotlight," Dent, who has worked for Ford Motor Company for decades, told reporters after his court appearance.
Later on Wednesday, about 80 people demonstrated with Dent at Inkster police headquarters wearing T-shirts printed with "Stop Police Brutality." Protesters said they would not stop until the officers involved are removed from the department.
"You will not get away with it because our fight will never stop, our light will never burn out," said the Reverend Charles Williams II, president of the Michigan chapter of the National Action Network.
Officers seen in the video of Dent's arrest are white. About three-quarters of Inkster's residents are African-American, according to U.S. Census figures.
One of the officers, William Melendez, was among several then-Detroit police officers accused in federal indictments in 2003 of misconduct. A jury acquitted the officers.
Melendez has been named as a defendant in several federal civil lawsuits dating to 1996, including one stemming from a 2011 arrest in Inkster where he was accused of excessive force.
Melendez testified in March that Dent ran a stop sign after leaving a motel known for drug activity and threatened him and his partner when he was pulled over.
In the video Melendez can be seen approaching Dent's car with his gun drawn, the door opens and his partner pulls Dent from the vehicle. Melendez wraps an arm around Dent's neck and punches him on the head while his partner handcuffs him.
Another officer then Tasered Dent, who was hospitalized for injuries to his face and head.
Charges against Dent of assault and resisting arrest were dismissed in March. Dent is scheduled to appear in court on April 15.
(Reporting by Serena Maria Daniels; Editing by David Bailey, Eric Walsh, Eric Beech and Cynthia Osterman)
REAL LIFE. REAL NEWS. REAL VOICES.
Help us tell more of the stories that matter from voices that too often remain unheard.