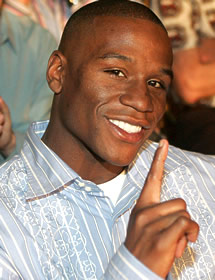 Floyd "Money" Mayweather is a very good, if not great, fighter. You can't argue his skills or whether he's one of the best of his era. None of that is really open to debate. He is as skilled a defensive tactician as has been seen in quite some time, if not a whole generation.
With the latest round of "he said," "he never said," it again has become painfully obvious the reasons why Money Mayweather is not the greatest of all time.
Not even close. Yes, Mo'Kelly said it... "not even close."
Depending on what you've read, on what day and what sources were cited, the Mayweather camp has, or has not been in talks to schedule a super fight between Mayweather and boxing superstar (and newly-elected Philippines congressman), Manny Pacquiao.
Honestly, for all the bluster and bravado of Mayweather, his fight resume is comparatively lightweight in nature, pun intended. This discussion isn't about whether Mayweather is great... but whether he is the greatest.
Two different discussions.
Mo'Kelly would contend that if you've not fought (much less beaten) the best of one's era, you can't lay claim to any mythical title of all-time greatest boxer.
Muhammad Ali's fight resume is littered with multiple bouts with Hall of Fame greats. Three fights with Joe Frazier (winning two) and a win over then-undefeated and thought to be indestructible George Foreman speak volumes. Three fights with Ken Norton (winning two) on top of that says even more. That's saying nothing of Ali's domination of Archie Moore and Floyd Patterson. These are all boxing Hall of Famers in their own right and Ali fought them for the most part in the prime of their careers. If anyone should call Ali "The Greatest" it's because he beat the greatest heavyweights in his era and ever since. Even journeyman Earnie Shavers would destroy today's heavyweights.
But back to Mayweather...
When held up to Ali's light, Mayweather's wins over the late Arturo Gatti and the decisions over the elderly odd couple of Oscar De La Hoya and Sugar Shane Mosley don't exactly compare. Not even close.
Muhammad Ali knocked out George Foreman in his prime... his signature fight. Floyd Mayweather Jr. split-decisions an old Oscar De La Hoya... his signature fight. Mayweather is the greatest of all time?
OK, so let's compare apples to apples.
It's fair to say that Sugar Ray Leonard choosing to fight Thomas Hearns two times (winning once in Hearns' prime and one draw) and Roberto Duran (winning twice in Duran's prime), not to mention beating Marvin Hagler and Wilfredo Benitez, all members of the International Boxing Hall of Fame is a much more compelling argument for "greatest of all time" than a list headlined by Zab Judah, Ricky Hatton, Sharba Mitchell and DeMarcus "Chop Chop" Corley.
Ricky Hatton is somehow comparable to Thomas Hearns?
Any man who beats Roberto Duran twice and Tommy Hearns once (with one draw) in their respective primes is better than the guy who beats an old De La Hoya and Mosley once. You know it, Mo'Kelly knows it and deep down Floyd Mayweather Jr. knows it too. That's not rocket science, that's common sense.
Sometimes Mo'Kelly thinks that Junior only says such ridiculous things because he's still angry that Ray Leonard knocked out Senior back in the day. If all championship belts are to be earned, it's fair to assume that the title of "all-time greatest" must be earned too. To the fighter accepting the greatest risk goes the greatest rewards.
When it really comes down to it, if Mayweather can't find a way to fight the best fighter available (Pacquiao) of his era in his prime once, then he should be loathe to claim all-time boxing supremacy. He's not earned it and hasn't in earnest pursued it. Mayweather wants us to take his word for it, citing his unbeaten record, yet gleefully ignoring the fact that not only is the competition of his era of a lesser caliber, his desire to fight the best reeks of being lesser in caliber too.
We've seen this story before. Once upon a time there was a "great" fighter named Roy Jones Jr. who seemed to have no peer. He "seemed" to have no peer because we weren't really sure as his opponents often times didn't require the best of Jones. Later in his career we learned the truth.
The greatest fighters chase adversity and seemingly impossible odds. In fact, that needs to be said again. The greatest fighters chase adversity and seemingly impossible odds. Of course boxing is a business. Of course Mayweather is "managing" his own career.
But he can't have it both ways.
Can you imagine Floyd Mayweather Jr. in the ring with a 6'1" welterweight, the likes of Tommy Hearns? Of course not. He won't even fight 6'1" Paul Williams... and he's nowhere close to the second coming of Hearns.
The greatest fighters of all time fought physically stronger, younger or more gifted fighters. Ali did it. Ray Leonard did it. Marvin Hagler did it. Floyd Mayweather has never done it, even when the the opportunity presented itself. No number of episodes of 24/7, replete with profanity and unbridled braggadocio will ever change this fact. No number of underwhelming fights with an overmatched Juan Manuel Marquez or Carlos Baldomir will change this fact either.
Mayweather has often said that "the truth" will find a boxer in the ring. He's probably right... which might explain his unwillingness to fight Manny Pacquiao or any other fighter of note before their skills have naturally deteriorated with age.
Just the facts. You won't find any Hall of Fame fighters on Mayweather's resume who were in their prime when they fought Mayweather... and no, not even Arturo Gatti. No disrespect to the deceased, but please don't confuse Arturo Gatti with a Roberto Duran or Marvin Hagler. That too is not even close. And just FYI, Gatti is not in the International Boxing Hall of Fame either... so Mayweather's list of opponents is even more tepid after closer inspection.
Who is the greatest boxer of all time? Who is to say? But Mo'Kelly is sure that to be the greatest boxer of all time, you fight the best at their best... at the very minimum. Mayweather is clearly showing us he's in no way interested in earning the accolades he heaps upon himself.
Is he good theater? Absolutely. Is he the greatest of all time? As of now, absolutely not. Not even close. We can't even get him in the ring with the the best fighter available for one bout.
Floyd Mayweather Jr. needs to make the fight with Manny Pacquiao or stop running his mouth. Odds are he'll do neither any time soon. It's much "safer" that way. Nothing wrong with being "safe," just no all-time greatness attached to it.
Morris W. O'Kelly (Mo'Kelly) is author of the syndicated entertainment and socio-political column The Mo'Kelly Report. For more Mo'Kelly, http://mrmokelly.com. Mo'Kelly can be reached at mrmokelly@gmail.com and he welcomes all commentary.
REAL LIFE. REAL NEWS. REAL VOICES.
Help us tell more of the stories that matter from voices that too often remain unheard.