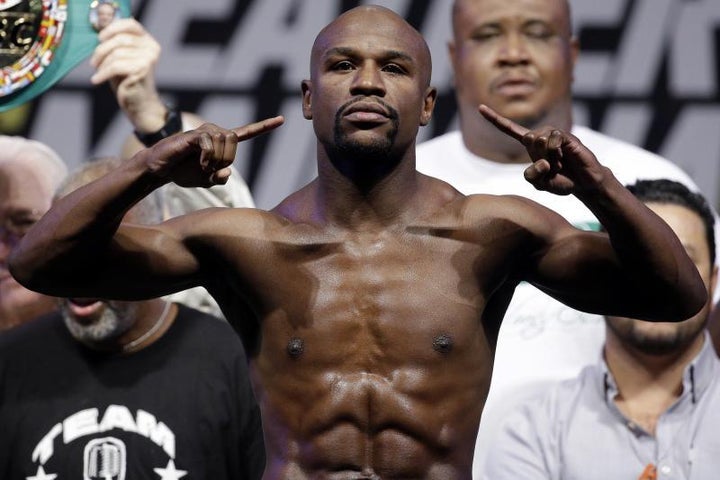 The greatest boxer of all time is Muhammad Ali. "Greatest" and "dominant" have somewhat different definitions for a reason. Floyd Mayweather Jr. is the most dominant boxer in history and also, because of his ability to make championship fighters look ordinary, and his perfect record in a brutal sport, the most dominant athlete of all time. Mayweather's 50 consecutive victories with zero losses consist of 24 wins against current or former champions and 26 victories in world title fights. Half of the time, Mayweather was defeating the best in his sport and the entire world. You don't need graphs or endless statistics to debate Mayweather's dominance. Zero losses says it all.
Too many convoluted mathematical equations exist in today's era of rankings and athletic debate. With Mayweather, the fact he's faced so many legends and remained without a loss speaks volumes. From 2005 until 2012, he defeated Arturo Gatti, Zab Judah, Oscar De La Hoya, Ricky Hatton, Juan Manuel Marquez, Shane Mosley and Miguel Cotto. These are all boxing legends, and Mayweather continued his excellence even when fighting Canelo Alvarez and the great Manny Pacquiao in later years.
Like DiMaggio's 56 game hitting streak, Mayweather achieved a mark of greatness that can't be quantified by graphs or metrics. It's difficult to get a hit in three consecutive baseball games, much less 56 games in a row. For this reason, Joe DiMaggio's record might never be broken. In boxing, Ali lost to Frazier and Ken Norton numerous times, Sugar Ray Leonard and Roberto Duran both defeated one another, Mike Tyson lost to Evander Holyfield, and even the greatest champions tasted defeat.
The only undefeated record belonged to the legendary Rocky Marciano, at 49-0, and the same critique of Marciano defeating Joe Lewis has been leveled against Mayweather. Some say "Money" evaded upper echelon opponents during their prime, but this critique ignores the reality that Mayweather was a more powerful puncher earlier in his career, and had other youthful advantages had he faced De La Hoya or Pacquiao earlier in their careers. Ultimately, Floyd Mayweather Jr. is 26-0 in world title fights. Over half of his unbroken winning streak consisted of world title contests; which both highlights his athletic talent and mental toughness.
Maywewather has world titles in 5 weight divisions; one of only five boxers in history to achieve this feat. His titles span from the 130 to 154 lb. weight classes, which also correlates to the fact he was Ring Magazine Boxer of the Year in 1998 and 2007. This accomplishment also speaks volumes, since nobody has ever accused or even suspected Mayweather of taking any performance enhancing drugs. Yet, he dominated in an era where numerous boxers have been suspected of using PEDs. A perfect record, from the beginning of an athlete's career until the end, without gaining a chemical advantage over opponents, is something phenomenal in this day and age.
As for the issue of his fighting style, I'm embarrassed to have once written this article. Although I'm a journalist focused primarily on politics, I've written several sports articles and if I could go back in time, I wouldn't have written that piece. First, I don't want to be associated with the few baseball writers who didn't vote for Babe Ruth or Hank Aaron as first ballot Hall of Famers (imagine explaining voting against Ruth or Aaron) and personal preference should be removed from evaluating an athlete's career achievements. For me, Mike Tyson and Marvelous Marvin Hagler are my type of fighters, Ali is the greatest, and I like Pacquiao's fighting style more than Mayweather's technical mastery. However, perfection can't be evaluated alongside a thirst for blood, or a longing for the days of Joe Louis and Rocky Marciano.
Mayweather's defensive skills have resulted in hundreds of millions of dollars, while the majority of boxers struggle to keep their earnings. After parting ways with Hall of Fame promoter Bob Arum a decade ago, Mayweather controlled his financial future and has earned $340 million over the years. In an industry known for ruining boxers financially, Mayweather was nearly perfect with money as well, promoting himself and negotiating his own contracts. In terms of dominance, this aspect of autonomy spans beyond boxing and if you don't believe me, watch ESPN's Broke. In addition, Mayweather's boxing skills will allow him to live in a healthier manner during his later years, when other boxers might feel the effects of punches to the head and years of contact.
There are those who might confuse the words "greatest" with "dominant" and disregard my thoughts, in the same manner I overlooked Mayweather's perfect career after the Pacquiao fight. There might be better boxers in the history of boxing, but nobody has had as many consecutive victories. As for my viewpoint he's the most dominant athlete of all time, the nature of boxing and others sports must be put into perspective.
Gretzky, Jordan, and Bonds played team sports, and those teams had an impact on their greatness and success. Peter Sampras, Roger Federer, Tiger Woods, Jack Nicklaus and other legends in tennis and golf had courts, wind, tournaments that fit their strengths, and other factors that played into their success. Floyd Mayweather Jr., like any boxer, only had his gloves and the opponent in front of him, doing everything possible to inflict maximum damage. The psychology and nature of boxing revolve around the bare minimum in terms of external factors; two men are looking at each other with the intent to hurt one another, and nobody stops until the bell rings.
Gretzky was protected from physical contact by teammates and Michael Jordan had Scottie Pippen; every legend in baseball, football and basketball had someone around who helped them achieve greatness. Mayweather went into the ring with another man who wanted to knock his head off. There's a chance that any boxer could lose his life in the ring, like Korean championship boxer Duk-koo Kim in his fight thirty years ago against Ray Mancini. As explained in a New York Times piece by Mark Kriegel titled A Step Back, the courageous Korean champion died as a result of a grueling match:
Upon his arrival at Desert Springs Hospital, Duk-koo was given a CT scan revealing a subdural hematoma — a blood clot — on the right side of the brain. Dr. Lonnie Hammargren, the neurosurgeon who reported to the ER, saw from the scan that most of the blood had settled in the parietal lobe. He estimated its volume to be 100cc.
"Enough to fill between three and four one-ounce shot glasses," he says.
Later that night, Sinatra introduced Ray to the audience at the Circus Maximus Showroom.
...Two and a half hours on the operating table would not save Duk-koo Kim. Death was inevitable; the body would go the way of his brain.
People don't die in basketball and Mayweather fought at 134 lbs, the same weight Ray Mancini and Duk-koo Kim fought at during that tragic title fight.
In terms of earnings, revenue generated in his sport, and consecutive years of greatness and dominance, there's nobody who compares to Floyd Mayweather Jr. Factor in the reality that he could have died in any of his matches, and that half of his fights were against current or former champions (capable of literally killing a man in the ring) and his accomplishments become even greater. His five titles in different weight classes and his greatness span from the 90's until today. As for Mayweather's victory to surpass Marciano's record, Conor McGregor holds multiple championships in the UFC, and as we witnessed in the fight, displayed amazing boxing skill. There's no doubt he could defeat a number of professional boxers in the world today.
Floyd Mayweather Jr. has been able to make a brutal combat sport look easy at times. He's defeated the best and either outsmarted them or dominated physically to remain perfect. While nobody is a perfect human being, and not everyone loves his personality, remember that as you read this, not everyone loves your personality or thinks you're a perfect person. In terms of professional boxing and sports history, there isn't another athlete who's done what Mayweather Jr. has achieved. Fifty times, Mayweather entered the ring against a dangerous opponent and all fifty times, he defeated competitors who wanted nothing more than to knock him out. Combine this consecutive win streak with the fact he negotiated his own contracts and controlled his financial future, and nobody can match Mayweather Jr.'s legacy.
Related
Popular in the Community