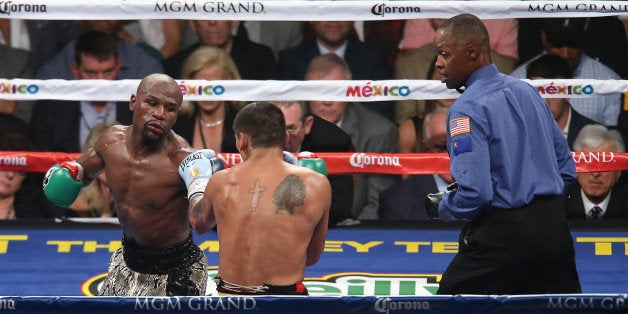 Les Moonves has a domestic violence problem. As president and CEO of CBS Corporation, he oversees a vast media empire that includes, among other properties, CBS and Showtime.
CBS is one of the networks that televises National Football League games. The burgeoning NFL domestic violence scandal isn't adversely affecting ratings right now. But there might come a time when corporate advertisers move away from the NFL. That would be bad for CBS.
Meanwhile, Showtime finds itself joined at the hip with Floyd Mayweather by virtue of a six-fight contract. Mayweather has been criminally convicted on three separate occasions for being physically abusive to women. In 2012, he served 63 days in jail for one of these offenses. The Nevada State Athletic Commission didn't suspend Mayweather's license to box after any of the convictions, and the sentencing judge delayed the start of Mayweather's jail term so he could fight Miguel Cotto in Las Vegas on May 5, 2012.
Let's put that in perspective. Suppose Seattle Seahawks quarterback Russell Wilson had been convicted of battery domestic violence and sentenced to prison last year. And suppose the sentencing judge had deferred sentence so Wilson could play against the Denver Broncos in the Super Bowl before going to jail. And suppose NFL commissioner Roger Goodell had let Wilson play. That's the equivalent of what happened with Mayweather in Nevada.
This week, the Mayweather, Showtime, and Nevada State Athletic Commission pathologies collided.
Showtime prides itself on its All Access series that the Showtime website describes as follows:
"This documentary series from Emmy-Award-winning Showtime Sports provides viewers with an intimate portrait of some of the most compelling personalities in sports. All Access will take you inside the personal lives of the fighters and behind the scenes of the provocative and often edgy world of boxing with unrestricted access, as only Showtime can."
As part of the pre-event promotion for the September 13, 2014, pay-per-view fight between Mayweather and Marcos Maidana, Showtime aired a three-part All Access documentary. During the second episode, Sharif Rahman (an amateur boxer and one of former heavyweight champion Hasim Rahman's sons) was shown taking a vicious beating at the hands of Donovan Cameron in a sparring session at the Mayweather Boxing Club. Sharif's older brother, Hasim Rahman Jr, then challenged Cameron to get into the ring with him. The All Access documentary showed members of the gym placing bets on the action, while the two men fought for 31 consecutive minutes until Cameron could no longer continue. Mayweather cheered enthusiastically during the battle and said on camera, "The dog house; the rules are you fight till whoever quits. Guys fight to the death. It's not right, but it's dog house rules."
In the same episode of All Access, Mayweather was shown at home, watching as several women rolled joints and smoked marijuana. At one point, he instructed a third party to go to the store and buy more rolling paper because they had run out of paper.
Thereafter, Nevada State Athletic Commission chairman Francisco Aguilar told ESPN.com:
"I watched the episodes when they were sent to me by another commissioner. Our main concern is the health and safety of the fighters, and not just on fight night but also in sparring and in training. We want to get a clarification about what happened on All Access. There were situations in sparring sessions that we need to talk about. One thing is to talk about making sure you have two equally paired fighters and that you're not putting one fighter in danger. The other is the round that went 31 minutes. There is also the marijuana situation in there, and some commissioners are upset about it."
On September 18, the Nevada State Athletic Commission instructed Mayweather to appear at its September 23 meeting to answer questions regarding the content of the All Access episode. He was not required to take an oath before testifying. That created a loophole through which, were he so inclined, he could testify falsely without exposure to prosecution for perjury.
Mayweather told the commission on September 23 that, contrary to what was represented on All Access, there had been three or four breaks during the 31-minute round and that the marijuana shown in the documentary wasn't real marijuana but a prop used to engender interest in his lifestyle and help sell pay-per-view buys.
It's hard to believe that Showtime would stage events like that for inclusion in a documentary. The network is part of a media empire that includes CBS, perhaps the world's most respected name in news coverage.
Mayweather had an "executive producer" credit for All Access, but his reputation isn't on the line. The other three executive producers were Ross Greenburg, Jody Heaps, and Jason Bowers. Bowers was also credited as the series director. The prevailing view among industry insiders is that these men have too much integrity to stage scenes in the manner testified to by Mayweather.
Moreover, multiple sources at Showtime have told this writer that Mayweather's testimony before the Nevada State Athletic Commission was false.
"As you can imagine, it's a sensitive time right now," one of these sources said. "People here are angry. The marijuana was real. There was no break in the 31-minute fight. Floyd flat out lied to the commission."
To date, Showtime executives have declined to comment publicly on Mayweather's testimony. But this is an instance where "no comment" is an inadequate response. The network owes its subscribers and the viewing public a clarification. Either the All Access scenes were genuine or they were not. That means it's incumbent upon Showtime management to call in key production personnel, ask them precisely what happened, and review all relevant video evidence. Then Showtime should either (1) apologize publicly for deliberately misleading its subscribers and the general public or (2) state publicly that, upon review, it has confirmed that the All Access presentation of events was accurate.
Meanwhile, the Nevada State Athletic Commission should also follow up on the matter. At a minimum, this would involve (1) requiring Mayweather and the appropriate Showtime personnel to testify under oath, and (2) requesting that subpoenas be issued for all relevant video content.
NSAC executive director Bob Bennett is a former FBI agent. He knows how to investigate something of this nature. And because Bennett is a former FBI agent, the commission will look pretty silly if it comes to light later on that its members were lied to and did nothing about it.
It's one thing if the Nevada State Athletic Commission accommodates Mayweather by allowing him to fight Miguel Cotto after he has pled guilty to battery domestic violence but not yet served his sentence. That's a choice, however unfortunate, that the NSAC made freely and knowingly. It's a very different matter if Mayweather has disrespected the commission and made a mockery of its proceedings by lying to the commissioners.
The credibility of both the Nevada State Athletic Commission and Showtime is at stake. If Mayweather told the truth at the September 23 hearing, then heads should roll at Showtime. And if it was Mayweather who lied, it's time for the NSAC to say, "Enough is enough!" That would include re-examining Mayweather's license as a boxer and also the issue of whether Mayweather Promotions is fit to be licensed as a promoter in Nevada.
One assumes that Nevada governor Brian Sandoval (who bears ultimate responsibility for the commission and its actions) will be watching. So will Les Moonves. Either Showtime has deliberately deceived its subscribers and the general public or the five commissioners of the Nevada State Athletic Commission have been played for fools.

Thomas Hauser is a part-time consultant for HBO Sports and can be reached by email at thauser@rcn.com. His next book (The Final Recollections of Charles Dickens) will be published in November by Counterpoint.
Calling all HuffPost superfans!
Sign up for membership to become a founding member and help shape HuffPost's next chapter