U.S. health officials are warning that influenza season may be reaching peak levels earlier than usual this year, with the deadly virus already considered widespread across most of the country and blamed for 27 deaths in California.
The virus is currently designated as widespread in 46 states and having regional activity in the remaining four states ― Hawaii, Maine, New Hampshire and New Jersey. Local influenza activity has also been reported in Washington, D.C., according to the Centers for Disease Control and Prevention.
Four times as many states are reporting the flu as widespread compared to this time last year, CBS News reports.
"What we're seeing this year [is] the influenza season started earlier and seems to be peaking right about now," Dr. Daniel Jernigan, director of the CDC's Influenza Division, told "Good Morning America." "That's about a month earlier than it normally would be peaking," he said, "so lots of cases [are] happening, in lots of states, all at the same time."
Health officials have warned that H3N2, the most common strain of the virus they've seen, is particularly vicious.
"This is a bad bug," Jernigan told CBS News. "In years when there is H3N2, we do see that there are more deaths."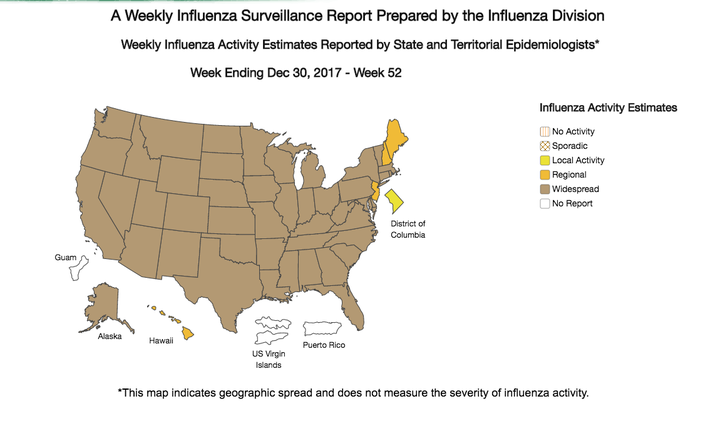 As with most cases of the flu, the very young and the very old are at the greatest risk of death from this strain, Jernigan said.
On the West Coast, the flu has hit California particularly hard, with the state reporting 27 flu-associated deaths so far among people under age 65.
"The number of deaths so far is significantly higher than at the same time in the previous influenza seasons," said Dr. James Watt, chief of communicable disease control at CDPH. "It's possible that we're seeing higher numbers of deaths now that the season started earlier."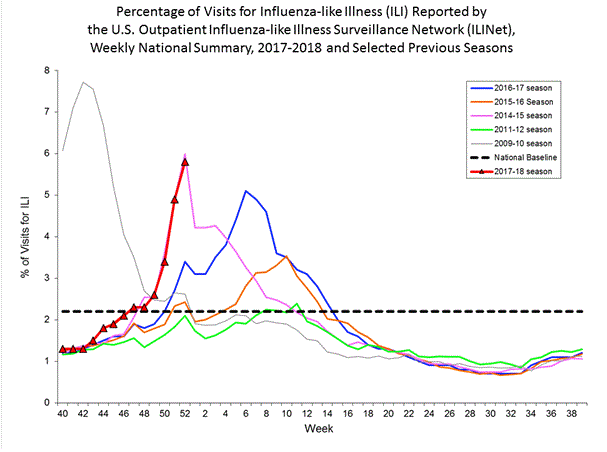 Watt, while urging the public to get vaccinated, noted that it takes about two weeks for the antibodies that protect against the flu to develop in the body after a vaccination.
"Although influenza season usually peaks between December and February, flu activity can occur as late as May, which means it is not too late to get vaccinated," he said.
U.S. health officials said on Wednesday that as many as 646,000 people worldwide die every year from seasonal influenza. That's an increase from a prior estimate of up to 500,000 deaths. A reason for the higher estimate was not specified.
In England, the BBC reported on Thursday that there has been a high rate of hospital patients with the flu, suggesting the worst flu season in seven years.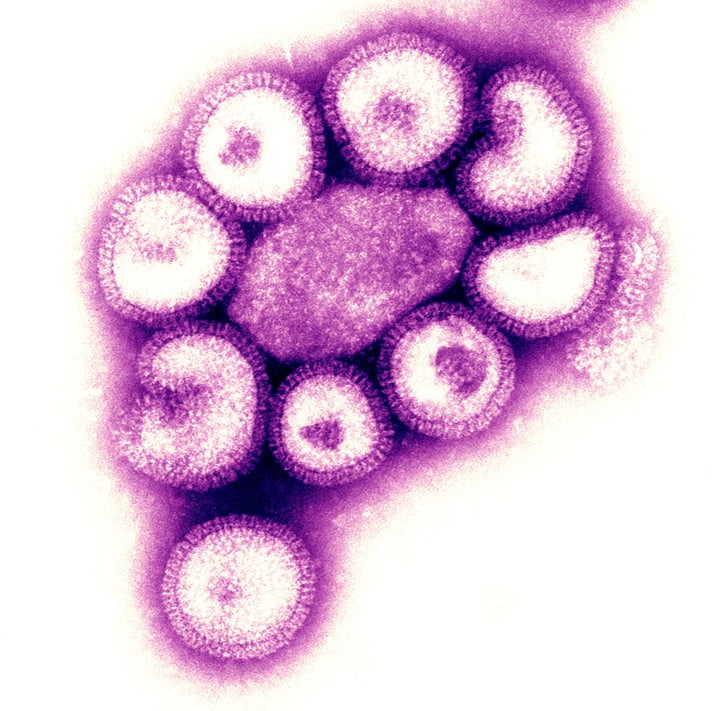 Australia also saw a large number of hospitalizations and deaths during its flu season in July and August, which featured the H3N2 strain for the first time.
Public health specialist and Australian Immunisation Coalition Chairman Paul Van Buynder had suggested the outbreak was Australia's "biggest on record."
Adding to Australia's health struggle, the current H3N2 vaccine that was administered during its flu season was reportedly only 10 percent effective against the virus.
That's sparked some concern that the vaccine won't be helpful for Americans. But Dr. Anthony Fauci, director of the National Institute for Allergy and Infectious Disease, told The New York Times that such fears are likely unfounded.
He reasoned that fewer Australians are immune to the virus because of the vaccines being less common there. The same H3N2 strain also circulated in the U.S. last year, meaning those who contracted it then should be immune to it this year.
Calling all HuffPost superfans!
Sign up for membership to become a founding member and help shape HuffPost's next chapter