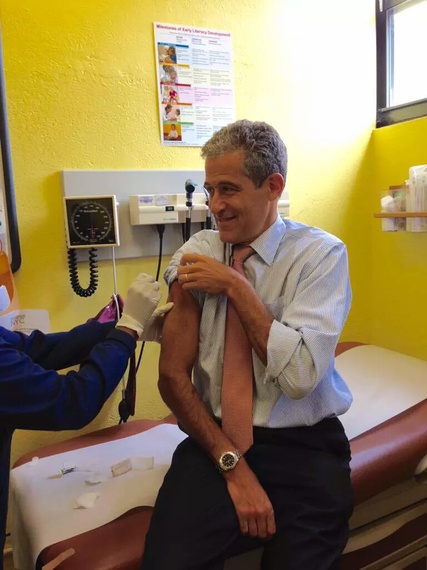 Dr. Richard Besser, Chief Health and Medical Editor at ABC gets his flu shot. Photo property of Dr. Besser -- used with permission.
Now that the autumn season has arrived, this also means that another flu season is fast approaching as well. In other words, it is time to roll up one's sleeves and get the flu vaccination. The CDC estimates that each year in the United States on average 5 percent to 20 percent of the population gets the flu. They also estimate that there are more than 200,000 people hospitalized from seasonal flu-related complications.
While you may think that you are too busy to take time to get a vaccine, just consider the number of days you will be off from work if you have the flu. You may not even have to make an appointment with your doctor's office because many local pharmacies offer the vaccination. Several insurance plans, including Medicare Part B, cover this expense.
The CDC is also clear that healthy young adults can also get the flu. Moreover, you may be exposed to the flu and not even know it. The CDC says that some people may have a fever or feeling feverish/chills but not everyone will experience this. Other flu like symptoms include: cough, runny or stuffy nose, sore throat, muscle/ body aches, tiredness, and headaches. Because the strains of the flu vary each year it is important that one is vaccinated once a year.
Still not convinced that the flu shot vaccination is right for you? Or maybe you have questions about the flu in general? Consider joining the live tweet chat with chief health and medical editor Dr. Richard Besser on Sept. 29, 2015 at 1 p.m. Eastern and use the hashtag #abcDRBchat to follow along and ask questions.