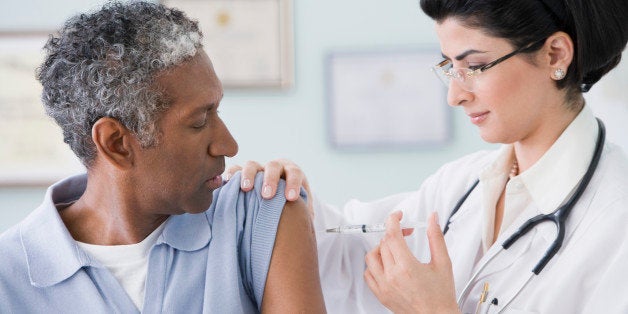 The flu shot may protect against more than just influenza. According to a new study, the jab also may nearly halve the risk of heart attacks in middle aged people with narrowed arteries.
The Australian study, published in the journal Heart, is not conclusive, however. As of now, those aged 50 to 64 are not routinely included in national flu vaccination programs in either the UK or Australia. But the findings have led researchers to believe that the age group may need to be included due to the negative impact cardiovascular disease has on this population.
"Even a small effect of influenza vaccination in preventing [heart attacks] may have significant population health gains," the researchers said in a press release.
For the study, researchers assessed 559 patients over the age of 40 who were hospitalized at some point from 2008 to 2010. Some 275 of these patients had suffered a heart attack while 284 had not.
Nose and throat swabs and blood samples taken at admission and four to six weeks later showed that around 12.4 percent of the heart attack patients had recently had a flu, compared with just under 7 percent in the comparison group. Half of all the patients had had the flu shot that year.
When factors such as age, high cholesterol and smoking were considered, having the flu did not increase the risk of heart attack. But vaccination against the infection did seem to be beneficial, cutting the risk of a heart attack by 45 percent.
Previous research suggests that flu and other infections might help cause blood to thicken or prompt an inflammatory response in arteries that are already diseased, thereby sparking the development of a blockage, the researchers said.
In the United States, health leaders have expressed hope that some 80 percent of the population will be getting yearly shots by 2020. Yet a recent report by the Center for Infectious Disease Research and Policy at the University of Minnesota asserted flu shots provide only limited protection for healthy young and middle-aged people, and almost no protection for those 65 and older.
REAL LIFE. REAL NEWS. REAL VOICES.
Help us tell more of the stories that matter from voices that too often remain unheard.
BEFORE YOU GO
PHOTO GALLERY
6 Ways To Improve Doctor's Visits