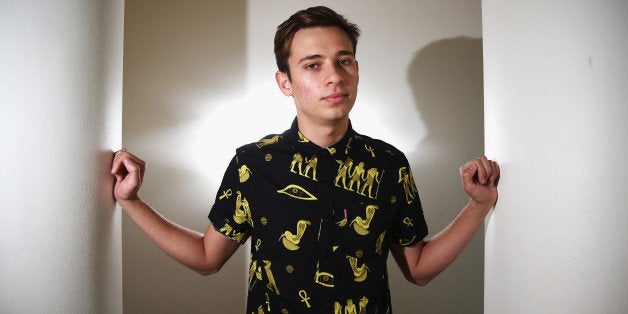 America's biggest Australian import in electronic music is barely allowed to drink here. Flume, also known as 22-year-old Harley Streten, can sell out three nights at New York City's Terminal 5 but has barely cracked the Billboard charts. He's friends with Lorde and produced the fan-favorite remix to her single "Tennis Court." But during a Thursday morning session at New York's Red Bull Studios, it's clear that Streten is tired.
It was day two of his three-night run in New York, and deep inside the studio in Chelsea, Streten played host to a revolving door of reporters, friends, producers and beautiful people. He's pooped but calm. Streten's sandy-colored hair was cut short around the sides and he was wore a forgettable t-shirt and jeans. He fiddled with a water bottle and talked about the monstrous year behind him. "America's just cracked this year," he said. "That's what we're trying to do here."
Flume's American audience has grown with aggression (last year he booked one night at Webster Hall, which holds half as many people as Terminal 5), and that one Lorde remix has now been streamed more than 9 million times on SoundCloud, making Streten an alt darling with the Top 40 crowd. Flume is on the verge of becoming America's next favorite electronic act, and he is still trying to get his head around all this love.
"Dangerous" is the adjective Streten used when describing his growing popularity. "I've definitely had some regretful nights out on the booze. It's very easy to get carried away when you're younger." A typical Flume concert skews young. During his New York shows, the venue was dominated by high schoolers in lacrosse jerseys and college-aged kids dressed in neon and spandex. They sucked lollipops, rode atop shoulders and stared up at the dangling disco pyramids. "It started off being the in-the-know crowd," Streten said of his American fan base. "Now it's more kids wanting to have a good time."
His popularity among EDM fans is a nod to the shift in what's considered "cool" under electronic music's vast umbrella. Flume's sound is delicate. Ephemeral beats are punctuated by garbled, repeated lyrics like, "The way I want to be / It doesn't move me." Brash sounds and bass drops associated with trap and house music only pop up on occasion, a reminder that Streten is fluent in the harder stuff, but chooses to shield Flume from it. "I want to keep Flume kind of experimental, weird, melodic, pretty," he said. "I want to try to keep it as specific as possible."
But Streten listens to and wants to write just about every kind of music, just not under Flume's name. He satisfies the other part of his music brain with What So Not, a DJ production act with Emoh Instead. Streten defines What So Not by its "tougher club edge." Its EP, "The Quack," plays like the soundtrack to an all-night warehouse party. "I like bangers and really testosterone-fueled stuff," he said.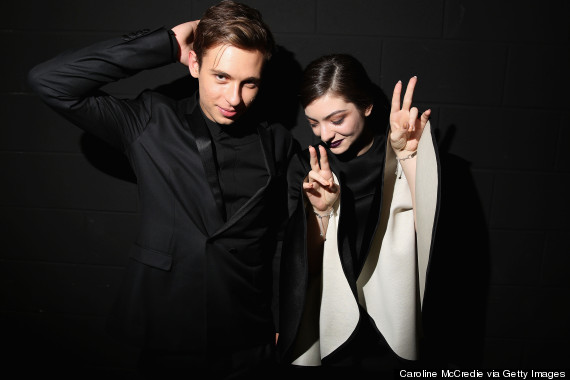 Streten's still in his elongated wonder years, a prince in the electronic scene, where young artists like Avicii (he's 24) and the brothers of Disclosure (they're 23 and 20) reign, and he only started making music professionally three years ago. "I basically left school and worked a few crappy jobs," he said. "I was doing music and going out and smoking bongs and playing computer games, losing priorities a bit. I had a gap year and didn't do much. If I wanted to make money off this, I actually had to put my head down, so I quit all that and got rid of the computer games." Soon after that, he sent three songs into a contest held by Future Classic, which became his primary label, and caught the Australian industry's attention.
Those songs, "Sleepless," "Paper Thin" and "Over You," became his first EP, and Flume released his debut self-titled album in November 2012, which went on to top One Direction on the Australian charts. He was nominated for -- and won -- four ARIA Music Awards in Australia, and now he wants to make Flume a household name to more than just the fair-weather EDM fan. "I want to be solidified as an artist," he said. His sights are set further into the future, on ghostwriting one day -- "maybe an indie new disco track" -- and taking a step back from his massive year of touring. "Once I'm in a situation where I can not do anything for three years and go off the map, I'll focus more on writing. Right now I want to just make Flume awesome ... and big."